Keystone Manufacturing Co.
Keystone Wood Toys, Inc (Keystone Mfg Co.) of Boston MA was one of the first companies to add wooden railway sets to their line of toys in the post World War II period. From 1922 to 1965, Keystone was known primarily for its camera equipment and its line of pressed steel toy vehicles and ride-on toys, although they actually produced a wide range of products.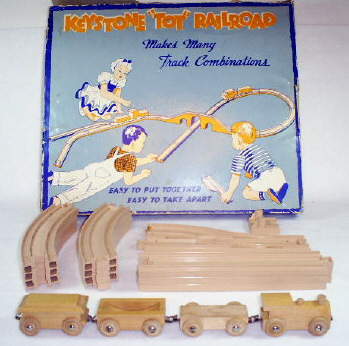 The first Keystone train set pictured here (ca. 1950-51) is probably one of the company's earliest attempts at making this type of toy. It clearly had some rather curious design "idiosyncrasies".
The train is wonderfully crafted from hardwood. It has a very attractive, quasi-realistic design and a lightly varnished, natural wood finish. Single-piece, flat metal hooks run through a cavity beneath each car, and are retained in place by the thick metal axles. But the metal rings used to link the trains, pop off the hooks rather easily. (When this set arrived in the mail, one of the rings was already floating loose in the box.) These pill-sized rings were probably prone to being lost … or worse … being swallowed.
In addition, the track appears to be made from styrene plastic. Unfortunately, this is the same type of hard, brittle plastic used in making model cars, boats and airplanes. Track breakage … particularly connectors … probably occurred at a rather alarming rate during "vigorous play". One could also question the durability of the thin wooden wheels.
The second Keystone train set pictured here (ca. 1952-56) shows several design differences compared to the earlier set. The trains now had one-piece hook-eye couplers, and the wooden wheels were made significantly thicker. However, the train design itself was more simplistic … not as sculptural as the earlier set. These later trains were finished in bright, glossy paints, rather than the natural wood finish of the early train.
Also, the track in this later set was made from a much more flexible and durable polyethylene plastic. Although these trains will fit nicely on most two-groove tracks of any material, the plastic track sections are not compatible with any known wooden track.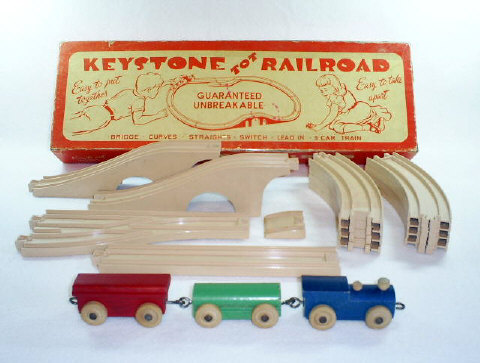 Keystone also offered a series of colorful wood and fiberboard buildings to add "realism" to their layouts. In addition, they made small, but attractive wooden cars and trucks that worked nicely with their train sets.
Keystone ceased making toys in Boston around 1958. Reportedly, parts of its toy business were sold to other companies. The camera equipment portion of the company was bought by Berkey Photo in 1965.