Hermann Rossberg KG (HEROS)
The toy maker we know today as HEROS has its origins in a company started in the picturesque forests of Bavaria in the late 1800's by German businessman Carl Rossberg. However, the factory itself can trace its beginnings to a saw mill … the Rieder Mill (Riedermuhle) … that dates back to the 14th century.
In addition to other work, the Rieder Mill owners secured a Swedish license in 1866 to produce phosphorus matches. Rossberg purchased property near the city of Lam in 1885, which included the Rieder Mill. Rossberg's company continued the mill's operations and the production of matches.
However, by 1903, phosphorus matches were deemed to be a health hazard. Rossberg could not secure a license to manufacture "safety" matches, so he looked to other products to keep the mill in full operation. He quickly recognized the growing market for children's games and toys … and devoted a portion of the company's factory to these products.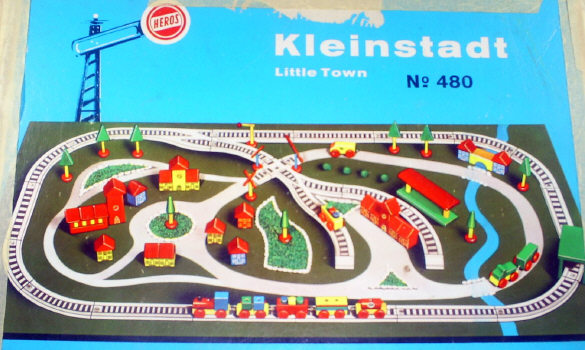 In 1908, Rossberg assigned the milling company to his sons Carl and Hermann. The younger Carl continued to operate the milling business, while Hermann took over and enlarged the toy factory. By 1948, Hermann had trademarked the "HEROS" name, and had continuously improved and expanded the toy company's product line. HEROS' toy line included building blocks, games, puzzles, educational toys and construction sets.
HEROS first began making train sets in 1968. These early trains … like the example pictured here … had metal hook-eye couplers, flat-disk wooden wheels and flexible, grey plastic track. As indicated by the box art photo, most sets came with a variety of brightly painted wooden accessories including cars and trucks, block-type buildings, tunnels, trees and station platforms. HEROS' "kleinstadts" (little towns) could be arranged in an almost endless number of ways ... providing new play experiences day after day.
The catalog shown here dates from 1971-72 and comes to us directly from the Rossberg company archives.

HEROS train sets underwent a total redesign in 1983. Changes included the replacement of the hook-eye couplers with magnetic couplers and the replacement of the snug-fitting plastic track with wooden track using the "peg and hole" coupler design. Many detail changes were also made in the appearance of the engines and railcars. (A contemporary HEROS "auto carrier" train is pictured below.)
Today, the Rossberg family members and their 200 employees continue the proud toy-making traditions of the company. Wood for the train sets (and all their toys) comes from the forests of Germany and Austria, and 95% of the production components are still made in their Bavarian factory. HEROS colorful trains … like their world famous wooden building bricks and construction kits … are sold throughout Europe, the US, Canada, Japan, Korea and Australia. A detailed history of the company … with archival photos … can be found at their website (www.herostoys.com).
(Many thanks to the HEROS company staff for their generous help in providing information for this article.)
To view a HEROS Company catalog from 1971-72click here: