The Jack Built Toy Manufacturing Company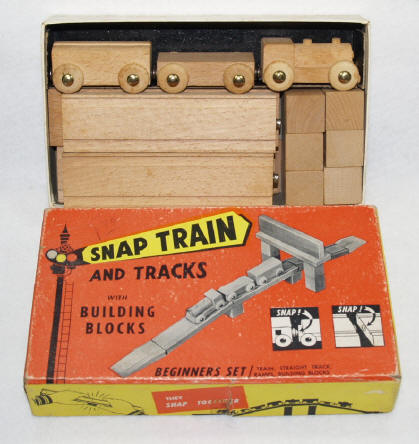 The Jack Built Toy Co. of Los Angeles CA was a very prolific producer of wooden railway sets and other toys during the 1950's and early 1960's. They are most remembered for their "Snap Train" line of wood toy products. The company offices were located at various times in LA and Burbank, and they maintained a showroom/sales office in New York. Most … perhaps all … of their wooden railway sets were manufactured in Japan.
JB's snap trains look very similar to the trains made by Skaneateles Handicrafters. They were identical in size, had wooden wheels affixed by round-head tacks and had a natural wood finish. Perhaps it could be said that snap trains were a tad more sculptural in design.
JB developed and patented intricate "floating" snap couplers to connect both their trains and their track sections. The snap couplers allow the trains to be easily linked or disconnected without being removed from the track ... while providing enough grip to prevent those frustrating "accidental" disconnects. The snap track connectors provide a measure of both lateral and vertical movement when track pieces are connected, so layout flexibility is quite good.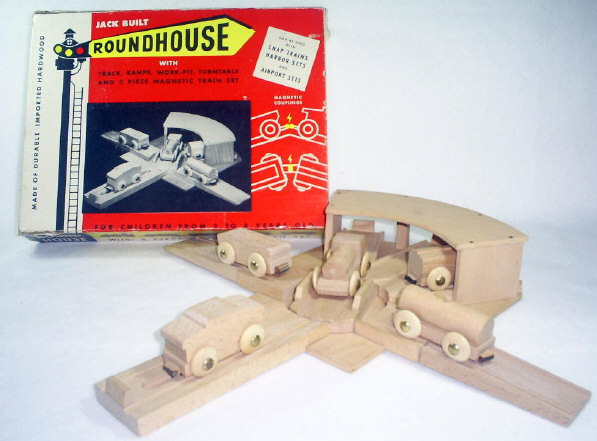 JB's hardwood trains, tracks and accessories were well-made and durable. Hardwood blocks of various shapes and sizes were also included in many of the sets. Child safety was apparently a high priority for the company. As their catalog stated, a JB train set provides "train fun that does not need adult supervision and eliminates the hazards of electricity".
The company also produced a dizzying array of accessories including a water tower, trestle, tunnel, station platform, signal signs, telegraph poles and a roundhouse with movable turntable. In addition, dozens of different vehicles were available including a snazzy convertible, tank truck, beverage truck, double-deck bus, bulldozer, steamroller and a cab-over truck with an unusually long flatbed trailer. JB also made airport and harbor sets that could be used in conjunction with their railway sets.
In order to increase the "play value" of their roundhouse set, JB introduced pivoting magnetic train couplers in 1958. (US patent approval was granted for these couplers in 1960.) This was probably one of the first uses of magnetic couplers on "little trains" in the US. But this ground-breaking "magnetic" train appeared primarily in later versions of the roundhouse set and for a short time as an individual, out-of-set item.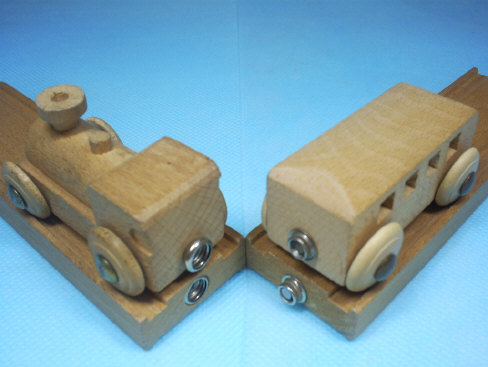 Pictured here is a typical snap train set with track and blocks (ca. 1957-58), along with a close-up photo of the patented snap couplers and track connectors. Also shown is the roundhouse set with its rare and unusual magnetic train (ca. 1958-59).
By the early 1960's, JB appeared to convert from wood to polyethylene plastic for their railway and vehicle sets. Shortly after, it seems the company and their great little snap trains just disappeared completely from the toy marketplace.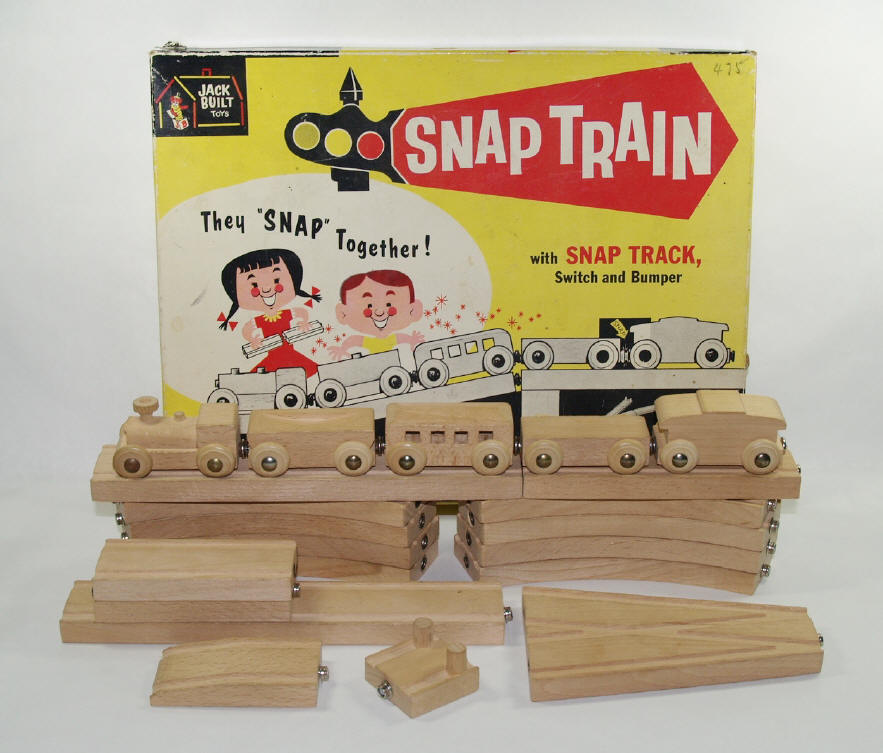 Jack Built "Pigeon Hole" Parking Garage (1961)
Perhaps the most unusual accessory set that I have come across in my many years of collecting is this clever and functional parking garage. (Every train station needs a garage!) By grasping the round knob at the top of the metal elevator shaft, you can "lift" each vehicle up to a parking stall on any level of the structure. Likewise, the vehicles can be moved down to exit the garage using either of the two ramps.
According to the box art, this set is complete with all vehicles including the exceptionally cute "finned" sedan and the rare ambulance.
The garage was produced right at the end of the production life of the Jack Built "Snap Train" series. However, it appears to have been made as a stand-alone toy … compatible with the train sets, but not specifically mentioned in the train set catalogs. Nor was it necessary to have any trains to fully realize the play value of this great little set.