Skaneateles Handicrafters
Article by
Dave Pecota
Skaneateles Toys Introduction
As discussed in the wood train article introduction, the wooden track train "genre" was first established in the late 1930's by Skaneateles Handicrafters of Skaneateles NY. Suffice it to say, Marshal Larrabee (the company's founder) began a wooden toy category that is arguably more popular today than it was in the 1940's and 50's. Over their long production lifetime, Skaneateles trains were loved by kids, well-received by parents and highly respected by educators.
In addition to being sold under the SH "brand", train sets were manufactured by the factory for sale under several other brand names including Playskool and Creative Playthings. Some SH trains even appeared in toy catalogs with no specified brand at all … not needing a company affiliation to ensure sales.

SH trains and track were made from durable, high-quality hardwoods, and were famous for their natural, wax-coated finish. The wooden wheels were affixed to the trains and other vehicles with long-shaft, round-head tacks. The vast majority of SH trains used metal hook-eye couplers. However, trains made during WW2 used a unique "peg & string" coupler system due to the metal shortages of that period. Also, a special production run of trains sold under the Creative Playthings brand in the 1960's used an unusual magnetic rod coupler system (see photo).
In addition, SH made a variety of items to complement their train sets including cars & trucks … aircraft & ships … tunnels & bridges … telephone poles, crossing signs and other accessories.
Remarkably, SH train designs changed very little from the 1930's through the 1970's. Their appeal spanned generations. But sadly, financial imperatives forced Larrabee to sell his company to the German toy manufacturer Habermaas (Haba) in 1980. With German ownership of the company, factory employees continued to produce wooden toys under the T C Timber name.

Marshal Larrabee remained with T C Timber for a few years on a consulting basis, as the trains evolved from their SH roots into the German-derived designs of the parent company. Some of the trains made during this transition period retained a natural wood finish, but the majority of them were painted. By the mid 1980's, production had shifted exclusively to the painted, German-style toy designs. The original Skaneateles trains vanished entirely from the marketplace. In 2002, toy production at the NY factory ceased and the facility was sold by the German company as a cost-reduction measure.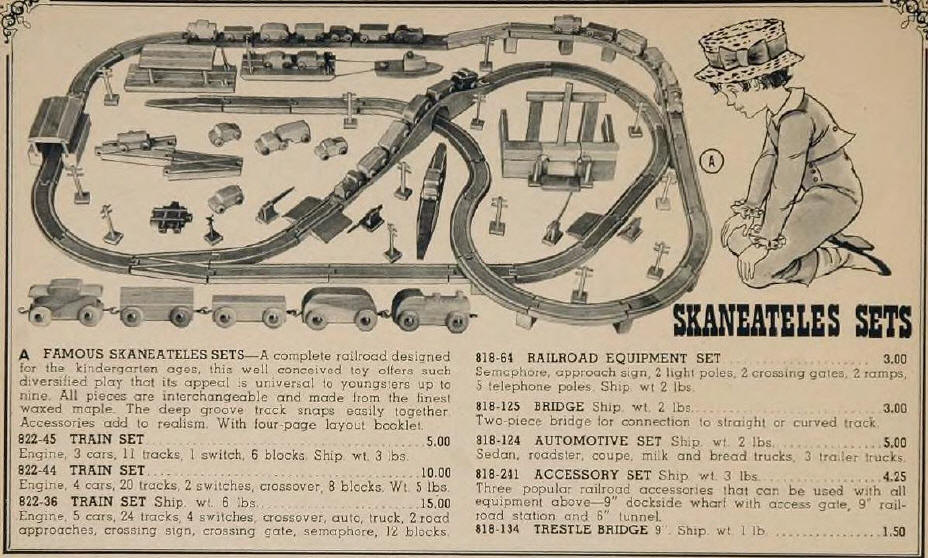 From a collecting standpoint, the design "stability" and legendary durability of SH products makes the determination of precise production dates difficult at best, even if the original packaging is present. Also, it was commonplace for families to add trains, vehicles and accessories as the years (or even decades) passed. Some Skaneateles train sets served several generations within extended families or within nursery/church school environments. So it is not unusual to find early trains and accessories mixed in with more contemporary items. The fact that SH trains were sold under several other brand names, can make collecting even more interesting and challenging.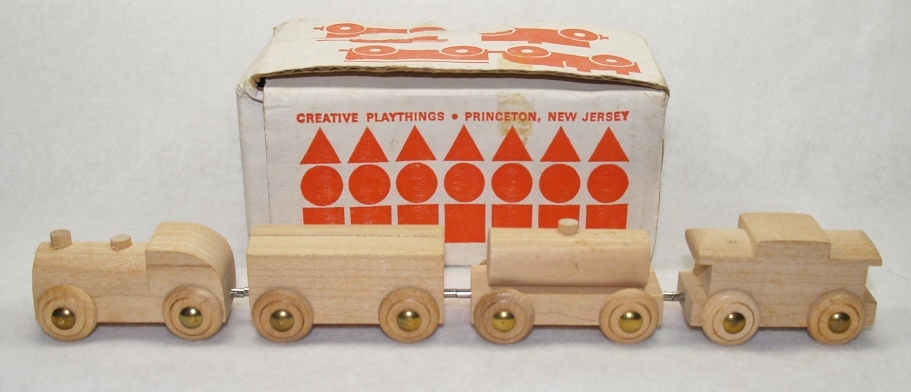 Currently, Skaneateles sets are among the most popular vintage, wooden track train types for collecting. However, it should be noted that SH used a track coupling design that is not compatible with wooden track from any other toymaker. The trains themselves will fit splendidly in the grooves of other track types, but the railcars will connect only with other trains equipped with hook-eye couplers.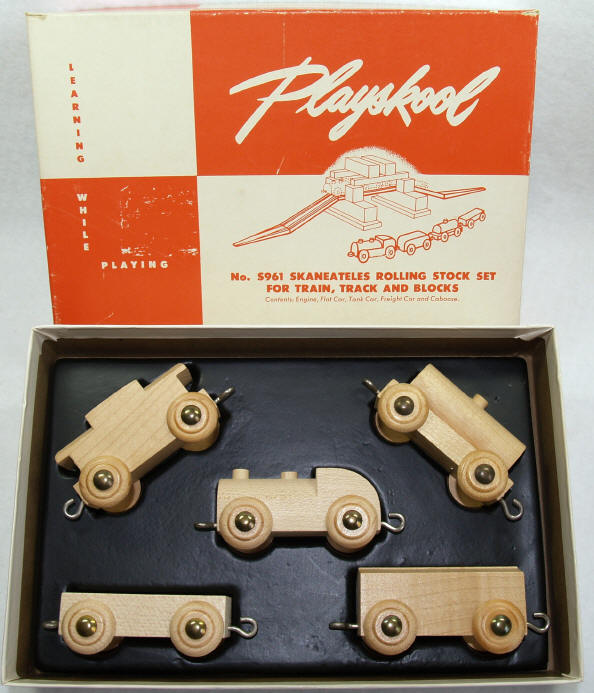 As a fitting end to this brief history of Skaneateles Handicrafters, comes the news that the Larrabee family is searching for additional information and archival data about the company. Ultimately they hope to establish a website dedicated to Mr. Larrabee and his marvelous toys. If you have any information, photos, personal remembrances or vintage sets that you wish to bring to their attention, please contact me. I will ensure that you are put in touch with the appropriate family member. They would particularly appreciate hearing from any former employees of the company.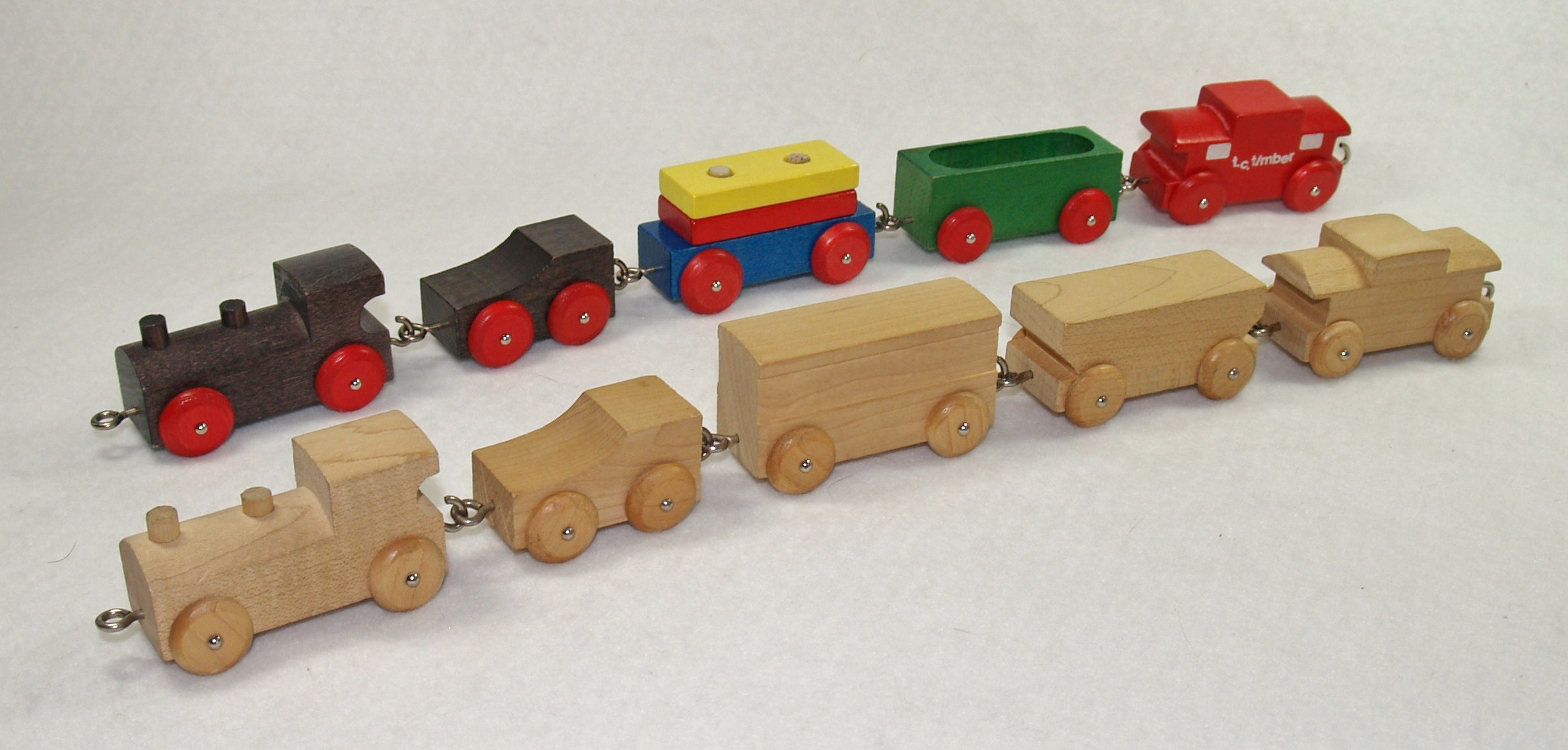 Marshal's Train

"Mint with Box". This phrase is the mantra for legions of today's vintage toy collectors. The reasons are clear. The best way to ensure a toy's originality, authenticity and potential future value is to buy a mint example with its original packaging. In some cases, the packaging has become more valuable than the toy itself! Admittedly, I travel down a somewhat different path than most collectors. (Just a poor sense of direction, I guess you could say.)
When I started collecting many years ago, discovering the history of the toys I collected was one of my primary goals. For personal reasons, I focused on vintage toy niches that were somewhat obscure and therefore not well documented. While engaged in toy research, I also found that some of the stories I uncovered about a specific toy and its owner were as compelling as the toys themselves.
Within my limited hobby budget, buying mint condition toys with original packaging is not always a realistic option. However, for research purposes, a toy that is well-used or missing parts can still provide important clues as to its history. A photo of a vintage package can almost be as helpful as owning it. (Frankly, mint-in-box examples of certain toys in my collecting niches may no longer even exist today.) So in addition to looking for the best examples of vintage trains that my budget will allow, I also look just as diligently for train sets in somewhat distressed condition to fill historical "gaps" and supply period parts.
As we all know, for most kids "playtime cleanliness" is not necessarily a high priority. After many years of use, a Skaneateles train's original light Maple finish has often disappeared from view under a brown layer of grime. Some of the train's metal couplers may also be bent, and a few wheels may be broken or missing as well. But happily, a gentle cleaning and replacement of missing/broken parts can often do wonders in restoring a well-travelled train to a near-original appearance … assuming the original factory-applied wax coating hasn't rubbed off entirely. (Company literature actually indicated the trains should be cleaned periodically.)
It is in this context that in late 2012, I spotted a small, grimy-looking Skaneateles train on that "big internet auction site". (No box, of course!) It was clearly a pre-1948 train with some original track and blocks, so the set seemed to be a good candidate for rescue. There were also a few tantalizing clues that indicated it could be a "train of interest" in my research. As one would expect for a set in this condition, there was little buyer interest. I got it for little more than the cost of a designer coffee and muffin. It arrived on New Year's Eve … my last vintage toy purchase for the year.
With low expectations, I opened the shipping box and began removing the components from their bubble-wrap cocoons. I immediately realized the set wasn't grimy at all … merely dusty from storage. The train and track were indeed a very unusual chocolate brown color. I contacted the seller to determine if anything was known about the history of this mysterious set.
Robert (the seller) indicated the set had been in his family's possession since World War 2. Robert had been given the chocolate-colored train set as a child in Brooklyn NY sometime in 1943-44. He was highly doubtful his parents bought the set new. Skaneateles train sets have never been inexpensive when new, nor were they readily available in his area at the time. Also, frugality was an important part of the Norwegian culture in which Robert was raised. The purchase of a relatively expensive toy like this during wartime would have been considered wildly extravagant. However his aunt worked as a domestic for a wealthy family in Manhattan, and had sometimes received toys that were no longer used by her employer's children. The train set was very likely one of these "hand-me-down" toys which the aunt (with no children of her own) had gifted to Robert.
It should also be noted that most Skaneateles trains made during WW2 had "peg & twine" couplers due to the metal shortages of that period. In addition, this train did not possess other characteristics that were usually seen in the wartime sets. So there is little doubt the train set was made prior to 1942.
As Robert grew up and went off to college in California, some of his toys were sealed in a box and placed into storage at his parents' apartment in Brooklyn. He told me that his mother "couldn't throw anything away". She had lived through Norway's economic depression after WW1, and endured America's Great Depression in the 1930's. Robert's toys remained in storage for decades.
By 1992, both his parents had passed away. As the only child, Robert had the responsibility to settle their estate. He and his wife found the box of toys as they were cleaning out his parent's apartment, but had no time to go through it. Along with other boxes, the unmarked box of toys was put into storage in their home in Minnesota … its contents all but forgotten over time. The box was later moved and placed in storage again in their subsequent residence in New Mexico.
In 2012, with plans to retire and "downsize", Robert and his wife began to go through all their possessions to determine which were still useful and which could be sold or donated to others. It was at this point that the box of stored toys was opened and its contents inventoried ... a teddy bear, 15 well-used Dinky Toy vehicles and the Skaneateles "chocolate" train set. Robert decided to find new homes for all his childhood toys, and the train set ultimately came to reside in my collection.
But this is not quite "story's end" for this little train. Those of you familiar with Skaneateles toys may be wondering about the set's unusually dark appearance. All other Skaneateles trains have a light wood finish. (No paints or stains were used by the factory.) Needless to say, I was also mystified. By this time, I had lost contact with the family of the company's founder. So I embarked on the most intensive research project for a single toy that I've ever undertaken. It took me many months to "connect all the dots" on this train's origin.
Instead of the usual light Maple generally used by the Skaneateles factory, this train is almost certainly made from Black Walnut. (Unfortunately, the wood has to be sanded, cut or gouged to be 100% sure of its exact type … something I just can't bring myself to do.) Black Walnut is a hobbyist favorite for woodworking projects because of its naturally dark color and durability … and relative ease of sawing, sanding and finishing. Generally this wood type is priced significantly higher than most US domestic hardwoods, so it's primarily used for furniture, trim, gunstocks and other relatively small wooden items. As attractive as this wood is, it would not be cost-effective for producing large quantities of factory-made toys for children.
Interestingly, the shapes of the railcars in this set aren't cut as uniformly and precisely as those usually made at the Skaneateles factory. The boxcar in particular seems a bit "out of square". The wheels also have a distinctly different look to them, and a few wheels are even a bit "out of round". (Yes, a couple cars are a bit "wobbly on the rails".) The train also has other woodworking characteristics which are not consistent with most production Skaneateles trains.
I came to the conclusion that this train was made by a skilled hobbyist with less sophisticated tools and machinery, rather than by factory production or prototyping. All the evidence indicates this train set was made by Skaneateles Handicrafters founder Marshal Larrabee in his own workshop in the late 1930's. It is very likely that he knew the family that employed Robert's mother in Manhattan, and the set was a gift to their children. As we know, Marshal commonly gifted the toys he personally made to relatives and friends.
If my conclusion is correct, this is a truly historic wooden toy. Marshal Larrabee's hand-made trains were the origins … the "Big Bang" so to speak … of what became the global wooden track train "universe", with its nearly endless variety of trains and accessories. Yet Larrabee's trains were so popular and respected for their purity of design, finish and function that they remained nearly unchanged for over 40 years. They were even displayed at the "House in the Museum Garden" at NY's Museum of Modern Art (MOMA) for 2 successive years … reportedly the only toy chosen for playroom display at both the Breuer House in 1949 and the Ain House in 1950. The perfect Mid-Century Modern toy!
Marshal's hand-made train certainly gives us an unusual opportunity to step back in time over 75 years, and view the first few "moments" in the history of the multi-generational toy genre' of wooden track trains. It's also a great example of a toy not needing to be "mint-in-box" to be a collecting treasure.
In researching the history of this particular toy train, I spent a great deal of time learning about wood characteristics & identification, woodworking tools & techniques and WW2 toy production. Over their long history, Skaneateles train sets were recognized by several child education groups for their contribution to childhood learning and development. Marshal would be pleased to know that one of his trains is still performing that educational function over 75 years later … this time for a "youth-challenged" toy collector.
Postscript –
About a year after first posting this article, I was contacted by a member of the Larrabee family. Several family members had read the article, and they wished to inform me that they agreed with my conclusions as to the origins of this toy train. With little doubt, this train set was indeed the handiwork of Marshal Larrabee and was probably made between 1937 and 1939. I wish to pass on my heartfelt thanks and appreciation to the Larrabee family for their kind response to this article.
DP
Skaneateles Pre-WW2 Toys

Pre-War Skaneateles Train Set
No matter how large the collection or how long we have been acquiring items, collectors usually have a few special items that are viewed as their "crown jewels". They might not always be the most impressive-looking objects … or even the most valuable. But often they are the pieces that "define" our collection or give us the greatest satisfaction for having them. I came to own one of my "jewels" as a direct result of somebody visiting this great website. In 2009, a gentleman from Pennsylvania spent a quiet summer evening reading some of the vintage toy articles posted here. Fortuitously, my wood train article was included on his reading list. The next day (!) … he saw a vintage wooden train set at a local yard sale and quickly purchased it.
"The train looked old", he said.
Indeed, if you look at the photo, it does look old. So somewhat improbably, the set ended up in a recycled box delivered to my doorstep about 2 weeks later. It included two trains and 20 sections of track. The best available information dates this set to the period from 1939-41. Perhaps making it one of the oldest surviving SH factory production sets. The combination of aged hardwood and original wax give this set a wonderful golden patina.
The remarkable condition of this old train indicates it must have been a favorite of its original owner ... used often, but played with carefully. Rather than being given away or sold when early childhood ended, the parents put the set in a box and placed it into storage. Apparently the set wasn't rediscovered until after the passing of the parents, decades later. Younger family members obviously saw no reason for keeping such an old toy. So the set was ignominiously sold at a yard sale, along with other family belongings that had outlived their usefulness.
Now the little train has come "full circle", so to speak ... and has become one of the most prized wooden toys in my collection.
(Author's note – one of the trains in this set and a portion of the track were gifted to the family of the company's founder.)
Skaneateles Toys in WW2
As with nearly every US company during World War 2, Skaneateles Handicrafters was forced to adjust to the war-time realties of materials and labor shortages. Most toy manufacturers were required to comply with Order L81 issued by the War Production Board in March of 1942. Reportedly as part of this order, a finished toy could not contain more than 7% metal by weight. This was in addition to the general shortage of metals that was prevalent during the war years.
The supply of hardwood during this period was probably more affected by manpower shortages (lumberjacks), rather than specific government restrictions on the use of hardwoods. However, there were restrictions on some softer woods, like balsa and wood components for plywood, which were used extensively for military-related requirements.

SH continued to make wooden track trains sets throughout the War, but used a work-around for the metal restrictions by utilizing a clever "peg & string" coupler design for trains and selected vehicles. As shown in the associated photo, the pegs had a slot with a circular groove. The braided string was threaded into the slot so that the knot fit into the groove. This provided a flexible but secure connection between the railcars. Also note the rather poor quality of the metal hubs. This was probably the highest quality round-head tack that was available to the SH factory during this period. The plucky little train pictured here is believed to be a complete set … engine plus flatcar and two coaches ... and has all its original components including strings.
According to catalog data, the company also produced 4 different sets of military vehicles and equipment. Shown here is set #150 … which included a tank with movable gun turret, an ambulance, a jeep and two cannon. My research indicates that relatively few small-scale wooden military toys were made during the War. Most toymakers used scarce resources to make bigger items, such as toy guns and large floor toys, to maximize their income. Understandably, SH military sets disappeared from catalogs almost immediately after the War ended.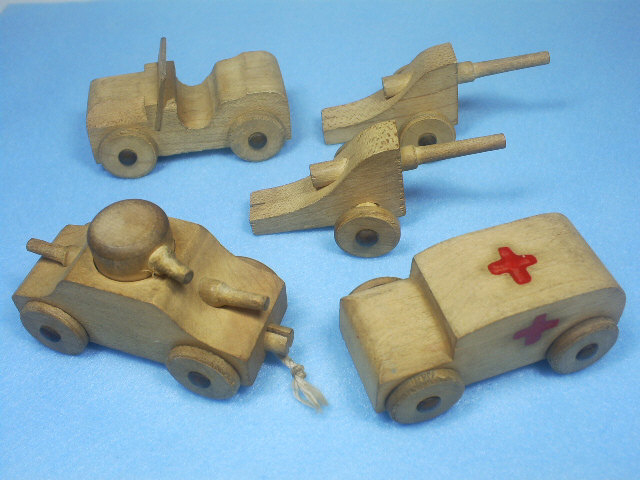 Skaneateles Prototypes


For an enthusiastic researcher like me, some of the most intriguing vintage toys are pre-production items that collectors and the public often tag with the somewhat nebulous term "prototype". Based on their stage of development or company preference, they can be known by many names … prototypes, design mock-ups, "paint samples", test pieces, first shots, final engineering pilots, etc. However, they are all usually shrouded in mystery and jealously guarded while under development. It is in these secretive processes that employee creativity is undoubtedly at its zenith. However, soon after development and testing are completed, the primary factor to determine which toys are ultimately made for the marketplace is invariably the question of production risk verses projected financial reward. ("This toy is cool, but can we make money with it"?)
Unfortunately, finding prototypes and other pre-production items is generally akin to finding those pesky unicorns. And If they ever appear (prototypes … not unicorns), they may be difficult to recognize. Few companies reveal any information about them, even if the toy failed to achieve production status. Sadly, many are discarded or destroyed when they are no longer deemed relevant. I have found relatively few in all my years of toy collecting.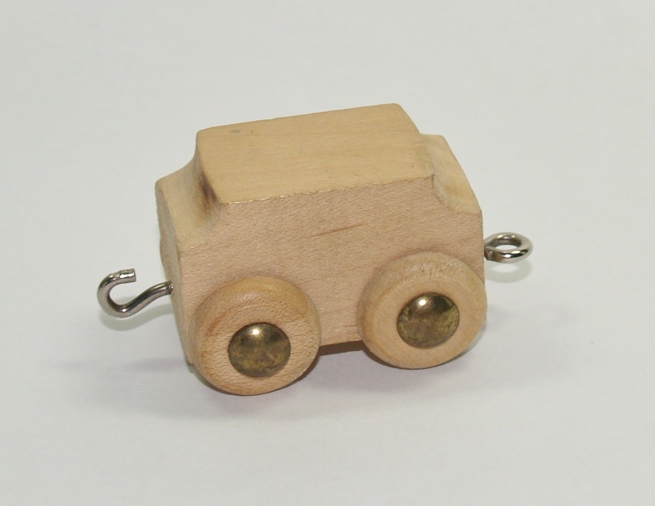 Generally speaking, I rarely purchase large train sets. I have no need or storage space for lots of duplicate trains or boxes full of track. However, I made an exception when I purchased a very large 1960's Skaneateles train set (230+ pieces), which appeared to have several unique items. Unfortunately, the seller's photos weren't detailed enough to positively identify the unusual items, nor was there specific information about the set's origin. But as many collectors (including myself) have learned from harsh experience, "when you come across something you haven't seen before … buy it".
When the set arrived, it didn't take much time to determine that two of the trains and a small tender were indeed factory pre-production items. The fact that two trains were "complete" (an engine and 3 cars each), leads me to believe each train was designed as a unit, perhaps for use in some special future set. The small tender was a total mystery ... it didn't seem to "fit" with anything in the set. However, a careful perusal of my reference materials left me with serious doubts that any of these pieces had ever gone into production. Aside from their unique appearance, none of these items had even received the usual factory-applied wax finish … except for the wheels. (For expediency during assembly, the builders may have merely grabbed a handful of completed wheels from the factory floor.) There were also hand-scribed markings on the base of each piece, showing the planned location of the axles. Not characteristics you would have seen on factory-finished trains.
With the excitement of finding these "prototypes" finally ebbing a bit, I examined the other items in the set. Interestingly, many of the standard pieces also had hand-scribed markings. Several items had a large "X" or parallel straight lines marked in pencil adjacent to apparent flaws in the wood. The flaws included cracks, knots, chips or gouges. As it turned out, some of the boxed items that came with the set had similar markings as well … including a wharf that was marked "seconds". Aside from the prototypes, virtually every other train, vehicle and accessory in this large set appeared to be a quality control "reject". (A photo showing a grouping of some rejected pieces is included in this section.) It didn't appear that any of the items had been actually used as toys. They were all grime-free, and the track and blocks looked unused.
The set was found at an estate sale in Auburn NY, about 5-6 miles from the original Skaneateles factory. One could speculate that these items belonged to a former employee … perhaps a designer or inspector … who kept a few never-produced prototypes and some rejected items as personal mementos of his/her time with the company. (Many pre-production items that have "escaped" from toy companies have likely been liberated by employees. Sometimes it's difficult to see your work vanish into oblivion!)
To me, the prototype train with the large, red-painted wheel hubs is especially curious. I have not seen any data to show that S.H. ever sold trains or vehicles with painted hubs. As we know, the main purpose for making prototypes is to evaluate new design ideas and new material processes before putting them into production. As the photo shows, one of the boxcars in this train has a significant amount of paint chipped off the hubs. Perhaps this was a "fail" in the testing process, and may have been part of the reason there may never have been painted hubs on any production Skaneateles train or vehicle.
Interestingly, both prototype trains used the same curved-edge boxcar. So it appeared to be "popular" for prototyping at least. Both trains were also fitted with unusually large wheel hubs ... the red hubs are particularly "oversized". I am a bit perplexed as to why these larger hubs were used. They didn't seem to serve an engineering "need" per se. Was this change merely for appearance sake in order to please a potential client? We'll probably never know. Nor will we know why these items ultimately failed to receive production approval.
Even though the original designs of the Skaneateles trains were highly popular for decades, it's clear the company continued to experiment with new designs and components throughout its long history. You can actually find many subtle changes, if you pay close attention to those "devilish" details. Reportedly, the company was also very accommodating to requests from business clients to add unusual toy features or characteristics in order to differentiate a particular client's products in the marketplace. The use of magnetic couplers on some trains produced for the "Creative Playthings" brand is an example of this type of client cooperation.
A careful examination of the rejected items gives you a real appreciation for the high standards of quality to which the company held their products. Despite their flaws, all the items in this set were perfectly usable as toys. (The term "seconds" being marked on the wharf implies that employees and/or the public may have been allowed to purchase some selected QC-rejected items at the factory for discounted prices. However, there is no indication that "marked" items such as these were ever packaged and sold in retail sets.)
All-in-all, this unusual set gives us a brief but interesting glimpse inside the "covert" design and inspection processes of this iconic company. We may never know all the factors and procedures that went into the product decision-making process at SH, but we certainly can appreciate the creativity and dedication to quality of its employees.