Hermann Eichhorn GmbH & Co.
In 1949, Hermann Eichhorn chose the picturesque Bavarian town of Egglam as the location to establish the toy company that still bares his name. From its earliest days, the company has maintained a world-wide reputation for making high-quality wooden toys including dollhouses, puzzles, blocks, jack-in-the-boxes and of course, train sets.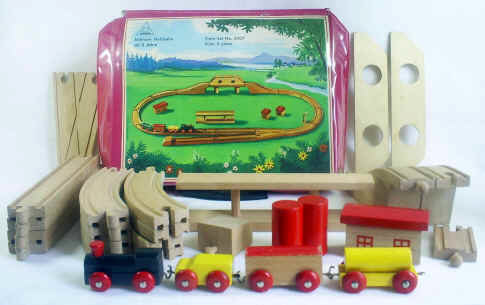 Eichhorn wooden train and track sets first appeared in 1961. The trains are handsomely proportioned and nicely finished in thick, glossy paints. They are also among the first train sets to feature track sections with the loose coupling, "peg and hole" track design. Because of the "wiggle room" within the track joints, peg and hole track sections allow greater flexibility in building layouts than snug-fitting wood or plastic track. Track laying precision is not required ... "close" is good enough.
Eichhorn's early train sets … such as the set shown in the first photo (ca 1960's) … used large metal hook-eye couplers and painted wooden wheels. This particular set is notable for its plastic-coated, "fashion doll" type storage case. The artwork on the case is quite charming in its own right ... although the factory substituted a yellow tank car in this set for the green gondola car that is depicted in the artwork.
In the 1970's, Eichhorn made significant changes to their train set product line. To compliment the sets with painted trains and accessories, they introduced railway sets with unpainted (natural wood) trains and accessories. Interestingly, the unpainted sets utilized a completely different design for the steam engine. The second photo shows a natural wood set (ca 1974-75). (Note - these unpainted trains look nearly identical to those sold in the US under the Creative Playthings brand in 1969-70. One could speculate that these sets were manufactured for CP by Eichhorn.)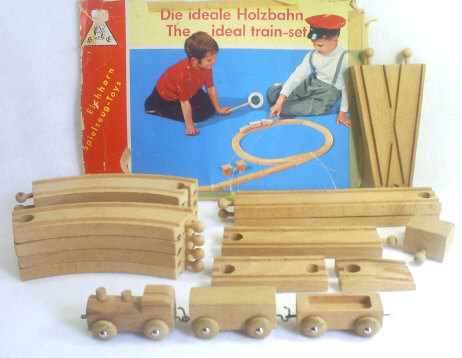 Also in the 1970's, many Eichhorn train sets came with track sections that were made from a plastic/resin material that mimics the appearance and texture of wood. The passenger set pictured here (ca 1976-78) has this type of faux-wood track. In addition, the 1970's marked the beginning for Eichhorn's use of magnetic train couplers … replacing the original hook-eye couplers.
In the 1980's, the company returned to "real" wood for manufacturing track sections, and the faux-wood track disappeared. The production of unpainted train sets apparently ended during this period as well.
The Hermann Eichhorn Company became part of the Simba-Dickie Toy Group in 1998, and a large portion of their toy production was moved to eastern Europe. Sadly, two fires at the old Egglam factory in 1999 destroyed most of the company archives. However, Eichhorn train sets are still being produced today and … happily … still look much like they did when they were first sold in the 1960's. In our fast-changing world, it's a small but welcome connection to the past.