BRIO Harbour Set
From my earliest days as a wood train collector, I realized there was not a great deal of readily available historical information about these great toys. So I became a self-professed researcher, as well as collector. Not only did I want to determine which trains to look for, I also wanted to gather information that was historically accurate. As a result, I have been searching for catalogs, ads, articles and other ephemera as diligently as I search for the trains. While owning a catalog is not nearly as much fun as owning a vintage train, knowledge is its own reward, as they say.
Luckily, one of the first catalogs I found was a BRIO dealer's catalog from 1964. I took a great deal of time "digesting" all the information it contained. Top on my list of "must-have" toys from this catalog was a train included with the 31405/40 Harbour Set.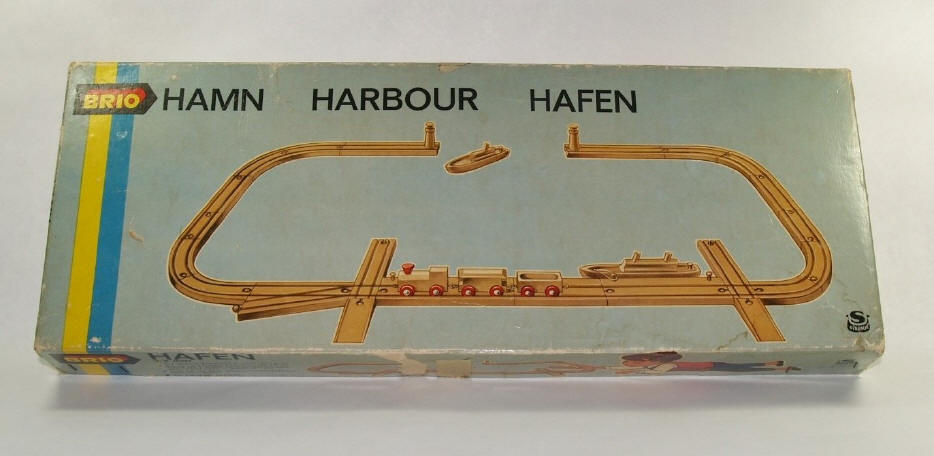 This particular train is unusual because of its natural wood finish. Only the wheels and smokestack were painted. In the opening pages of catalog, BRIO states that "children love clear, clean colours" and "children have a love of contrasts". All of which makes one curious why BRIO chose to use so little paint on one of their largest sets. So I made a mental note in capital letters … "FIND THIS TRAIN".
However, after 7 years of futile searching, the mental note had become covered in cobwebs. I never saw one … never saw photos of one … never saw any identifiable individual components of one. But recently I was not only able to find photos of this set … I was able to add the set to my collection. (Proof that patience IS a virtue in collecting!)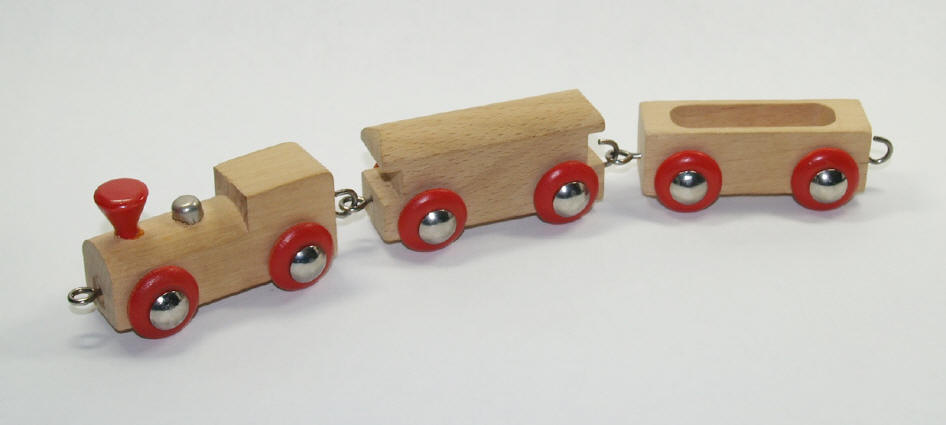 As you can see, the train is quite elegant and attractive in its "natural" finish. It's certainly a "contrast" from the brightly colored trains and vehicles usually associated with the BRIO brand.
According to my catalog archives, there appears to be several pieces that were only found in this set … such as the little lighthouses and wharf tracks. However, BRIO has a way of cleverly repurposing some items, so it wouldn't surprise me that they showed up in other sets … or other toys. The train itself was not available for separate sale at the time, but the 2 ships could be purchased as part of a 3-piece set that also included a barge.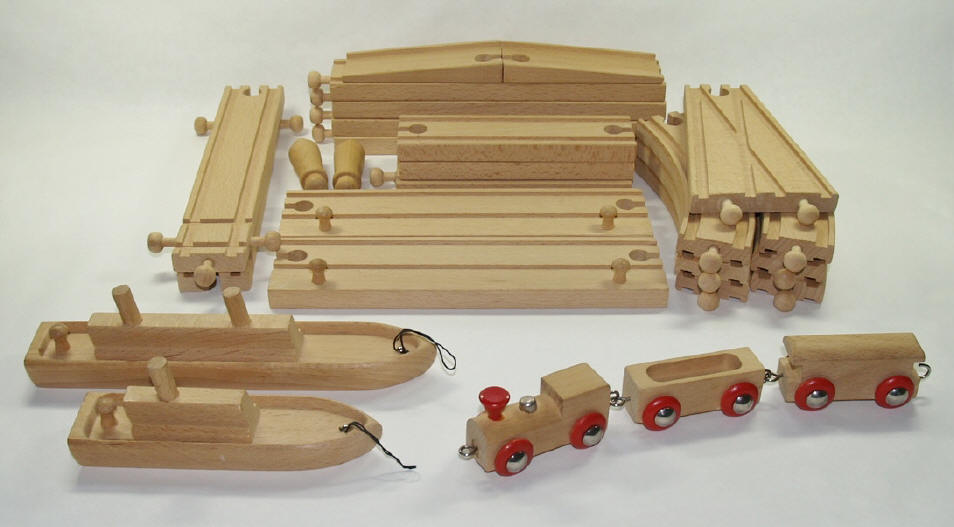 My set was only missing 2 pieces … 2 sections of "standard" curve track. Whew! How hard can it be to find a couple track pieces?? (In a word … hard.) Even the early BRIO track had design variations. So that particularly search will go on.