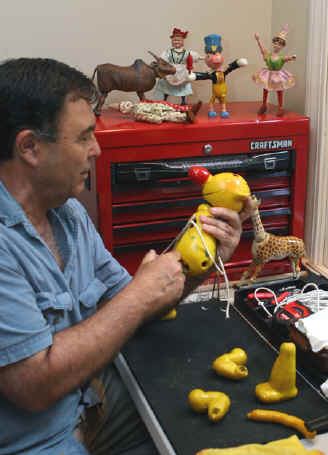 I can restore your old wooden toy to be ready for display or for the market. Simple restringing will usually run $10-15. Turn-around is normally 2-3 days. Contact me for estimates.
Services I can provide:
1. Buy your collection outright.
2. Find a collector or dealer who may be interested in purchasing your toys.
3. Photograph and submit your toys to EBAY for auction. You ship me the toys, I photograph them, write descriptions, answer questions, receive and distribute monies realized.
The main reason that many nice toys fail to get what they should on EBAY is due to poor photographic presentations of the toys. When I list a toy on EBAY, I include 2-5 very high quality photos. I use my own system - not the poor photo services I so often see on EBAY auctions.
Let me know how I can help.
Contact me at: jlsneed2@bellsouth.net