Postage via insured Priority mail within the 48 contiguous states is included in price unless otherwise indicated. Will quote a final discounted price with shipping for purchase of more than one piece. I will quote shipping outside of the USA. We have customers in Australia, The Netherlands, Switzerland and other countries. Money back if not satisfied.
How to Buy
If you are interested in purchasing any item in this shop, contact Jim at: jlsneed2@bellsouth.net and tell me what you are interested in.
I can take payments through:

or checks.
I will quote shipping outside of the USA to almost any country.
Item number
Description
(unsold pieces are shown in green or blue)
Click on the thumbnail to see larger image
TAY-1
Canvas Tent - regular size - this is the early or first version of this tent. Early tents have a dowel at the lower back edge that holds the support poles. This dowel is not found on later tents. Also, the top pole attaches to a hinged piece. These two mechanisms permit the tent to fold down for storage without removing the poles. On later tents, the poles have to be removed to collapse the tent but it was cheaper to make. Some staining on the canvas just like on real circus tents. Has its original flags of nations and side banners. Top flag is a nice reproduction.
36 inches wide by 25 inches deep by about 40 inches tall to the top of the flag

$1,700 $1,500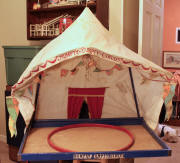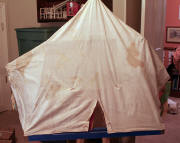 Some canvas staining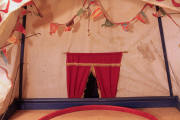 Original flags of the nations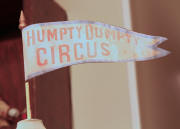 Nice repro flag
335

Left banner

Right banner

Inside the upper section of the tent showing the acrobat's trapeze and rings and the hinge mechanism
TAY-2
Reduced size Canvas Tent - looks very similar to the regular-size canvas tent above, just smaller. It is fine for use with regular or reduced size Humpty Dumpty pieces. It has its original flags of nations and side banners. Its box lid is included. Shipping extra.

24 inches wide by 18 inches deep and about 30 inches tall to top of flag.

(size)$1,250

$900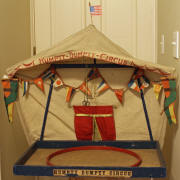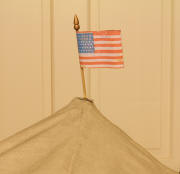 The top American flag is a repro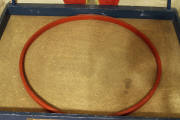 Box top
334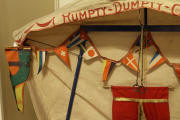 One of the acrobat rings is a repro.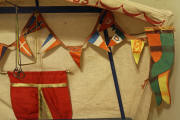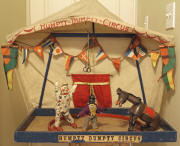 Can be a tent for any size H-D pieces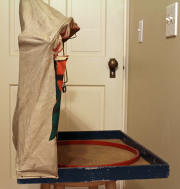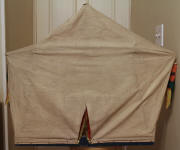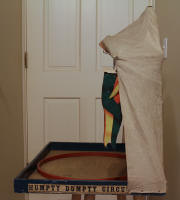 TAY-3
Lithographed Oval Tent with Sideshow Panels - very colorful tent. Shows artwork typical of the 1920s - flapper girls, fedora hats, boys wearing knickers. You will need quite a bit of space for this tent. The sideshow panels are separate pieces so can be displayed apart from the big top. This tent was introduced in the mid 1920s and is shown as the centerfold of Schoenhut's 1928 catalog.
There are no holes or tears in the tent's canvas or side-show panels. All of the blue support poles and frame are original and unbroken.

$9,400

$7,800 Sold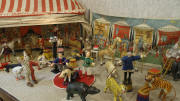 A circus scene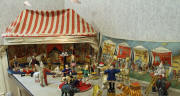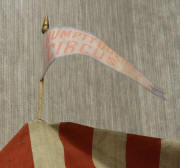 One of two reproduction top flags
336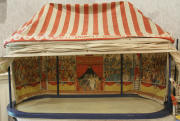 The Big Top
This tent is about 45 inches wide, 18 inches deep, and 30 inches tall with flags adding 4-5 inches.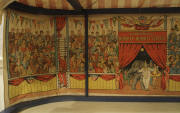 Part of the interior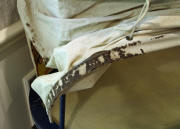 The tent has a curtain that drops, covering the front. The metal frame is showing some rust through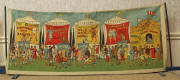 One side-show panel
One of the 4 base sections is a replacement. The wooden base of each panel is about 51 inches long.

Close-up of sideshow panel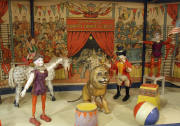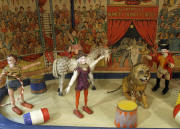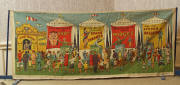 The other side-show panel
Each panel is 40 inches wide by 17 inches tall.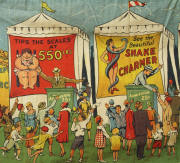 Another view showing strong colors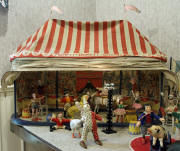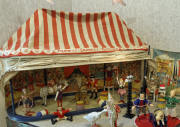 The tent with Humpty Dumpty circus figures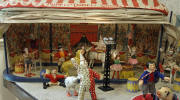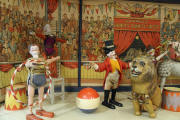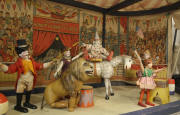 Click on the thumbnail to see larger image
We have another tent for sale - click here.