GTAY-1
GE Rhino - complete and all original. Beautiful brown tones with black spots. Ears still good. Right eye cracked - hard to see in hand. For your circus or Teddy Roosevelt displays. $ 690 $520 $490 Sold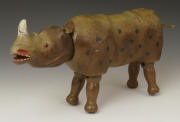 130
GTAY-2
GE Elephant - early blocky body style. Complete and all original Nice glossy paint, original truck tip (usually missing). $320 $240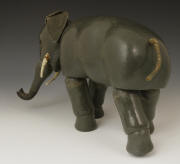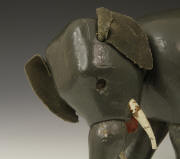 105
GTAY-3
DE Arabian Camel - late production Arabian camel with decal eyes (DE) and a molded head. Has a great look. Well painted. Complete and all original. $210 $155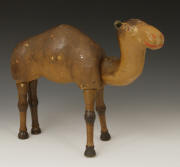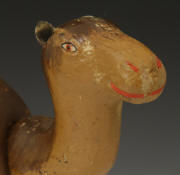 106
GTAY-4
Moritz - early style with leather hair top. Face restored. Original clothing including the belt and belt buckle. $220 $165 Sold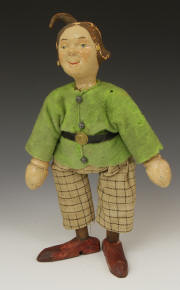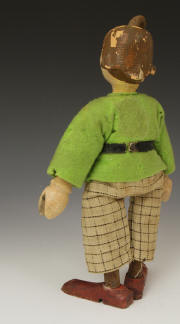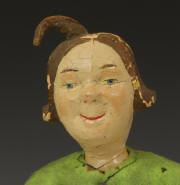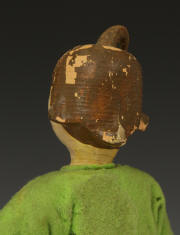 129
GTAY-5
TPH Style 2 Mary - complete and all original. Dress still has some color - they are usually faded. Face nice, hair at back has loss. $490 $365

Sold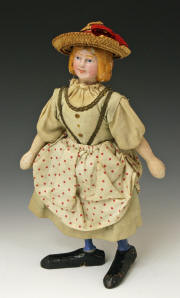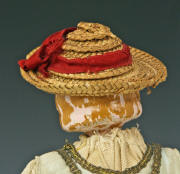 150
Click on the thumbnail to see larger image
GTAY-6
PE Hippo - complete and all original. Some paint dings all over. His right ear is missing its tip but can be fixed - contact me if interested in this piece). $195 $155
Sold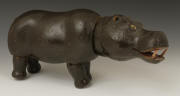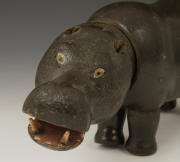 GTAY-7
GE Bactrian Camel - complete and all original. Excellent condition. Few, if any, are better than this example. These are very hard to find especially in this condition. Sold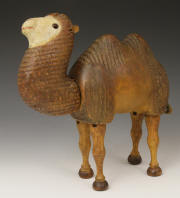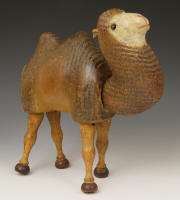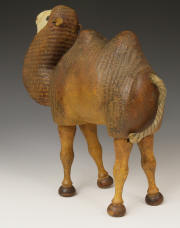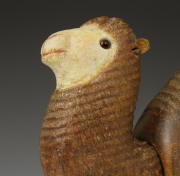 128

SP
GTAY-8
GE Hippo - second style. Complete and all original. Amazing looking face. Sold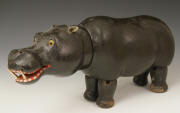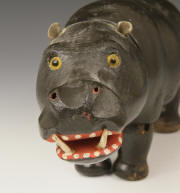 170
GTAY-9
GE Goat - complete and all original. Right eye cracked. Paint generally good. $265 $200 Sold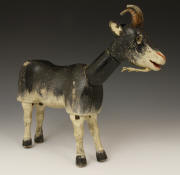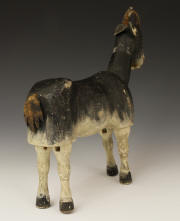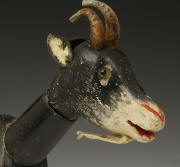 112
GTAY-10
GE Brown Bear - early style with ball neck. Complete and all original. Paint is very good. Would benefit from a waxing. $430 $325 Sold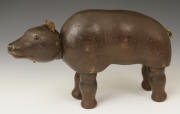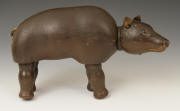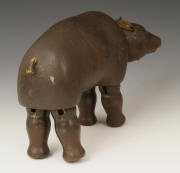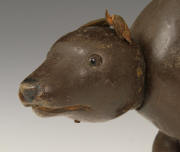 157
GTAY-11
Reduced Size Bactrian Camel - complete and all original. Minty looking paint all over. Very nice toning. These are rare and this one is exceptionally nice. Sold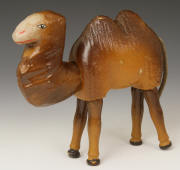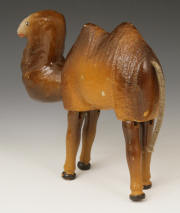 151

SP
GTAY-12
PE Brown Bear - complete and all original. Paint scuffs all over. Big painted eyes. Sold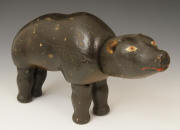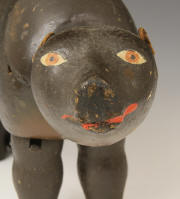 164
GTAY-13
PE Poodle - variety with tight rope slots in his feet. Paint excellent except around his nose. Has his often missing tail tuff. Sold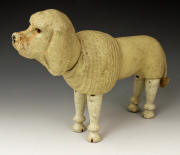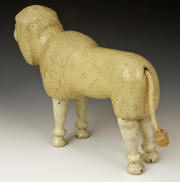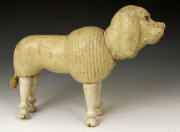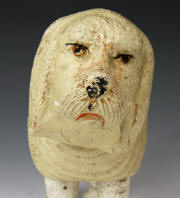 103
GTAY-14
Max and Moritz - pair in their original suits. Moritz is missing his belt. Faces are cracking as all Max and Moritz pieces I've seen including the two in my own collection. $500
$375 Sold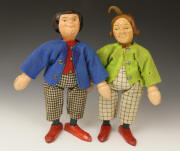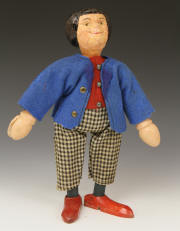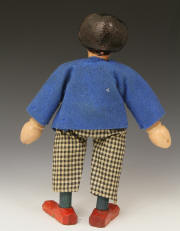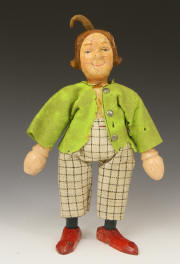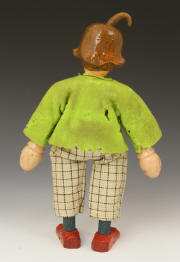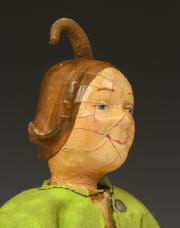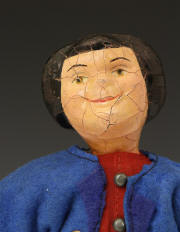 162
GTAY-15
GE Pig - early black spotted style. Probably the first pig so ca 1907. Play wear all over but retains his pink blush. Sold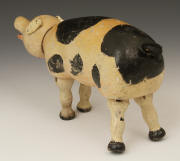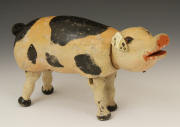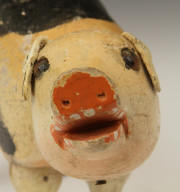 173

SP
GTAY-16
Black face Monkey - suit is nice with peach-colored felt. Hat is red felt over a cone. Face condition is worn mainly around his snoot. Sold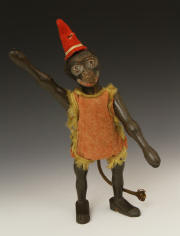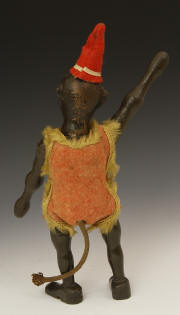 183
GTAY-17
Reduced size boxed set 21-1- has wood cone hat clown, decals eyes donkey, ladder, chair, barrel, and the desirable 1928 copyright catalog. The catalog is in good condition. The box is also good. The other pieces are near mint. The clown and donkey would display better with restringing. $350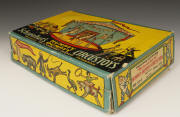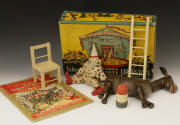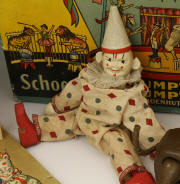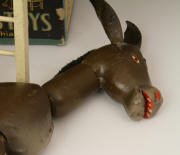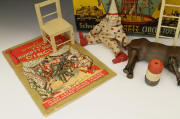 212
GTAY-18
PE Lion - complete and all original. Beautiful example. $375 $280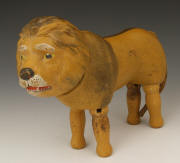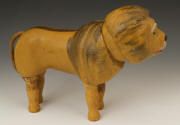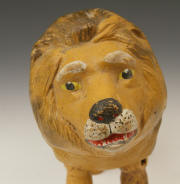 180
GTAY-20
Teddy Roosevelt Repro pieces - mud hut $80, Arab rifle $35, kettle $30 All sold

No original mud hut is known to us.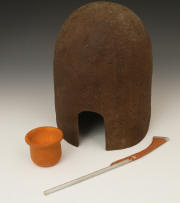 GTAY-21
GE Reindeer - complete and all original except for antlers. Antlers are an expertly done repro. Paint is overall very good. Sold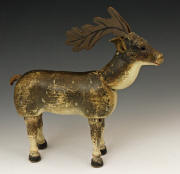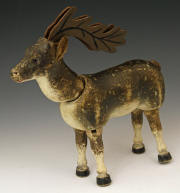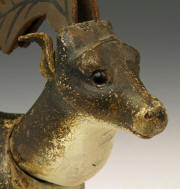 202
SP
GTAY-22
GE Bear - complete restoration of this early brown bear style. $ 165 $115 Sold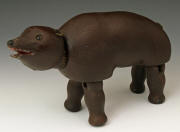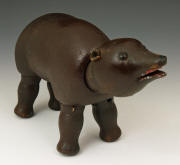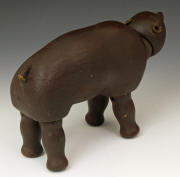 165
GTAY-23
OPH Dude - complete and all original. Very bright colors. Jacket has two small holes in his left lapel. $535
$375

Sold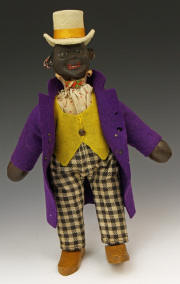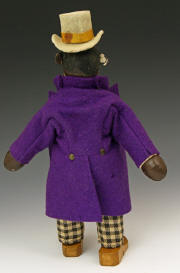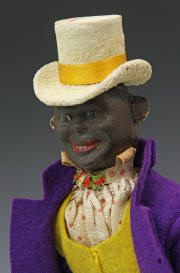 192
GTAY-24
Red Wheelbarrow - all original. Some paint loss. $160 $120 Sold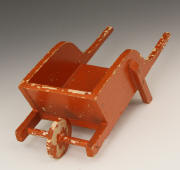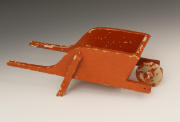 195
GTAY-25
PE Cow - complete and all original including his rarely found bell and neck leather. True painted eyes on a molded head. Sold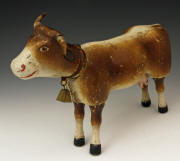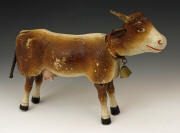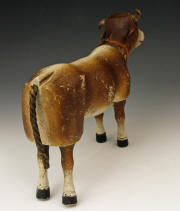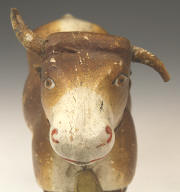 198
GTAY-26
PE Giraffe - molded head style with true painted eyes. Generally good paint condition. Missing part of his right ear. Sold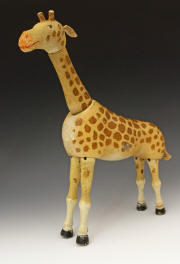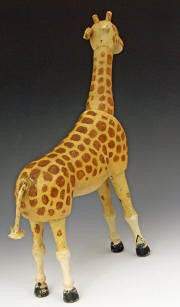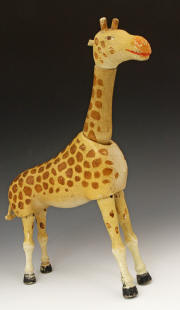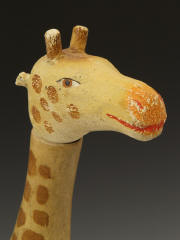 169

SP
GTAY-27
GE Carved Mane Lion - early lion in excellent condition. Nose repainted. Tail is Schoenhut but not what is usually found on lions. Sold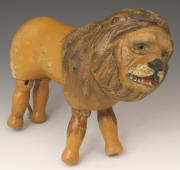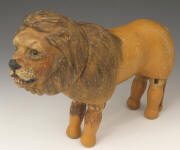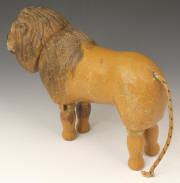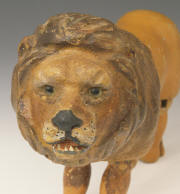 ?
GTAY-28
GE Zebu - for your Teddy Roosevelt display or H-D circus. Hard to find. Complete and all original. Body and head are excellent with just a little snoot wear. Legs are very good. Beautiful color tones that are often not present in these. Sold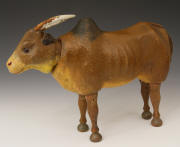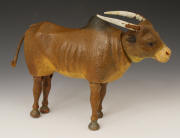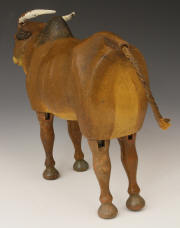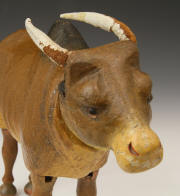 160

SP
GTAY-29
GE Hippo - early style with platypus-like head and blocky body. Happy face expression. Complete and all original. General wear all over. $380 $285 Sold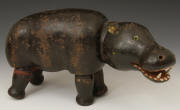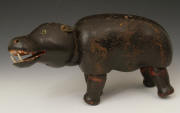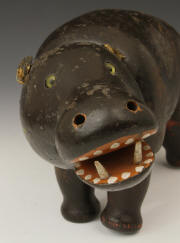 115
GTAY-30
GE Buffalo - nicely hand-carved head. Complete and all original. Wear to body but hardly any to head. Buffalo were often used in real circuses. $500 $400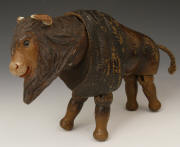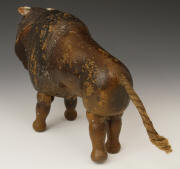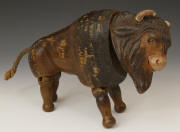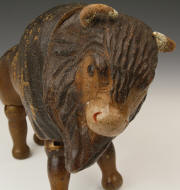 101
GTAY-31
PE Alligator - true painted eyes style. Beautiful colors. Complete and all original except for his two rear leather flippers. $160 $125 Sold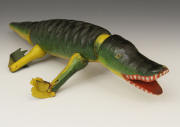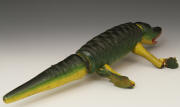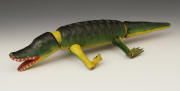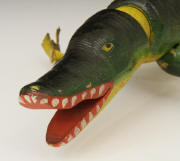 163
GTAY-32
Reduced size Dude - complete and all original. These are very hard to find. Pretty and unusual shirt. Jacket's colors are strong - has a few small holes around the collar and the buttons. Paint loss at back of head, ears, and face. $260 $200 Sold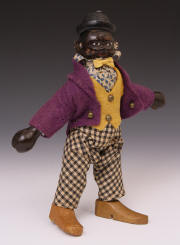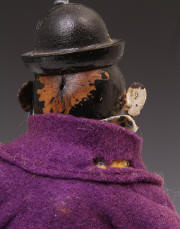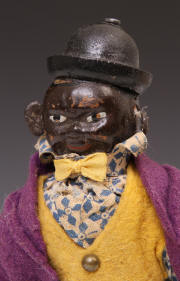 185
GTAY-33
PE Hippo - complete and all original. His left ear is mostly missing. Chip spots all over. Sold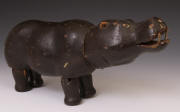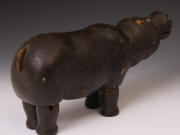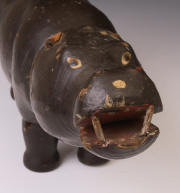 171

SP
GTAY-34
GE Brown Horse - complete and all original. Excellent paint. Extremely hard to find with all of its leather and both stirrups. Repair to leather on left stirrup. Leather treated with conditioner to restore oils. Sold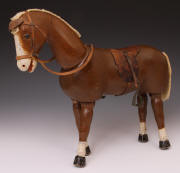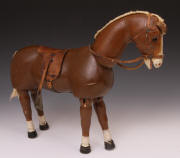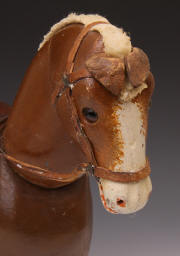 340

SP
GTAY-35
GE Donkey with Blanket - complete and all original. Blanket is excellent. $175 $140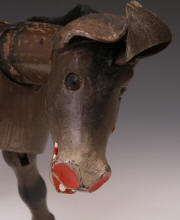 167
GTAY-36
GE Brown Horse - early style with wool tail (mostly missing) and small riveted stirrups. One stirrup missing. Excellent paint and leather. Sold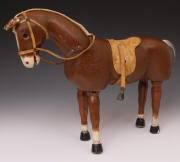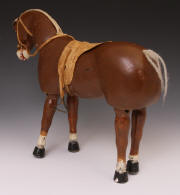 339

SP
GTAY-37
Noah - made for the giant display-store Ark. Clothing all original and probably complete. Head was restored by an idiot. Only one known to us - probably only one or two ever made by the company. Sold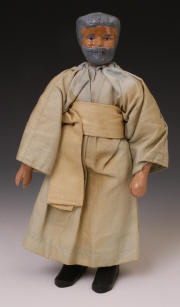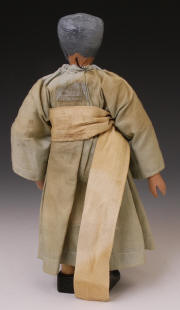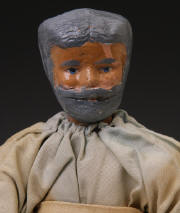 338

SP
GTAY-38
GE Pig - spotted. Replaced tail. Sold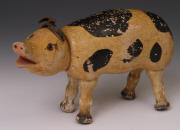 119