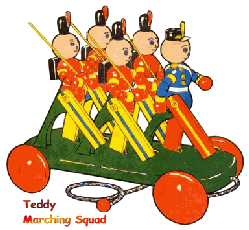 The Ted Toy-lers began toy production in 1925 in New Bedford, Massachusetts. The company's founder and chief designer was Edwin V. Babbitt of Fairhaven, Massachusetts.
The Ted Toy-lers reached its peak in about 1928 shipping more than 50,000 toys a week all over the world. In July of 1927, The Ted Toy-lers merged with National Wood Process company and named the new company International Toy Company. The National Wood Process company had been formed by The Ted Toy-lers a year earlier in Farmington, Maine near their wood supply, to make the turned wooden component parts for their toys. Labels were changed to add International Toy Company. Sometime in 1930, The Ted Toy-lers ceased operations and Edwin V. Babbitt started a new toy company making doll houses.
Their toys were of the highest quality, made of birch wood from around Farmington, Maine by their subsidiary company, National Wood Process Division, and painted with a durable lacquer. Springs or wires,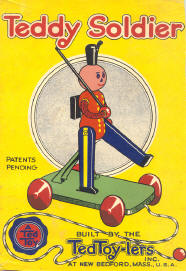 not rubber cords, ran through the beaded toys introduced in 1927. Their pull toys were quite complex - their Marching Squad, illustrated below, was made from over 150 parts!
Early toys used cords for arms and legs that flopped around. In 1927 they introduced toys with beaded arms and legs and they introduced their giant line.
In later years, profit margins obviously were being squeezed and attempts were made to lower production costs by reducing parts. Oil cloth belts and hat plumes, for example, were replaced with painted representations. Smaller versions of some of the best selling toys were made.
I have transcribed several newspaper articles from the Sunday Standard Times of New Bedford. Click on the bar to view these articles.