American Junior Aircraft Co.
Perhaps no company in the history of model aviation was more famous or highly regarded for their line of great flying RTF gliders and ROGs than was American Junior Aircraft. The company was founded in the late 1920's by model airplane legend Jim Walker (1905-1958), and was based in Portland (OR). Walker and his staff spent countless hours experimenting, engineering and test-flying "toy" gliders and model airplanes from the late 1920's through the 1950's. Jim never wanted any kid to be disappointed in the performance of an AJ product.
The company also developed complex production equipment for cutting and slicing balsa to very high standards of accuracy and quality, and machinery for steam-forming airfoil and dihedral into the wings of gliders costing as little as 5-10 cents. And if (when) your AJ glider got damaged, you could buy replacement parts without having to spend extra money to buy an entirely new airplane.
Walker … ever the showman … travelled all over the country, demonstrating his gliders and model airplanes to spellbound audiences of all ages. He competed at regional and national model airplane contests, and his company also provided needed sponsorship. (One lucky contest winner received an around-the-world trip, courtesy of American Junior.) Walker spoke just as energetically to his young audiences about the importance of education and flying safety.
During WW2, Walker devised a cost-effective method for soldiers to hone their anti-aircraft gunnery skills … shooting at AJ folding wing gliders launched by portable company-designed catapults. Thousands of AJ Army Interceptor gliders went to their doom for the war effort at bases all over the world. In addition, AJ produced large, radio-controlled target drones for the military.
The company sold hundreds of different products … from 5 cent gliders to gas-engine powered aircraft and boats ... and of course, model airplane pieces and parts of all types. You would be hard-pressed to find a model airplane enthusiast who hasn't flown AJ airplanes of some type. Many folks started in the hobby with the "74" glider, folding wing Interceptor or rubber-powered Hornet ... all top performers of their time.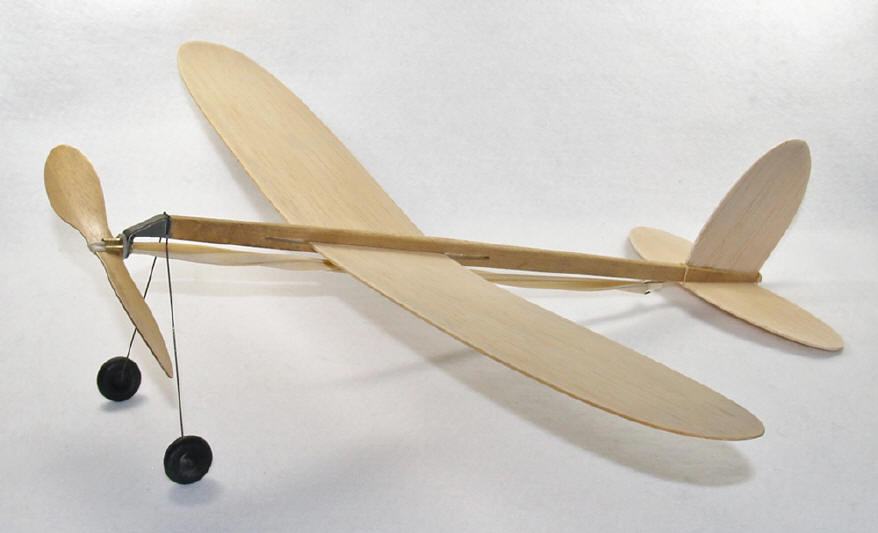 AJ Experimental ROG (1934) – This one-of-a-kind prototype became the design basis for the smaller Hornet and larger Pursuit ROG's. It was AJ's first use of a metal prop hanger, wire landing gear legs and a wood veneer propeller.
"Hornet" ROG (ca 1947-51) – The Hornet was probably the most widely flown and fondly remembered ROG in the entire AJ line. Even novice flyers could get long and stable flights with the Hornet right out of the package. This particular example is notable for its metal prop hanger and somewhat unusual blue-inked wing (red was standard).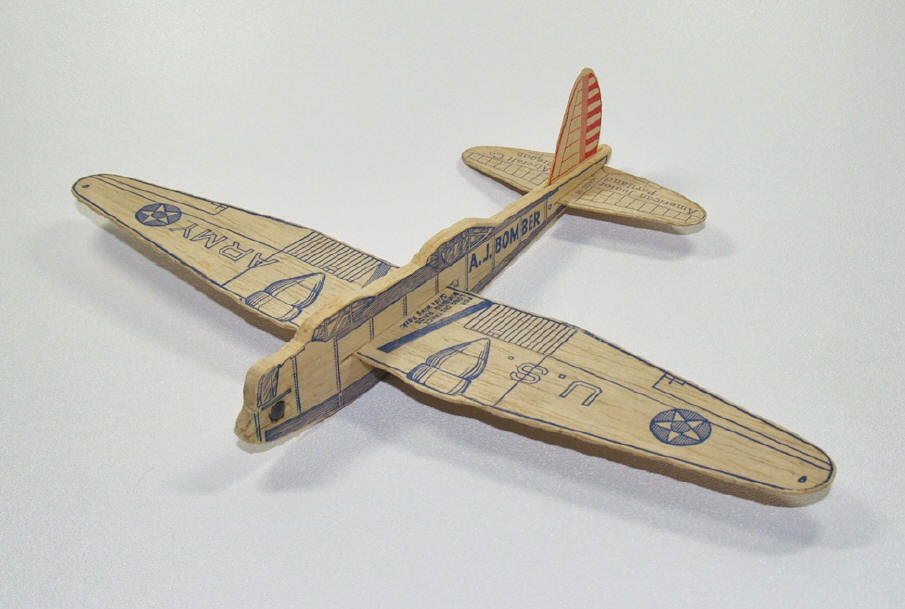 "AJ Bomber" toss glider (ca 1937-42) – Based on the Martin B-10 Army bomber, the AJ Bomber was the company's answer to the cheap, wire & silk gliders from Japan that were flooding the US market in the 1930's. At only 6 to 7 cents per plane, it was a great flyer. Its sales success helped to keep American Junior financially "afloat" during the economically challenging years prior to WW2. This example is in remarkable condition for its age and one of the few known with all-original parts.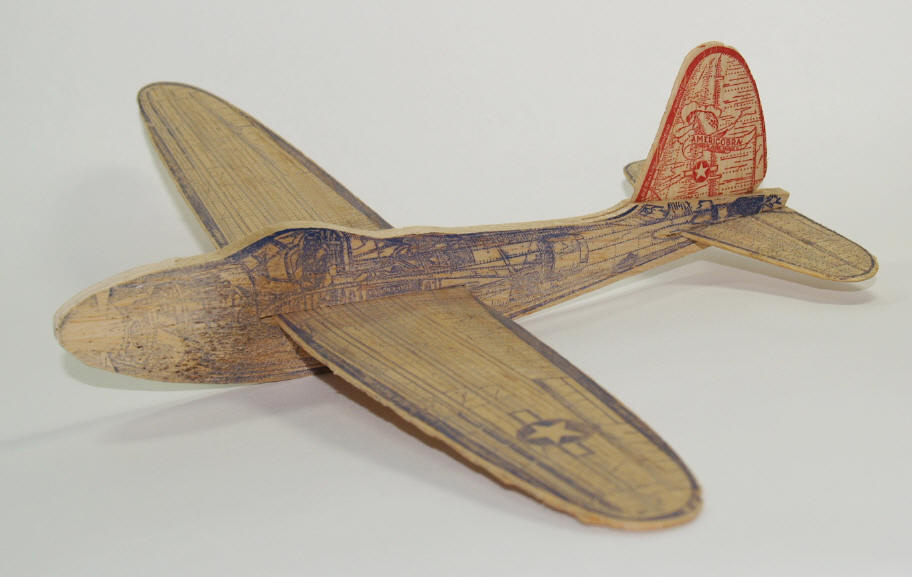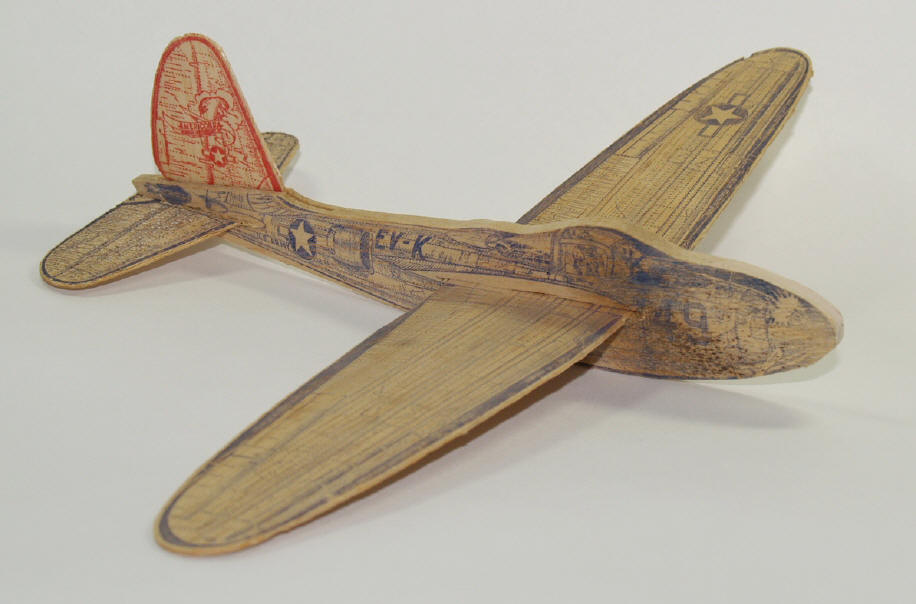 "Americobra" toss glider (ca 1940's) – The Americobra was based on the Bell P39 Airacobra fighter and replaced the pre-War AJ Bomber in the product line. It is notable for having an exterior aircraft view printed on one side of the fuselage and an "x-ray" interior view printed on the other. A rare "bird" indeed.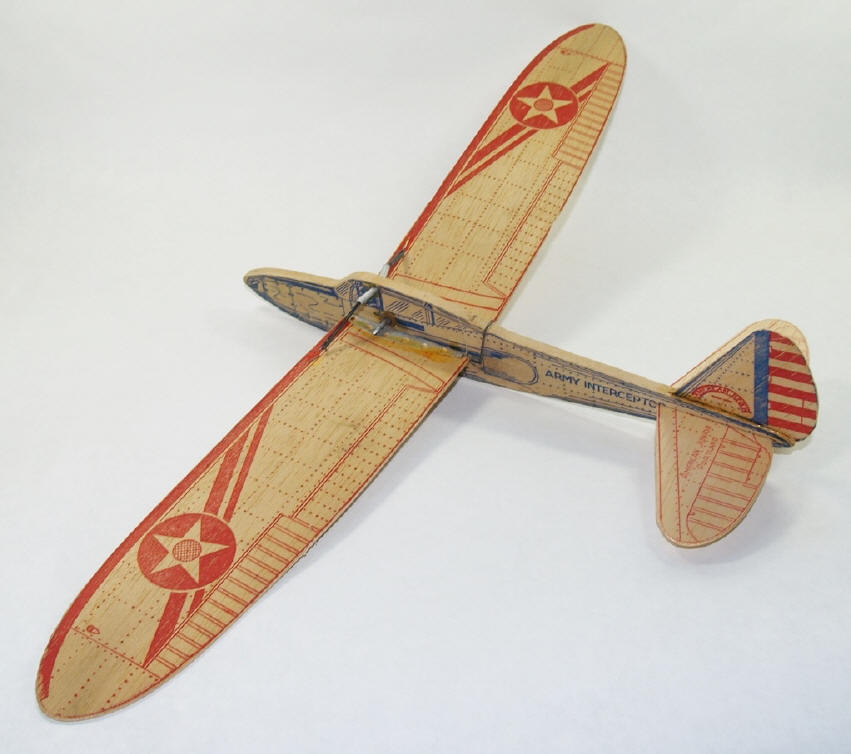 "Army Interceptor" (ca 1939) – The AI was one of the first high-performing, mass-produced folding wing gliders sold in the US. To launch the glider, the wings were folded up and pivoted back against the fuselage. Once ready for flight, the AI was shot high into the air using the catapult stick provided. Air pressure kept the wings tightly folded. As the glider reached its maximum altitude and slowed, the rubber band at the wing roots overcame the reduced air pressure against the wings and quickly snapped them into place for gliding.
This particular example is believed to be among the earliest produced, due to its nose weight configuration, wing printing and large catapult stick. It came to me with its original box, which protected the glider extremely well for many decades. However, the box itself took quite a beating in doing so.
The Army Interceptor's relatively large wingspan and airfoil wing shaping provided consistently long flights ... and subsequently became a "toy that went to war". As the vintage Army photograph shows, the military used the AI as a cost-effective means to give gunnery practice to thousands of soldiers "in the field" during WW2. As a result, American Junior was one of the few toy companies that received significant allocations of balsa wood during the war, since balsa was considered to be a strategic material during this period.
American Junior's government contracts to produce thousands of AI's for the war effort, was a tribute to the ability of this iconic glider to become more than just a child's toy. It was great fun for youngsters and provided yeoman service to the nation in time of war. Complete, original AI's are very scarce today. However, high-quality replicas have been made in limited numbers by American Junior Classics in Oregon since the mid 1980's.
(See also the "AI time capsule" article elsewhere in this section.)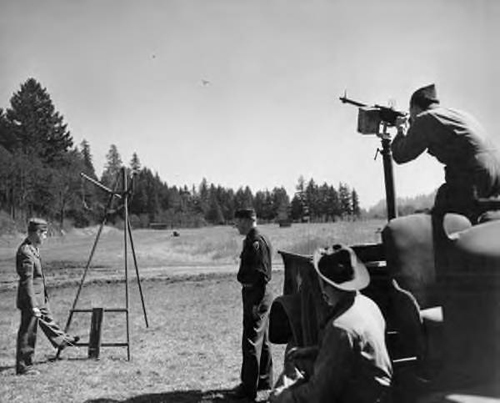 AJ glider gunnery training, Ft Lewis (WA) – 1943. (photo courtesy of Scott Griffith, AJC archives)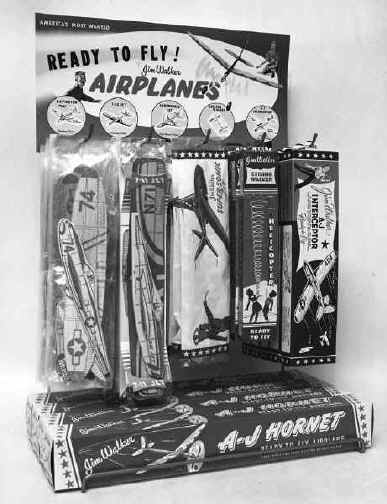 1950's AJ product dealer rack (photo courtesy of Scott Griffith – AJC archives)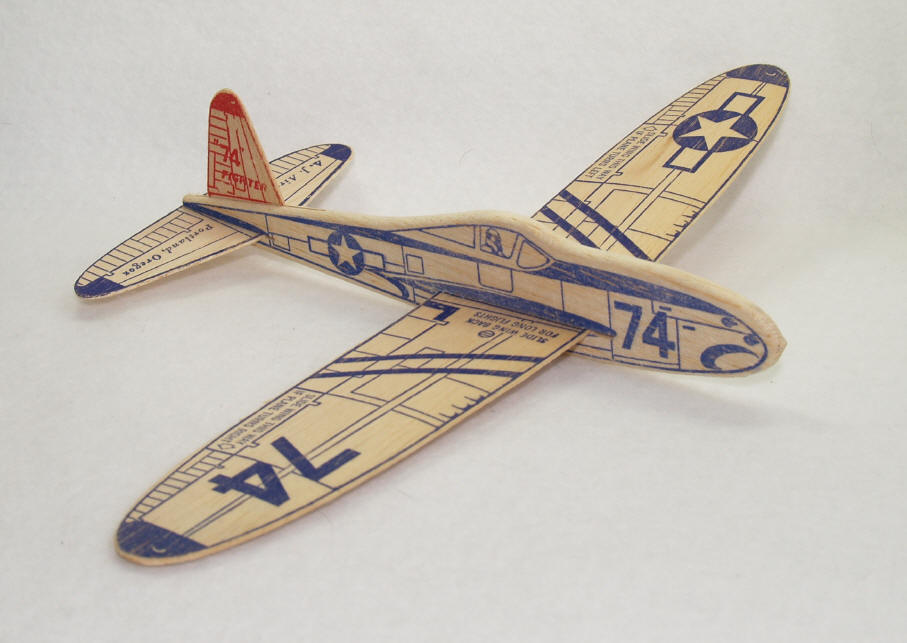 A-J "74" toss glider (1947-59) – Undoubtedly the most iconic ready-to-fly toss glider of all time, the "74" was also Jim Walker's favorite demonstration glider. Walker could make a 74 perform show stunts that astounded kids and adults alike. Reportedly while visiting a prospective business client in a high-level office building, he flew a 74 out one window … back in the next … and made a perfect catch in mid-flight.
With its design roughly based on the Lockheed P-80 jet fighter, the 74 made its debut in the A-J product line in 1947. Because of its near-perfect balance, rounded fuselage edges and 12 inch airfoil-shaped wing, it was equally adept at long glides or aerobatics by either sliding the wing forwards or back.
The 74 was available in both blue-wing and red-wing versions … with the blue-wing version being the most common. It could be purchased complete in an individual poly-bag, as part of a multi-airplane set or "built-up" by buying components from a dealer's display box. A 74 owner could also buy replacement components for a few pennies each, when the glider sustained that inevitable flight damage. Among mass-produced balsa gliders, the 74 of this period was the "the best of the best".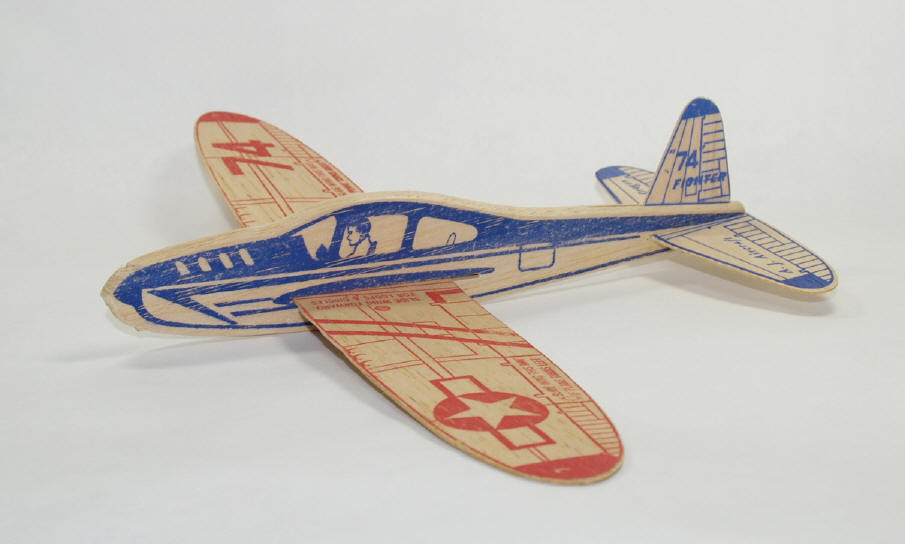 74 toss glider "civilian" variant (ca 1955-57) – This unusual version of the original 74 glider uses a "civilian" printing motif on a modified 74 fuselage profile, in place of the jet fighter motif used on the standard 74 fuselage. The printing design is reminiscent of the Beechcraft or Piper aircraft being flown by private pilots during this period. However, it doesn't appear that matching civilian-style wing or tail printing patterns were produced for this model. The standard 74 military-style wings and tail components were utilized instead.
This example is one of two gliders of this type that are currently known to exist. These may have been special short-run items whose purpose has been lost to time, or perhaps they were design mock-ups under development by the company during this period. But it seems clear that they were never put into large-scale production ... neither have they appeared in any known ads or catalogs. Hopefully, more examples will appear in the future so that additional information may be learned about their history.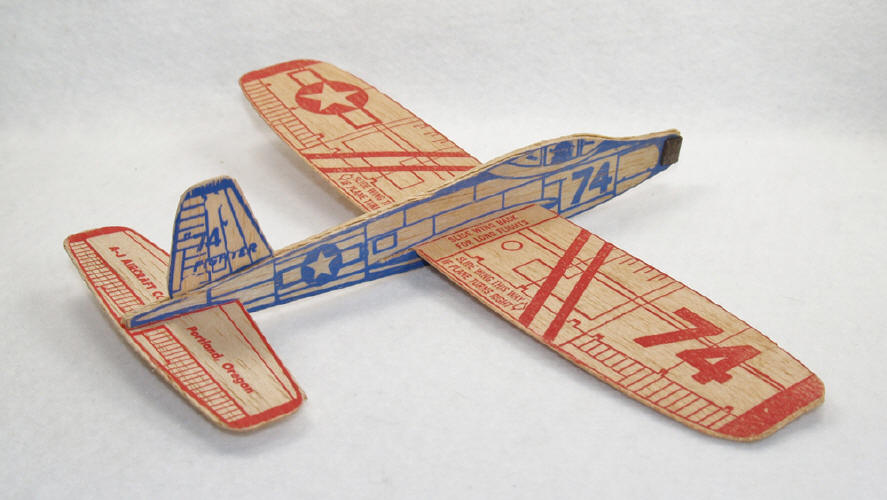 "74" toss glider (ca 1959-63) – In order to reduce material and production costs, the 74 glider was redesigned in the late 1950's. While not having the flying performance of the original 74 glider, this new version still looked very "cool" and was a very good flyer when compared to the competition of its day.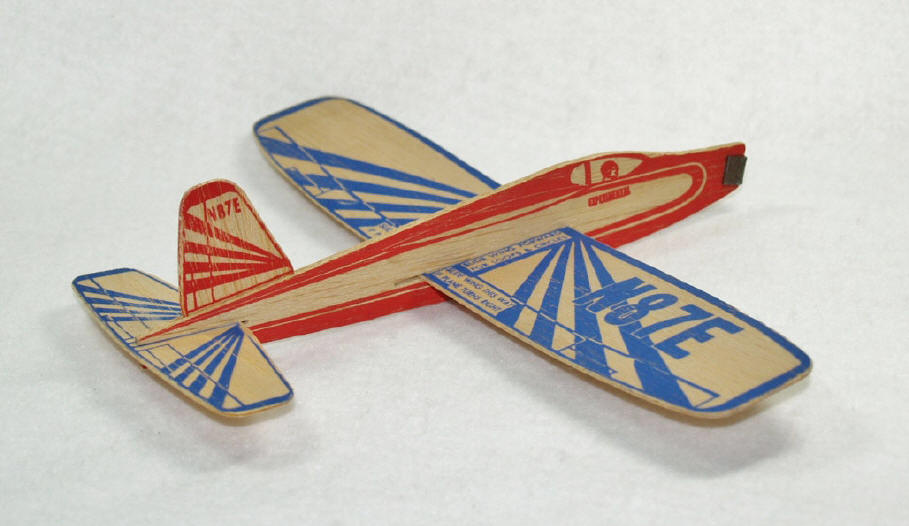 "Sport Plane" toss glider (ca 1959-63) – The Sport Plane is identical in design to the second generation AJ "74" shown above. It featured a very attractive graphics motif … like those seen on many aerobatic aircraft … in lieu of the military-style motif of the standard 74. The Sport Plane was available in the AJ "3 Plane" and "Aero 45" gift packs, but may not have been sold individually.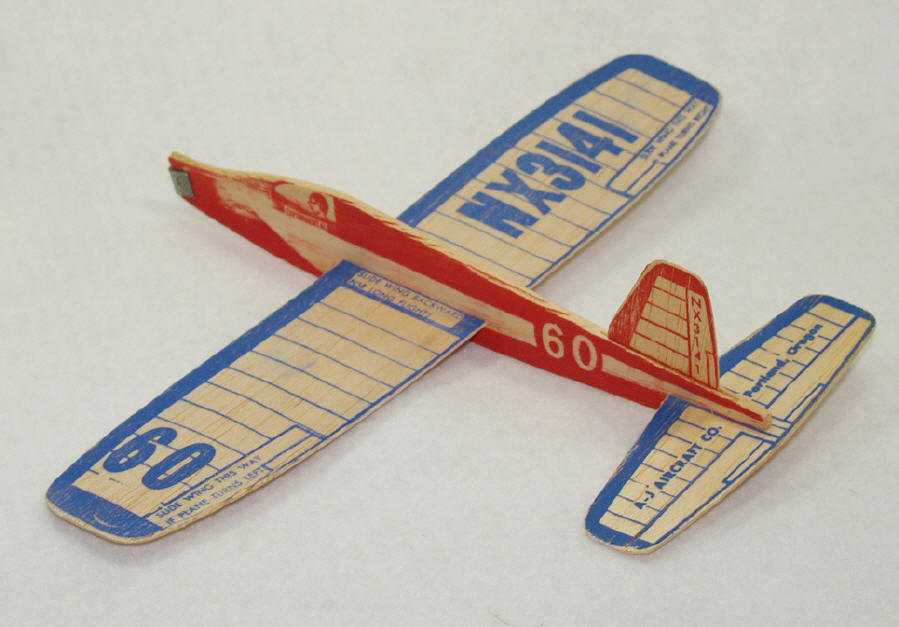 "Racing Plane" toss glider (ca 1959-63) - The third member in AJ's 3 glider set was this nice looking racing plane. As with the preceding Sport Plane, this glider was the same basic design as the 74 "military" glider, but with yet another printing motif. This particular glider sat in boxed storage in my closet for an extended period of time, awaiting a wing bearing the correct graphics. Luckily, the needed wing was ultimately found and took its rightful place on the glider as the result of a parts trade with another collector. (Thanks Scott!)
AJ/Pactra "74" (ca late 1960's) – By the mid/late 1960's, this once-revered glider went through a 3rd design iteration. The company clearly made further compromises in construction materials and production quality in order to maintain a 10 cent price level during a time of increasing inflation. Perhaps as an homage to Jim Walker, this 3rd generation design still retained the airfoil wing shaping of its predecessors, although its flight performance was no match for its earlier brethren.
Shown in the photo alongside the standard 3rd generation 74, is a blue-wing variation that the company used for business promotion purposes. Note the use of square-shaped horizontal and vertical stabilizers in lieu of the standard rounded components. The blue leading edge printing left plenty of blank space for a customer's "message".
Also shown here is reportedly the last original "wooden" 74 glider to carry the Jim Walker name. The glider used the same 3rd generation design balsa fuselage, but was now was equipped with foam wings and tail. No mention of Jim Walker was made on the package. Sometime in the 1970's, and with little notice by anyone, the original AJ 74 disappeared entirely ... a victim of cost-cutting and waning boyhood interest in flying balsa airplanes.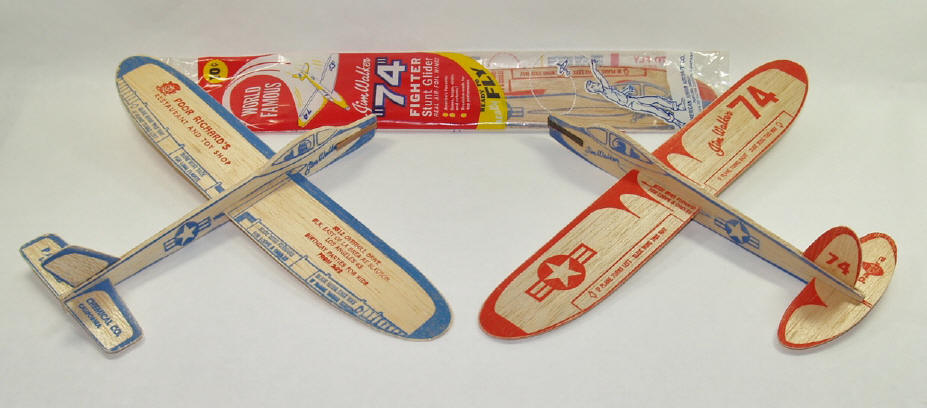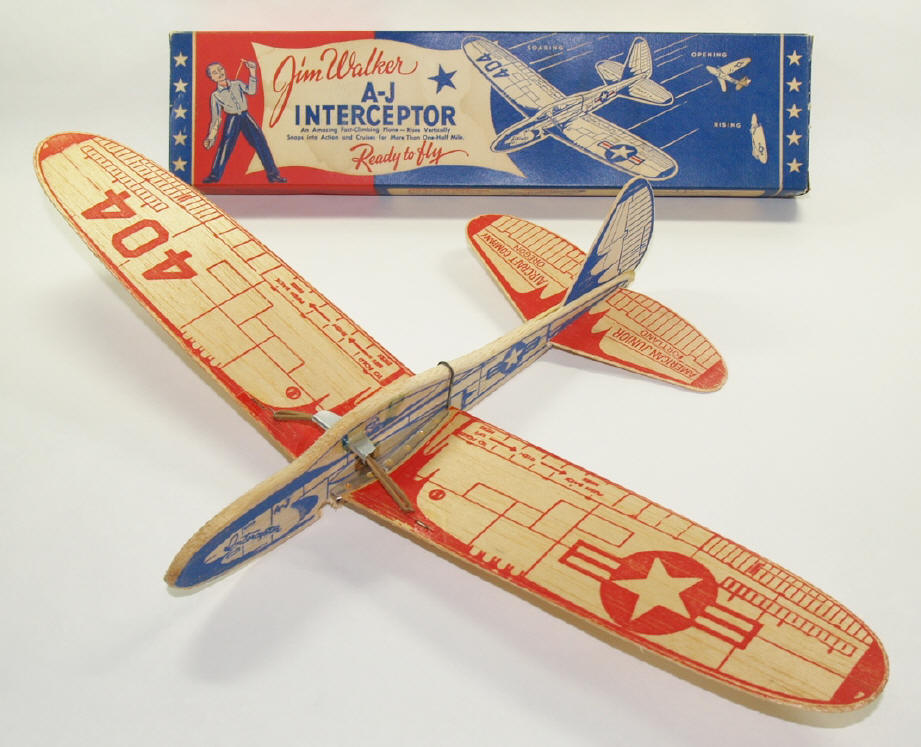 A-J "404 Interceptor" (1947-60) – Immediately after WW2, the American Junior Company began a major redesign effort for many of its gliders, to better represent the arrival of the "jet age". The 1939 Army Interceptor folding wing glider (based on a WW2 propeller-driven fighter) was replaced in 1947 by the 404 Interceptor. It appears that the A-J staff took design "cues" for the 404 from the Lockheed P-80 fighter and the Northrop F-89 interceptor, to reflect the rapid introduction of sleek, jet-powered aircraft into service with the newly-established US Air Force.
The 404 Interceptor was slightly shorter than the Army Interceptor, and its 16.5 inch wingspan was 2.5 inches less than the AI's span. But the 404's lighter weight and its new "sleek kurve" fuselage design (rounded edges) enabled it to retain the excellent flying qualities of its predecessor. Launched with a catapult stick, the 404 was legendary for catching thermals and just "flying away".
Shown here is a red-wing version of the 404 with its original box. Blue-wing examples were also available and were probably the most commonly sold versions of the 404.
Also shown here is a rare, blue-wing "transition" Interceptor. This glider is believed to have been among the first 404's off the American Junior production line in 1947. The company reportedly had a small inventory of horizontal and vertical stabilizers left over from the previous production of the now outdated Army Interceptor. Rather than discarding these remaining AI stabilizers, the company repurposed them for use in early batches of the 404, resulting in this glider's unusual "hybrid" appearance. (These AI stabilizer patterns would actually be used again in late 1948 for a special batch of holiday 404's that were given as gifts by the company's owner.)
By 1961, American Junior was in the process of being absorbed by the Pactra Chemical Company. The 404 was now being manufactured with a plastic one-piece fuselage and rudder. "Anemic" would probably best describe the 404's flight performance with the added weight of this large, plastic component. The 20 year reign of the A-J Interceptors as the premiere folding wing gliders of their day, had come to an inglorious end.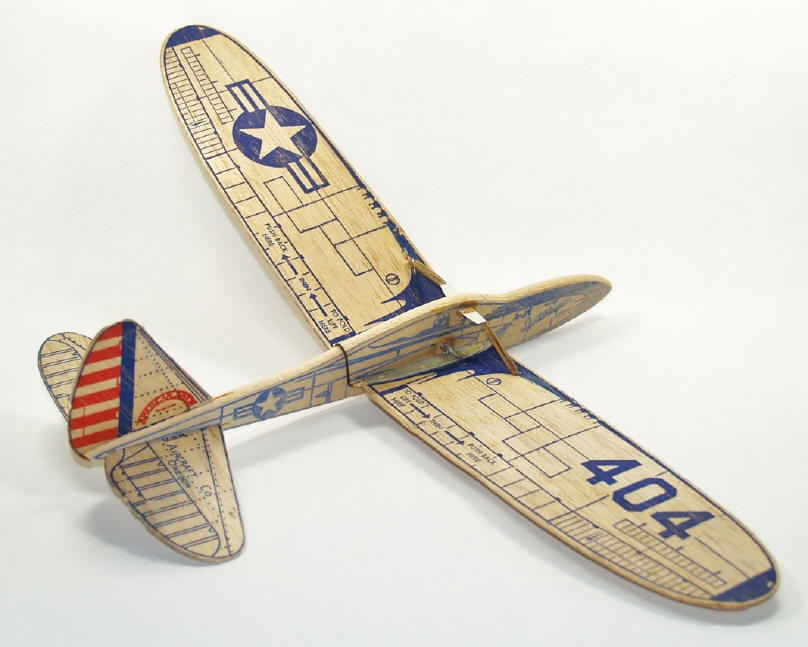 "404 Interceptor" Holiday Special (1948) – AJ owner Jim Walker directed that a very limited production run of "holiday" Interceptors be made at the end of 1948. These special Interceptors were reportedly made only to be given as gifts to AJ employees and to friends of Walker himself. As far as is known, they were never sold to the public. These rare gliders featured green and red printing ("holiday colors") in lieu of the standard blue and red. They also used the horizontal and vertical stabilizers from the 404's predecessor, the Army Interceptor folding wing glider, instead of the "tailfins" normally used on the 404's.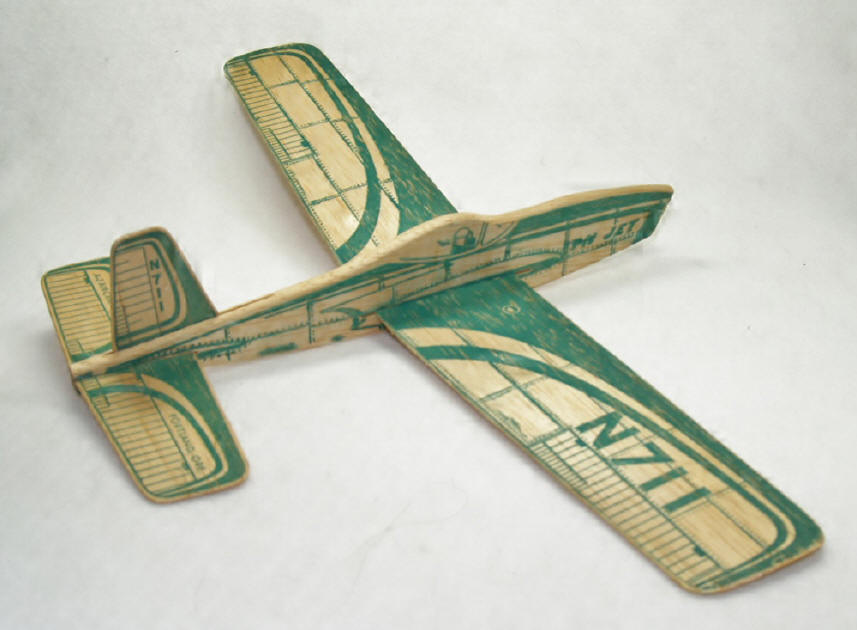 "711 Jet" toss glider (ca mid-1950's) – One of the few green-colored gliders in AJ's line-up … the 711 Jet was Jim Walker's answer to investor pressure to raise the retail price of his beloved 74. The larger 711 was priced at around 17 cents, while the 74 remained at 10 cents.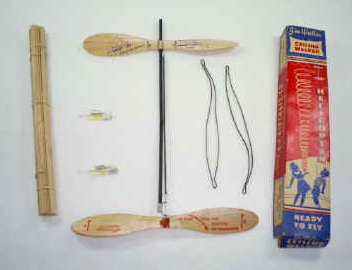 "Ceiling Walker" helicopter (ca 1950's) – The CW was probably the most unusual aircraft ever to come out of the AJ factory. It was a rubber-powered helicopter and got its name from its ceiling hugging flight characteristics indoors. Outdoors, it flew straight up and auto-rotated back to earth once its rubber motor "petered out". It was marvel of design ingenuity.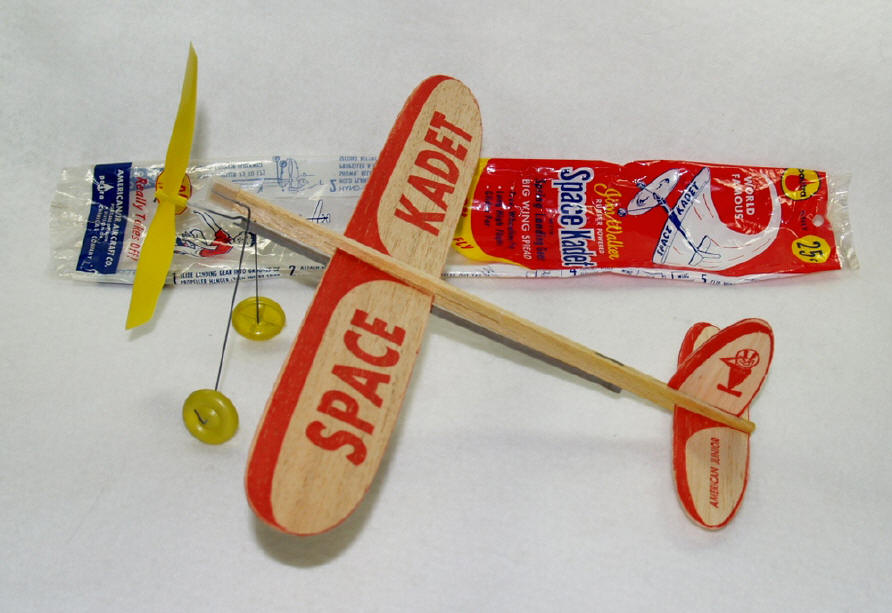 "Space Kadet" ROG (ca 1960's) – The Kadet was reportedly the smallest of the AJ ROG's. But it still had a wing with airfoil & dihedral and a highly efficient prop … features it shared with the larger and more expensive ROG's in the product line. (Obviously, it was named prior the phrase becoming a good-natured insult in our culture.)