Harold Llloyd, the comic genius from the silent screen era, became president of the Hollywood Hobby Horse Company in Los Angeles. He incorporated his zany style into the design of this vintage hobby horse from 1929. It is in good condition overall. The design of this toy is unique, with two back legs with rubber pads to place your feet on, and one center foot that swings forward, and it works great! The color is orange, with a wavy stripy pattern. It has some light paint wear, and a small crack on back of the head near the ear. Otherwise it is very solid. The painted details, like the goofy eyes, are worn but still look good. The hard rubber ears are naturally aged and cracked, but still there. The bushy tail appears to be a natural fiber. The bottom of the feet have some chips and wear, but it was apparently well loved by a child. It measures 18" x 11" at the base when standing straight, and 31" tall.
This ingenious hobby horse is a fine vintage toy, and also a fine creation from silent screen legend Harold Lloyd.
Harold Lloyd (1893-1971) was one of the pioneers of comedy during the silent film era of the teens through the 1930's. He became known for his brand of thrill comedy, in which his characters always found themselves in perilous predicaments. He did his own dangerous stunts, the most famous being his clock hanging scene in "Safety Last" Lloyd's most well known role was the "Glasses" character, a decent American man who risked life and limb to achieve his goals. He left film as an actor in 1938, and started a family. He was one of the 36 founders of the Academy of Motion Picture Arts and Sciences (AMPAS). Lloyd was pictured on one of ten 29¢ US commemorative postage stamps celebrating stars of the silent screen, issued 27 April 1994.

Page created 16 Jan 2003.

Photos and Text Copyright 2002-2003 Midwest Estate Buyers, Inc.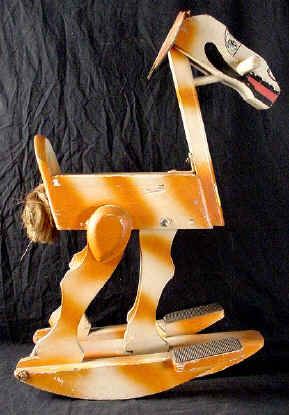 Harold Lloyd Vintage Hobby Horse Toy -1929
Looks like Buster Keaton does he? This hobby horse is 31 inches tall.