This collection is from an estate. All pieces are in their original state except for restringing. These pieces are from ca 1900 through 1939.
Postage via insured Priority mail within the 48 contiguous states is included in price unless otherwise indicated. Will quote a final discounted price with shipping for purchase of more than one piece. I will quote shipping outside of the USA. We have customers in Australia, The Netherlands, Switzerland and other countries. Money back if not satisfied.
How to Buy
If you are interested in purchasing any item in this shop, contact Jim at: jlsneed2@bellsouth.net and tell me what you are interested in.
I can take payments through:

or checks.
I will quote shipping outside of the USA to almost any country.
This page updated Wednesday, October 06, 2021

All pieces carry a money-back guarantee of satisfaction.
Unless otherwise indicated, all pieces below are by the A. Schoenhut Company ca 1903-1935. All have been properly restrung and are ready to perform in your circus.
PE = Painted Eyes - made after WWI
GE = Glass Eyes - made from 1903 up to WWI
TPH=Two Part Head SchoenhutSchoenhut
All pieces are regular size unless otherwise indicated.
TC006
GE Ostrich - complete, all original and excellent. A fine example. $750 Sold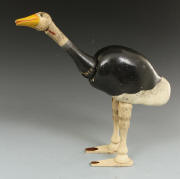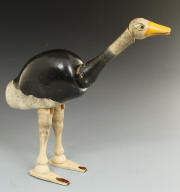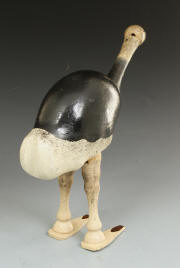 TRC004
GE Cat - very rare. This one complete except for missing whiskers. In very good, all original condition. $1,200 $500 Sold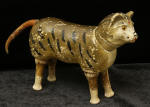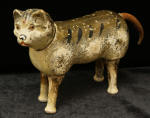 TC008
PE Wolf - complete and all original. Excellent condition. $580 See Jim for status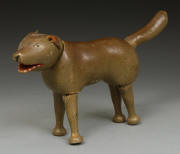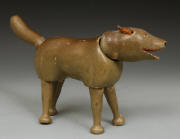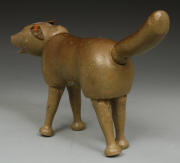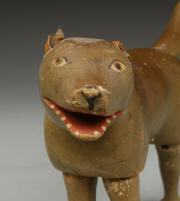 TC10
Glass eyes Rabbit - complete and all original except for glass eyes which, I believe, were added over her original painted eyes. This would be a $1,200+ piece if glass eyes were original but as is: $450 Sold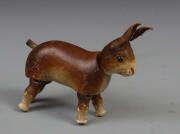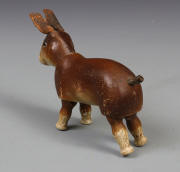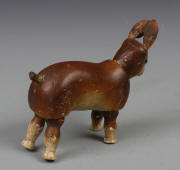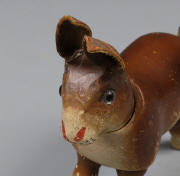 TC17
Glass-eyed, carved mane poodle - probably the earliest and certainly the rarest and most desirable poodle. Complete, original, and in very good condition. $330 Sold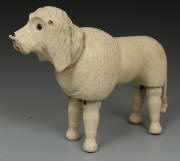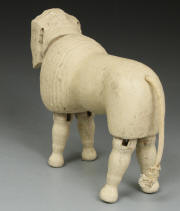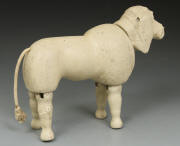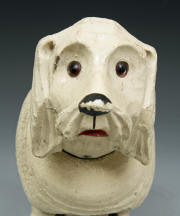 TC19
Painted Eyes Hyena - complete and all original except for replaced ears. Ears are made from old Schoenhut leather. Nice appearance overall. Hard to find. Perhaps a repair under his left eye near mouth. $600 Sold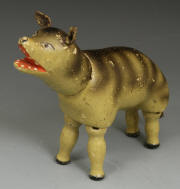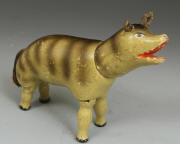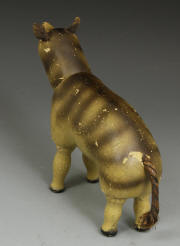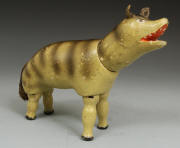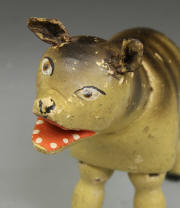 TC62
Glassed Eyes Kangaroo - early pre-WWI. Complete and all original. Excellent condition overall. Body is exceptionally pretty. For your circus or Teddy Roosevelt display.

$1,350 $960 Sold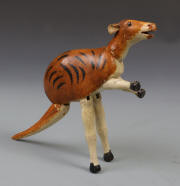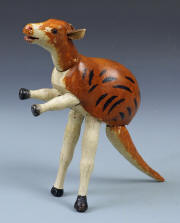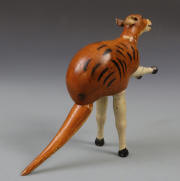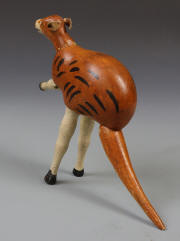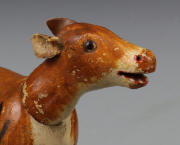 TC20
Glass eyes hyena - sold
I buy Schoenhut Humpty Dumpty circus collections. I also buy European versions of this circus. jlsneed2@bellsouth.net
Consignments also welcomed. Email Jim for details.