We are adding from time-to-time so check back often.
JSCAR-1a
Bisque Gent Acrobat - with extremely rare blond hair. Only two are known. This one is ex Yaffee and ex Kaonis collections. The other example resides in Europe. In excellent, complete and all original condition. For those who want the rarest Humpty Dumpty circus pieces. $1,500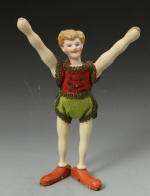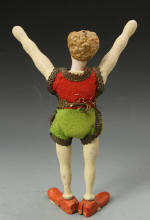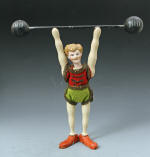 I display this fellow as a strong-man. You can have the Schoenhut 100 lbs bar bell for $100 with the acrobat.
JSCAR-1b
Bisque Gent Acrobat - with extremely rare red hair. This example is the only one known to collectors to date. See picture below of the four bisque head hair colors. In excellent, complete and all original condition. For those who want the rarest Humpty Dumpty circus pieces. $1,700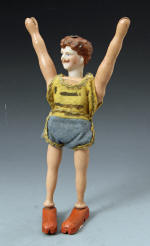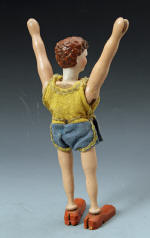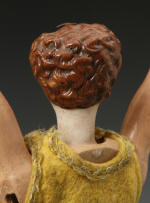 Hair Colors of the Bisque Head Gent Acrobats - from left, Brown, Black, Blond, Red
Click on the thumbnail picture to see a larger view.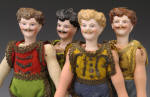 JSCAR-1
The First Style Lady Acrobat - ca 1905, this is the first production style of lady acrobat. Only five examples are known to us collectors. The other four are in the collections of very prominent collectors. She is in terrific condition - all complete and original except that her hair has been repainted. She was only made for a year or so because we know that the lady acrobat started production with a bisque head in 1907. $800 Sold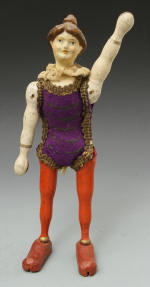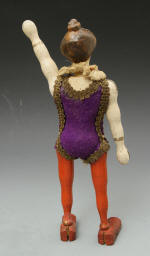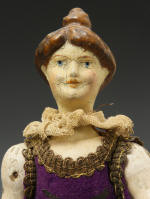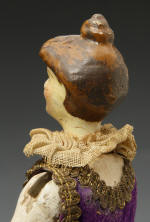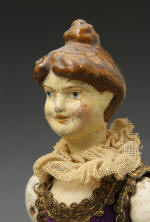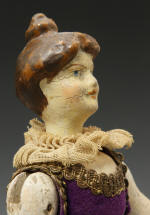 JSCAR-2
Early Lady Rider ca 1907 - This is the most colorful Lady Rider I've seen. She retains her neck ruff the Schoenhut put on the early ladies but not later. Her blue leggings tells us she is very early. Complete and all original with nice bisque head that was made in Europe. $480 Sold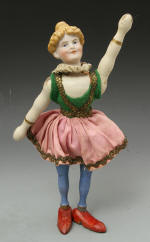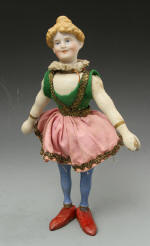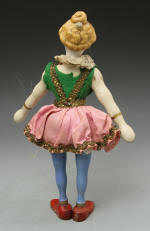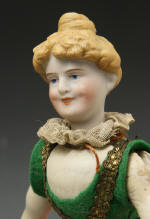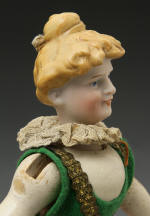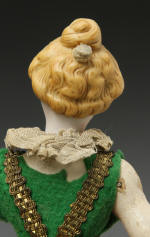 Has cord knot rather than wire to hold the elastic cord.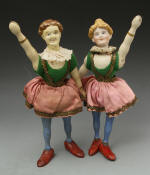 JSCAR-3
Another early bisque head Lady Rider - this one also retains her neck ruff. Her hair is black which is rare on these. She was originally sold in Europe - we know because she has the "Humpty Dumpty" button on her shoe.

$430 Sold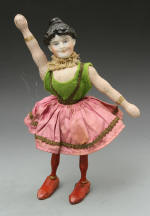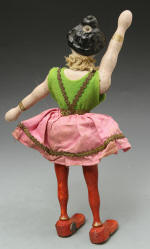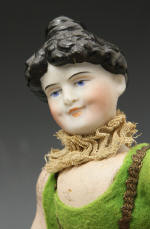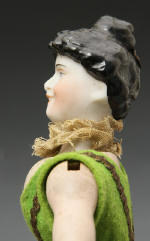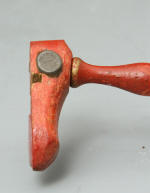 The button that Schoenhut applied to pieces they exported to Europe for sale.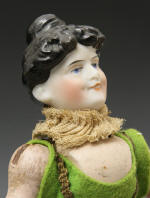 JSCAR - 4
Hobo - from the 1920s - He has a beautiful one-part-head. He is all original except for his shirt which is modern but cute. $280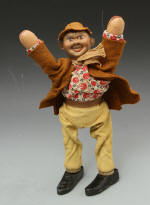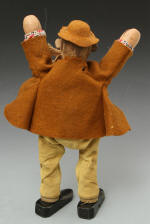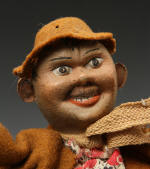 JSCAR-5
Reduced Size Clown - this one with cloth hat and circles suit. This is an early (ca 1924), reduced clown. They changed the hat to a wood cone then to a molded hat later. Those with cloth hats are very hard to fine especially in nice, complete and all original condition like this one. $290 Sold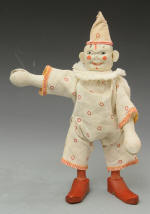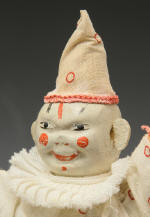 JSCAR-6
Bisque Head Ringmaster - this is an early bisque one with a black hat. He is excellent, complete, and all original. Black hair. Like him? $330 Sold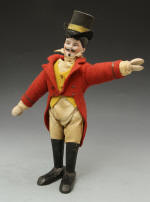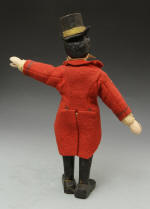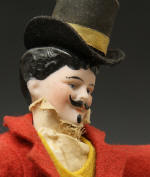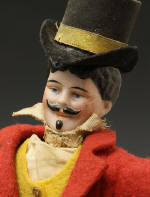 JSCAR-7
Bisque head Gent Acrobat - complete and all original. Brown hair. In excellent condition. $390 Sold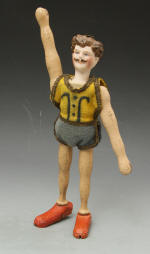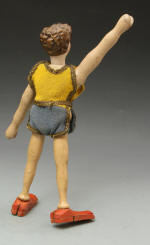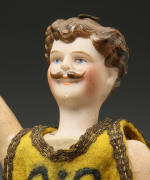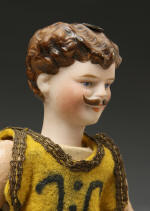 JSCAR-8
Rare One-Part-Head Gent Acrobat - I have seen only one other of these. There are maybe 5 or so in collections. These were the last gent acrobats made - ca 1934. He is complete and all original. There are a few felt repairs. For someone who wants something special. $400 Sold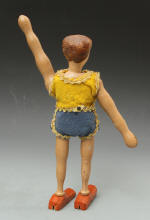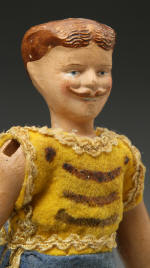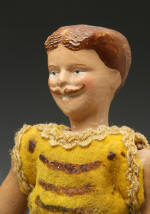 JSCAR-9
Two-part-head Chinaman -complete and all original except for replaced queue. A few repaired small holes in the yellow liner. Great looking face. $480 Sold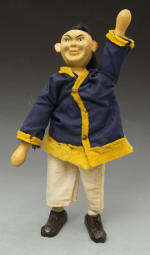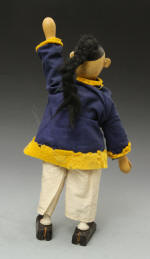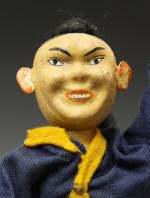 JSCAR-10
Two-Part-Head clown in white suit - complete and all original. This is a very early clown ca 1908. Yellow ruff. $320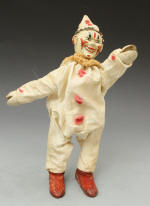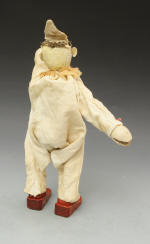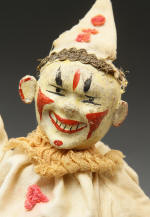 JSCAR-11
Reduced Size Ringmaster with Top Hat - complete and all original. He even has his bowtie. Note the flush to his face. ca 1920s - $280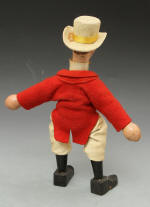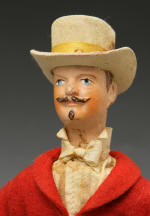 JSCAR-12
Reduced Size Ringmaster No Hat Style - complete and all original. ca 1920s. $200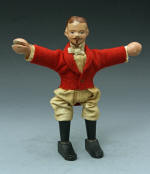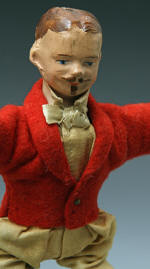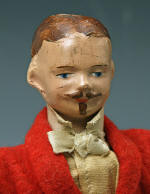 JSCAR-13
Reduced size lion - smaller size, closed mouth - complete and all original. Paint is excellent. This is the smaller of the two reduced size lions Schoenhut made. $280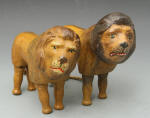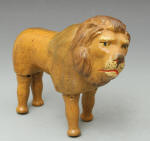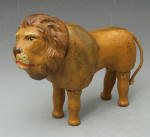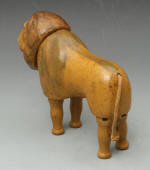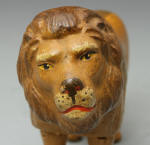 JSCAR-14
Bisque Lady Acrobat - beautiful and complete and all original. Her rickrack suggests later production as it is seen on the one-part-head lady acrobats of the 1930s. Very nice suit. $440
Sold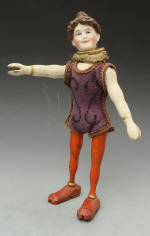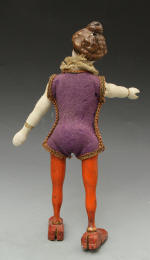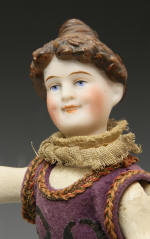 JSCAR-15
Reduced size Lion - open mouth. This fellow is the larger reduced size style. Paint is very good with some blotching on his hind quarters. Complete and all original. ca 1920s and pretty rare - $280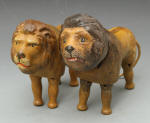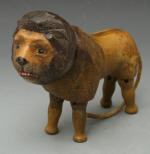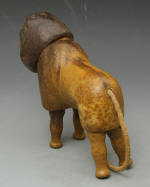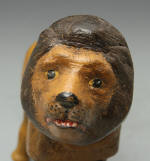 JSCAR-16
PE Giraffe - beautiful later production, true hand painted eyes, and with an orange snoot on a molded head. I've never see a better example of this style. $350 Sold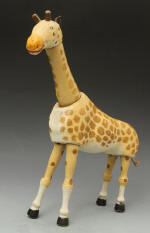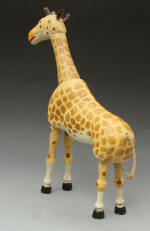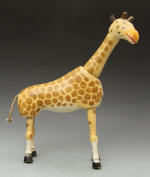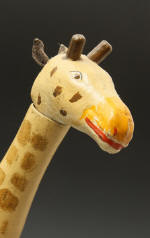 JSCAR-17
Donkeys - I have Humpty Dumpty circus donkeys. I have both reduced and regular size ones and painted eyes and glass eyes. Contact me if you want some donkeys.
JSCAR-18
Two-part-head clown in the diamonds, clubs, stars, and moon-face suit. This is production around 1914 or so. Complete and all original. Nice face. $330 Sold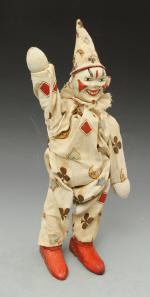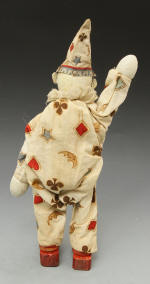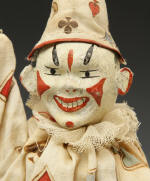 JSCAR-19
GE donkey with red felt blanket - complete and all original. Blanket, which are often moth eaten, is in good shape as is the donkey. Sold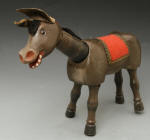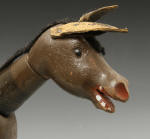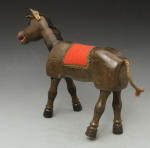 JSCAR-20
Bisque head Lion Tamer - these are hard to find in nice condition. I've had this one on display for over 5 years. He is complete and all original. The lion tamer is one of the few actors with arms jointed at the elbows. He is ca 1915. He can be taming your lions for $480 Sold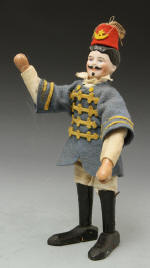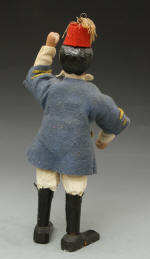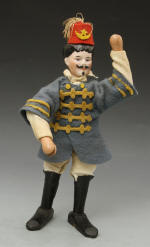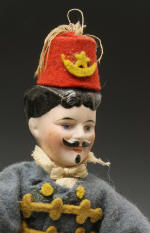 JSCAR-21
Green-face two-part-head clown - yes these are factory painted. I've seen about 10 over the years. They are very uncommon. Production, I would guess, is mid 1910s. $320 Sold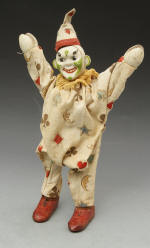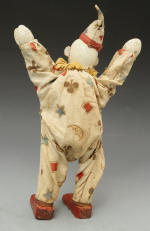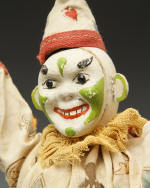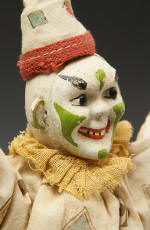 JSCAR-22
Early two-part-head Negro Dude - Schoenhut called him "Negro Dude" but he is actually a minstrel typical of the time. This example sports a collar made from red and white striped material we see on very early hobos and a red bowtie. Has a gold hat band. I have included a Schoenhut cane - which are also hard to find. $800 Sold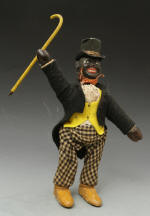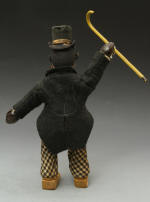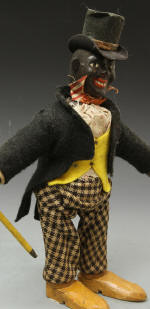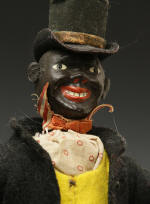 JSCAR-23
One-part-head Hobo - ca 1920s. This fellow has a great face. He is complete and all original. There are two small holes in his pants on his right upper side. His shirt material pattern is also used on a clown below. $300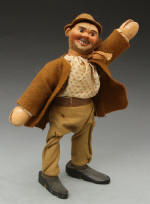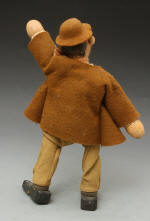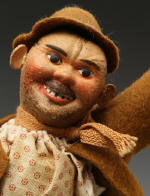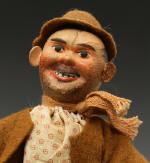 JSCAR-24
Wolf - very rare glass eyes, cloth tail style. Sold originally in Europe as evidenced by the "Humpty Dumpty" button on his belly. His cloth tail is present but, as is usual, not retaining very much of its mohair. Has his original ears which is amazing. Made ca 1906. His paint is good - has dings all over. Wolves are both a farm animal and a circus animal used in acts. $700 Sold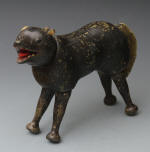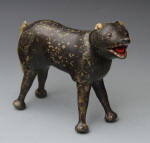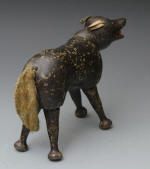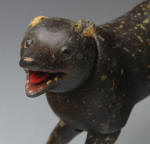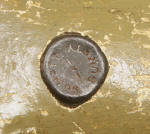 JSCAR-25
Reduced size Bactrian camel - smooth-top style that is complete and all original. Paint is very good. $180 Sold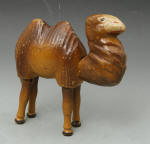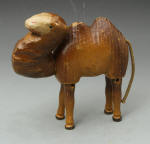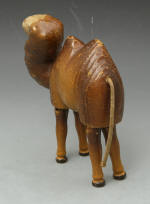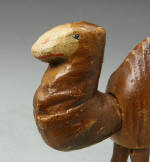 JSCAR-26
Rare one-part-head clown with possibly unique suit His costume material is found on some hobo shirts from the same period but never for a clown suit - until now. I guarantee factory made. A little touch-up to the red paint on his cheeks. ca 1920s. $330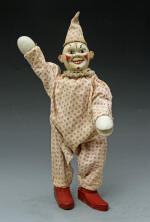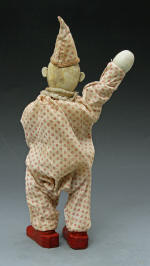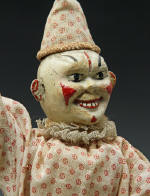 JSCAR-27
Another on-part-head clown with a possibly unique suit His costume is found on some reduced size clowns of the 1920s but until this one, never on a full size clown. Complete and guaranteed all original. $350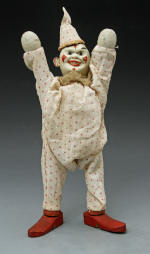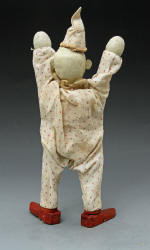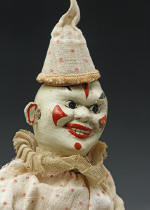 JSCAR-28
Early style Glass eyes Hippo - complete and all original. Paint shows paint loss all over - life is hard in those jungle rivers. ca 1910 - $230 Sold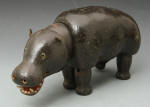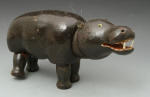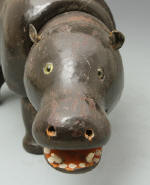 JSCAR-29
Reduced size Brown Bear - such a sad fellow - needs a home. Complete and all original with excellent paint. Someone unraveled his tail. $200 Sold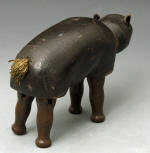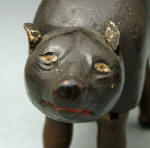 JSCARB-29a
Two Part Head clown - in somewhat faded cards suit. Red paint touch-up to ears. Cute face. $130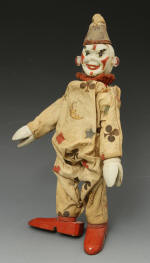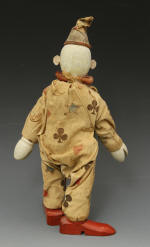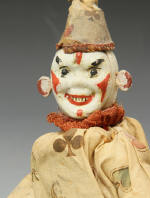 JSCAR-30
Reduced size Leopard - complete and all original. Excellent+ condition. Perhaps none better. Sold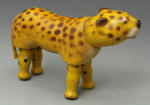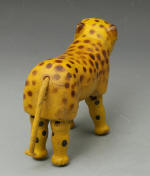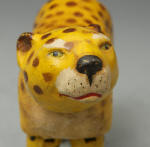 JSCAR-31
Reduced size Open Mouth style Tiger - complete and all original. Paint is excellent. ca 1920s Sold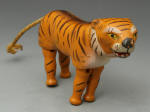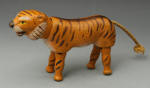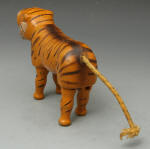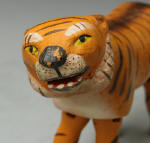 JSCAR-32
Reduced-size canvas tent - every Humpty Dumpty circus needs a tent to present the performers. Here is a good one for not much money. $490 plus shipping

24 inches wide, 18 inches deep, and about 25 inches tall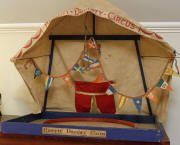 16 Flags of nations - several are missing. Side banners and American flag at top are missing but I can provide good-looking repros.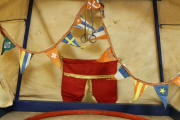 Bright colors. The trapeze and rings are present for your acrobats.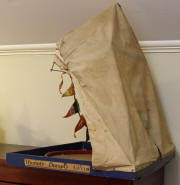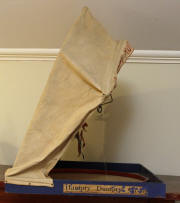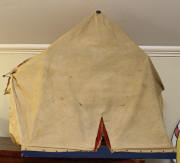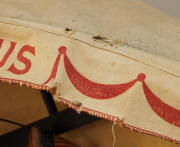 A few canvas tears in this area only - they can be closed
I have many other tents in nearly every style and size that the company made.
JSCAR-33
Ringmaster - bisque head ca 1910-1917. Complete and all original. Only real flaw is a small hole in one jacket tail. $345 $310 Sold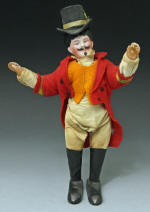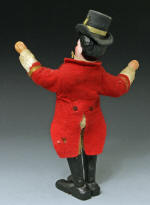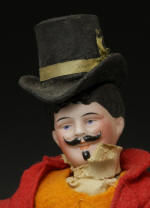 JSMRM-34
Schoenhut's Humpty Dumpty Circus Train - set 01/100. Most of litho gone from cage wagons but otherwise in very good, complete condition. $300

JSCAR-35
PE Bactrian Camel - pristine all original and complete condition. I have see none better. Superb. $295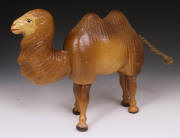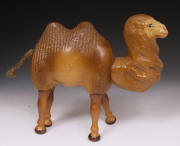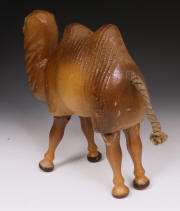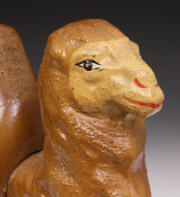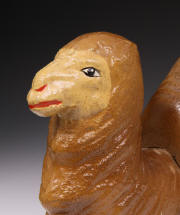 JSCAR-36
PE Brown Bear - ca 1920s. Very good complete and all original condition. Cute face with big eyes. $160 Sold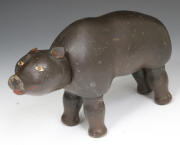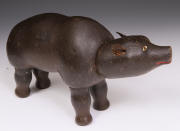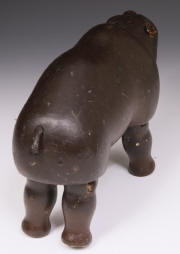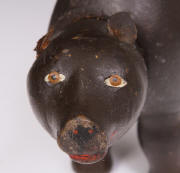 JSCAR-37
PE Bactrian Camel - complete and all original. A later production example. Beautiful paint. Out of a fine collection. $280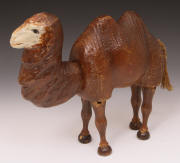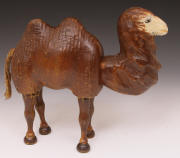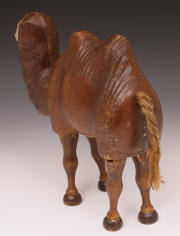 JSCAR-38
Accessories - I have a number of accessories for your circus - both reduced and regular - many more than are shown here. Chairs are $10-25 ea; tubs $15-40 ea; ladders $10-15 ea; balls $20- $40; goblets $6. Have more. Check with me for current inventory of tubs, pedestals, chairs, barrels, and ladders.


JSMH-39
Two Chairs and three Ladders - excellent to very good condition. $65

Email me about the availability of any item or for more information.
jlsneed2@bellsouth.net
JSCAR-40
Schoenhut Seesaw - very good all original condition. Piece of wood about 1/2 inch for actor slots missing at one end. 21 inches long. $210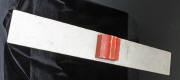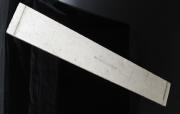 Click on Thumbnails to see larger images
JSCAR-41
GE Donkey with Red Blanket - very good to excellent condition. Complete and all original. Some blanket felt missing. $130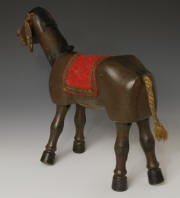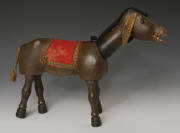 JSCAR-42
Huge circus tents - would be great for a Humpty Dumpty circus background (not Schoenhut). A Big Top tent, a Menagerie tent, and a mess tent. Made by George Barlow III of Binghamton, NY ca 1930 for a miniature circus. Well built. Include 3 tent wagons. About 160 poles and about 70 benches included. POR








JSCAR-43
TPH Clown - in clubs, hearts, stars and diamonds suit. Suit colors are good. His head is very good. Complete and all original. $270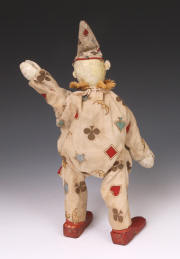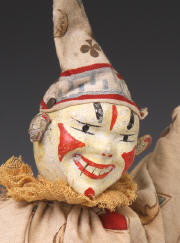 JSCC-44
Accessories - price on request. Star ring and pedestals are sold.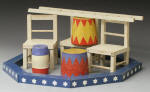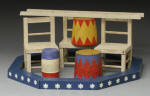 JSALN-45
Bactrian camel - excellent, complete condition with some light chipping around face mainly. $290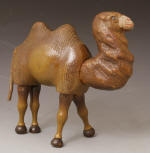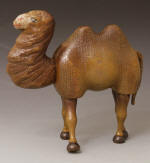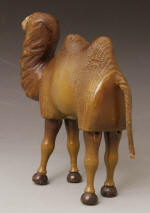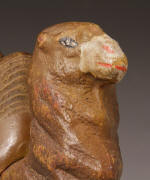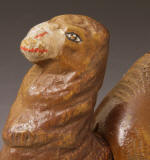 JSCAR-46
PE Giraffe - body pretty good but head has been in a fight. Head is true painted eyes and molded. original ears. Needs a home. $170

Sale pending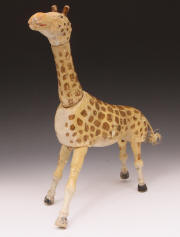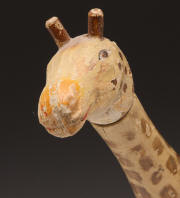 JSCAR-47
PE Zebu - complete and all original. A fine example from a great collection. Expressive eyes. $550 $490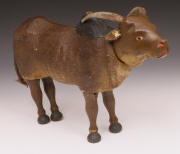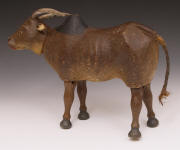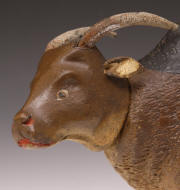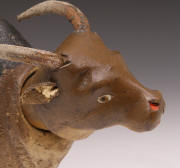 JSCAR-48
PE Buffalo - a beautiful example of this circus animal. Complete and all original. From one of the great collections. Buffalo were often used in circuses especially in wild west shows. $330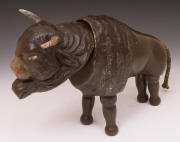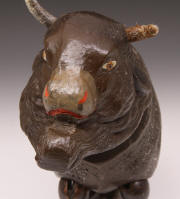 JSCAR-49
Twistum Pig - from the Twistum Circus ca 1920s. In good condition. Colors bright. Damage to back of one foot. $110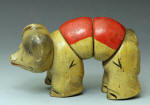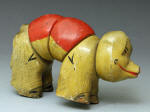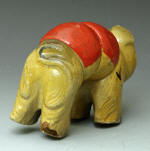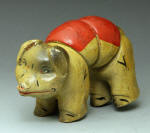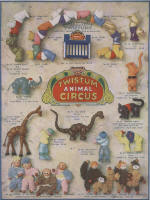 JSCAR-50
Les Jouets Migault Acrobat Circus ca 1925 - consists of 4 clowns, each about 11 inches tall (27 cm). Heads made with a composition material, the bodies are metal with cloth suits. Three of the clowns have a working clockwork mechanism that rotates their bodies a full 360 degrees, over and over. Also included are 4 chairs, 2 ladders, 2 pedestals, the possibly original windup key, and 2 parallel bars. All the the pieces interlock so various working displays can be made. Red cloth disk is not part of this sale. In very good condition with a couple of wood breaks and some small condition issues with clown suits. Fantastic toy circus $1,950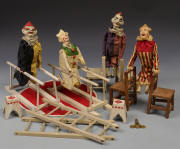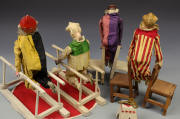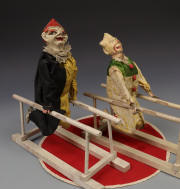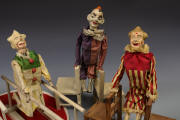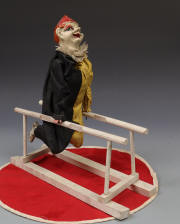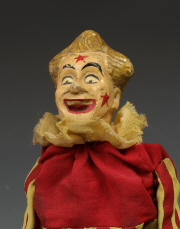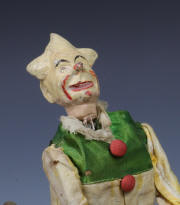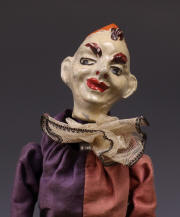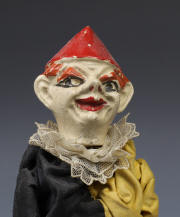 JSCAR-51
Painted eyes Brown Bear - ca 1920s. Has a very unusual greenish-mustard colored undercoat. In excellent condition. Replaced tail - expertly done. $290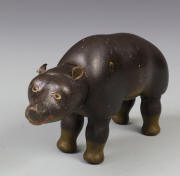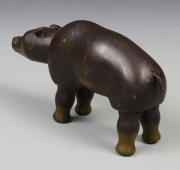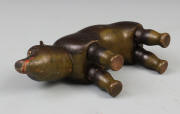 JSCAR-52
Reduced size Tiger - ca 1920s. Complete and all original. Paint is excellent. Has a small neck chip that looks like factory flaw. $210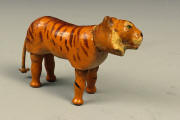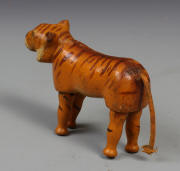 Many collectors (including me) mix reduced and regular sized pieces in their Humpty Dumpty circus displays.
JSCAR-53
Schoenhut Milk Wagon - Fairfield Western Maryland Dairy. Complete and in pristine condition. This is one of very few of these milk wagons that are complete - has driver with hat and tie; has original brass ringing bell; complete horse's tack. Also included are milk bottles from this dairy and from this 1930s period. $4,800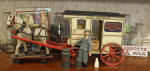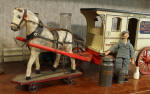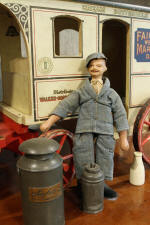 Can provide more pictures.
JSCAR-54
S. A. Smith Bald Eagle riding toy - about 39 inches long. Massive all wood toy ca 1900. Highly patriotic theme. In excellent condition with just a few small repairs. Pook and Pook sold one of these (not is as nice condition) for over $6,500 a few years ago. This one $4,800

Contact me at jlsneed2@bellsouth.net

for more pictures or questions.

See: American Eagle Riding Toy - Nov 19, 2011 | Pook & Pook, Inc. with Noel Barrett in PA (liveauctioneers.com)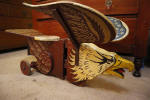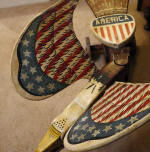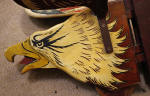 JSCAR-55
S. A. Smith Cat and Mouse Doll's Wheelbarrow - fantastic toy wheelbarrow ca 1900. The mouse is on the wheel and animates running from the menacing cat when pushed. Would be a nice piece for your doll display.

Overall length is about 35 inches, wheel is 8 inch in diameter, 12 inches tall at its highest point.

$550

CAT & MOUSE WOODEN WHEEL BARROW - Aug 07, 2021 | Milestone Auctions in OH (liveauctioneers.com)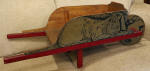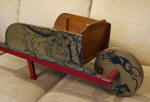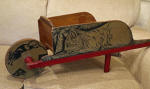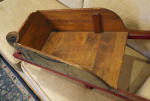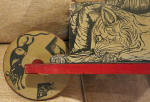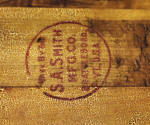 JSCAR-56
Schoenhut Wire Cage - rare silver or tin plated. Some rust. Missing its clips. $110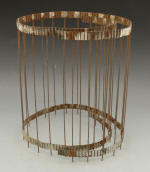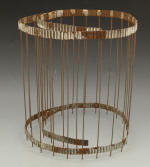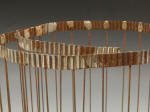 Click on a thumbnail image to see a larger image
JSCAR-58
Oval Litho Tent - ca 1920s. Schoenhut's largest and most colorful tent. This example is in excellent condition. Litho colors are strong.

Click on thumbnails to see a larger image.

$7,000 plus shipping.

I have another one of these litho tents with a few more condition problems but also with excellent sideshow panels for $4,000.

Contact me for pictures and details.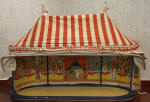 Main tent is about 44 inches wide X 19 inches deep X 34 inches tall to top of flags.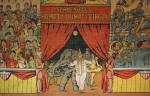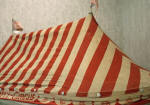 Flags are nice reproductions.

The lithos are simply beautiful and interesting.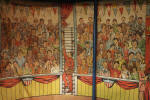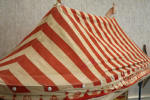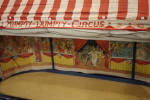 The white thumbtacks are factory original. One is missing in the back.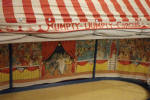 There are two sideshow panels included. Each is about 50 inches wide and about 17.5 inches tall.

Each panel depicts a typical 1920s crowd scene.

Small repair at left flag hole. Almost all of these tent are torn in this area as it is a stress point.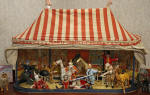 This tent will accommodate any size Humpty Dumpty circus pieces. It can be easily lighted.