JSNM-1
PE Tiger - excellent condition, all original and complete. Sold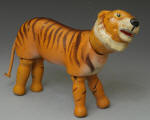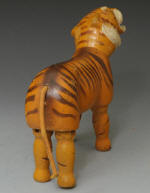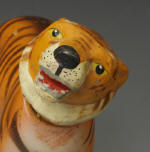 JSNM-2
Giant Elephant - called the display size elephant. These are extremely rare. This is only the forth one I have seen. Click on the thumbnails to see larger images. I can email you even higher resolution images. Sold

See the display sized ladder below.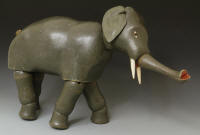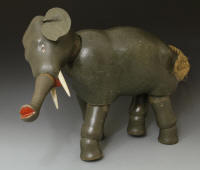 There is a 3 square inch area on this side where a repair was done long ago. It was poorly done so I redid this area with reconstituted Schoenhut elephant paint.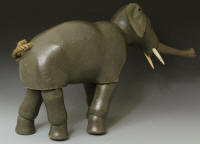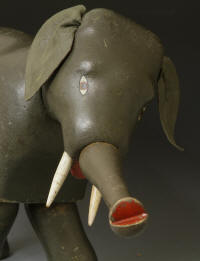 The giant "Big Boy" next to a regular size elephant.
JSNM-3
DE Zebra - beautiful condition. Replaced ears. Sold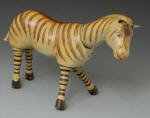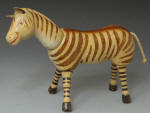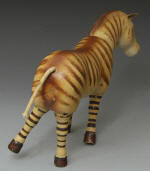 Click on Thumbnails to see larger images
JSNM-4
Cage Wagon - larger of the two cage wagons that look like this. About 12 inches wide and 12 inches tall. Complete and all original except for the wheels which have been repainted. Sold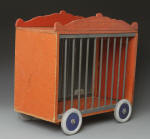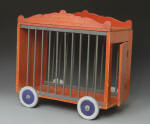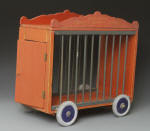 JSNM-5
Reduced Size Camel - nice overall. Part of his left rear hoof missing (can be repaired). Sold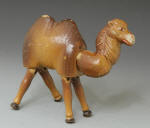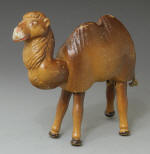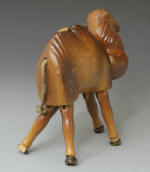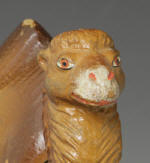 JSNM-6
PE Rabbit - complete and all original. Paint loss uniformly over her body. Sold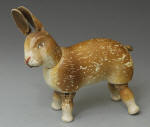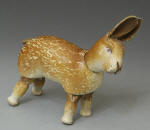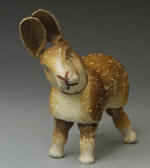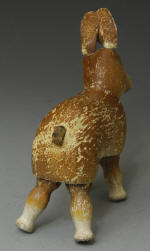 JSNM-7
PE Leopard - complete and all original. Paint condition is excellent everywhere except on his snoot. Great look. Sold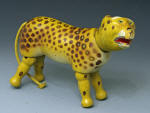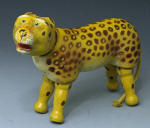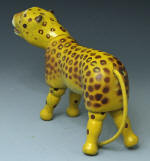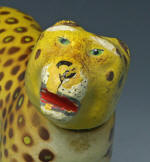 JSNM-8
Accessories - nice chairs. One is a reduced size. $30 each. Reduced pedestals - $25 each.
JSNM-9
Goose - style with concave head. Good, original condition. Thin body crack on his right side. Sold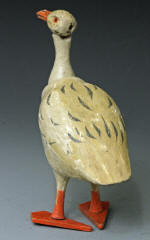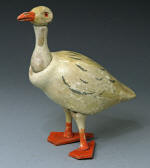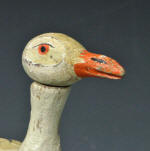 JSNM-10
PE Kangaroo - very good, complete and all original except for possible replaced ears. Sold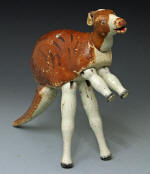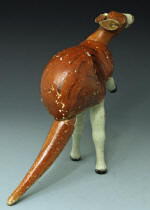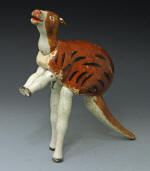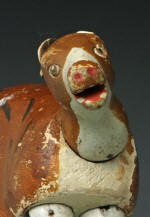 JSNM-11
Dark Face Monkey - very good condition, complete and all original except for a replaced tail. Sold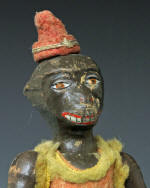 JSNM-12
Display size ladder - 20 inches long. Shown at right compared to a regular size ladder. In good, original condition. Sold



JSNM-13
Delavan Animals - left elephant - $25, center black horse - Sold, and right donkey - Sold

ca 1950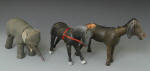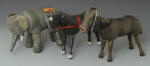 JSNM-14
Reduced size Lady Rider - redressed - head pretty good. Sold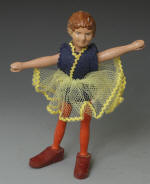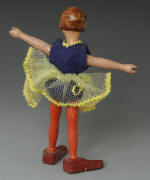 JSNM-15
PE Leopard - original tail. Wood chip at neck. Paint loss to head. Sold

Another leopard below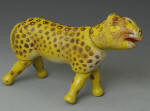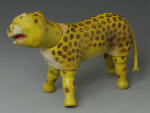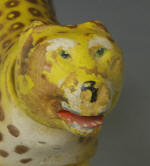 JSNM-16
PE Lion - poor shape. Missing tail. Restoration project. Sold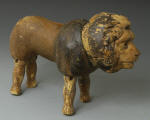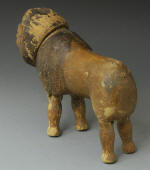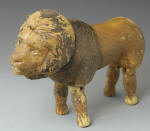 JSNM-17
Reduced size clown - nice uncommon striped suit with cloth hat. Head not so good. $140 $110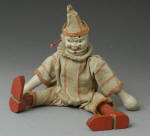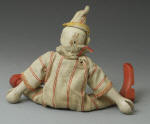 JSNM-18
Reduced size clown - diamonds suit with cone hat. Suit faded a bit. Face paint chips. $110 $80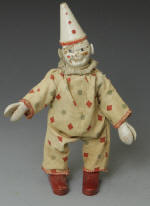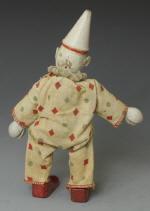 JSNM-19
Reduced size Ringmaster - missing tie and vest. Nice face and jacket and hat. $140 $105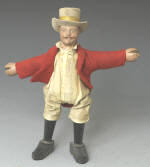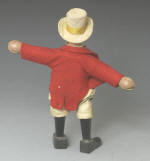 JSNM-20
Display clown - about 13 inches tall. Very rare clown. Missing hat, ruff, and one ear. Restoration possible. No old restoration evident. Sold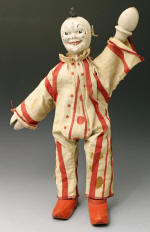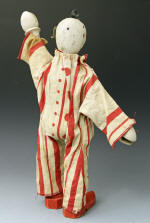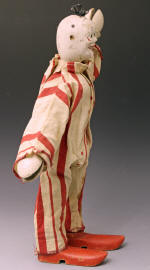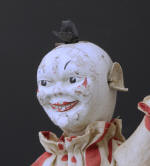 JSNM-20a
Display clown - about 13 inches tall. Very rare clown. Missing hat. Has original ruff. Both ears present. No restoration evident. Suit tear at top of his left leg. Stain on suit on left shoulder area. Sold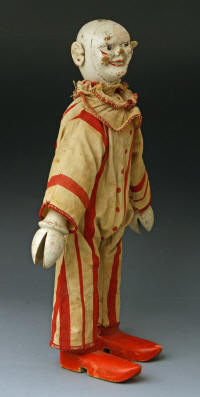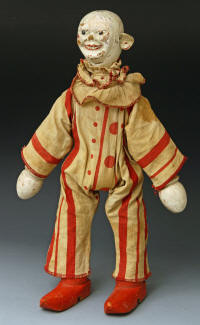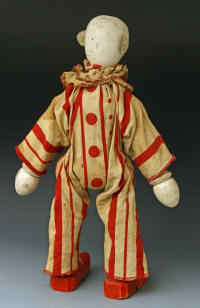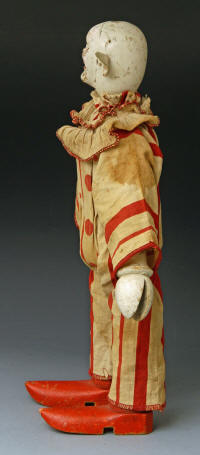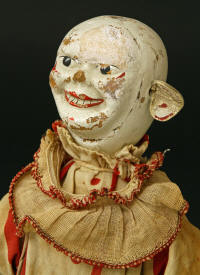 JSNM-21
Reduced size canvas tent - beautiful condition with its original box. Best flags I have seen on a tent. Missing its top American flag but I can make one that is identical to the original for $35. Can be used for your reduced size figures or regular size. Base is 24 X 18 inches. About 24 inches tall. Box is marked "Small Circus Ring and Tent 30/8" Sold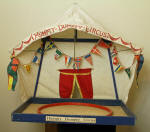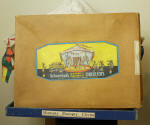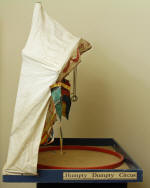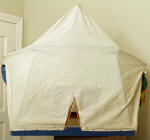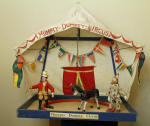 Tent shown with regular size Humpty Dumpty pieces (not included with the tent)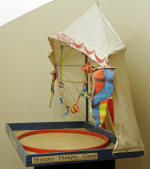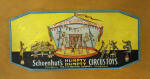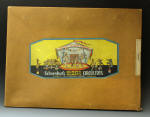 JSNM-22
Ringmaster - one-part-head. Head nice. Hat's rim a bit broken. Jacket and clothes nice. Missing bow-tie. Sold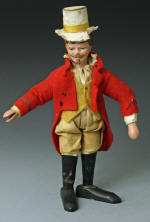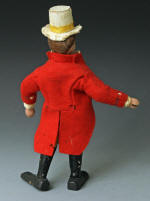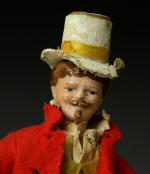 JSNM-23
Lady - bisque head. Head nice but that's about it. Replaced dress. Poor legs - shoes replaced. Sold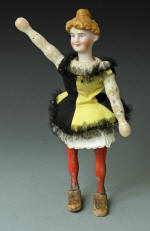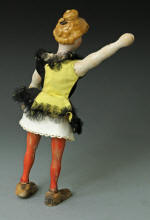 JSNM-24
PE Goat - regular size. complete and all original. Tip of his left ear is missing. Very good condition otherwise. Sold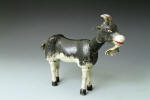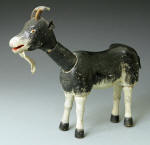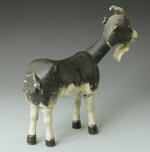 JSNM-25
Barney Google - incorrectly dressed in a ringmaster's jacket. Pants appear new. Sold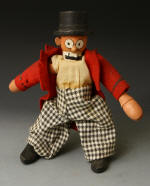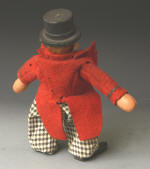 JSNM-26
Farmer - beautiful face. Replaced hat. Missing collar and scarf. Would serve as a circus spectator. $140 $115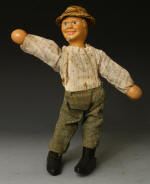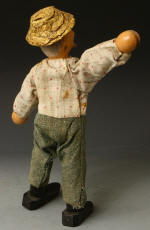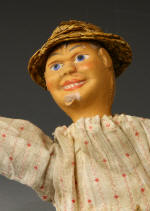 JSNM-27
Felix - some old touch-up around his head. About 8 inches tall. Sold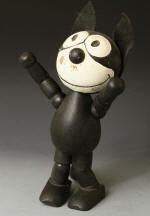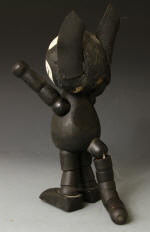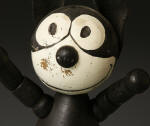 JSNM-28
Maggie - head nice but costume is poor. Sold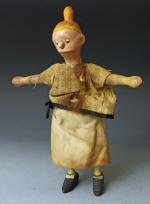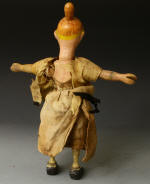 JSNM-29
Sparkplug - no blanket. Fair condition. Sold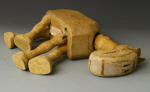 JSNM-30
Delavan cowboy and horse - cowboy complete and all original and excellent. Horse is not so good. Sold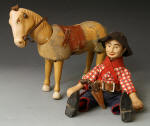 JSNM-31
PE White horse - paint fair. Needs restringing. Sold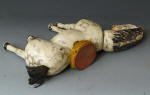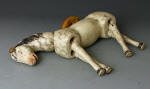 JSNM-32
Display Size Donkey - VG good condition. Complete. All original except for a repair to the upper ball joint of his left rear leg. Paint touched up on this leg only. Some light dings and scratches all over. About 14-15 inches tall to top of head. Body is about 10 1/4 inches long. Sold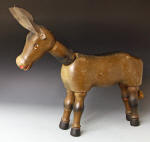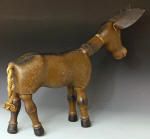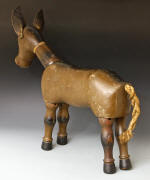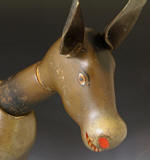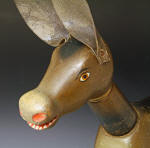 JSNM-33
PE Cow - very good condition. Complete and all original except for tail. Rarely found original bell and neck leather. Sold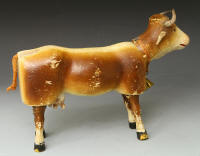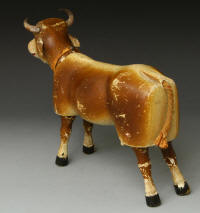 JSNM-34
GE Hippo - complete and all original in fair condition. First style ca 1910. An honest piece. For those of you who like the played-with condition. Sold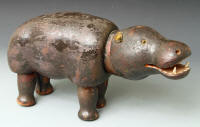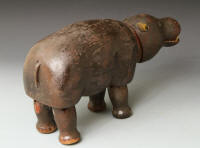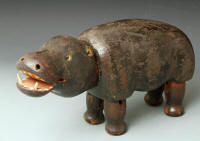 JSNM-35
PE Alligator - old repaint. Looks pretty good. Sold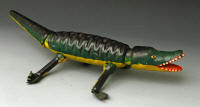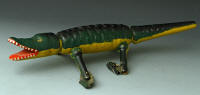 JSNM-36
PE Sea Lion - all original except for leather flippers and ears. Nice paint. Sold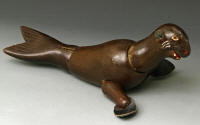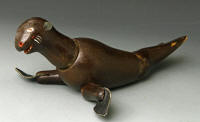 JSNM-37
DE Black Bear - decal eyes. All original. One eye damaged but could be restored. Sold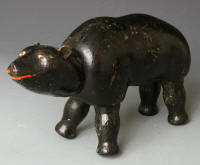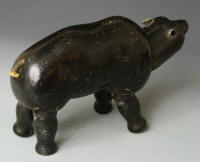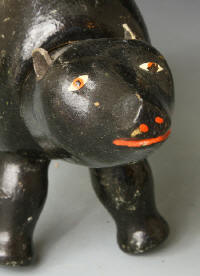 JSNM-38
Milk Maid - missing apron and bonnet. Head pretty good. Needs restringing. Sold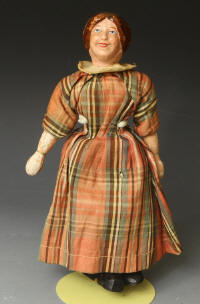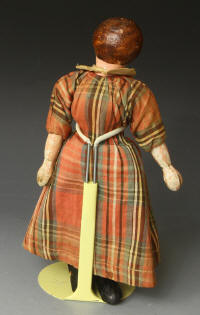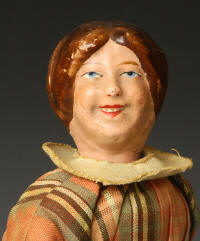 JSNM-39
Mary - needs restringing. Some head damage. Hole in apron. Sold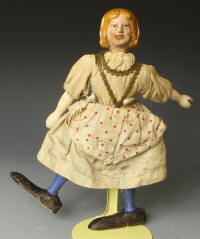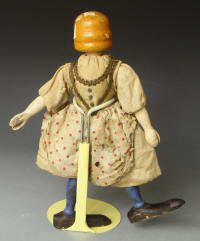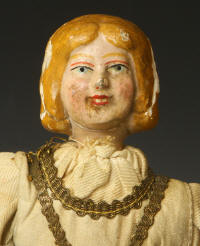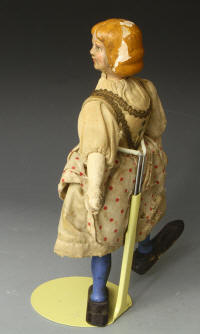 JSNM-40
PE Goat - good condition except for body damage at neck. Complete. Sold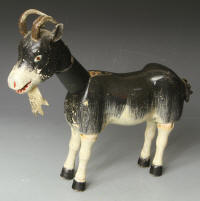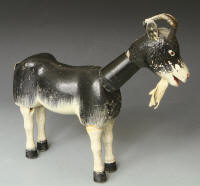 JSNM-41
DE Rhino - decal eyes. Very nice, all original and complete condition. Two-tone body color. Sold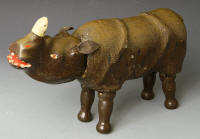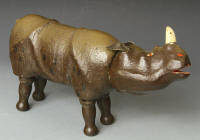 JSNM-42
DE Sheep - decal eyes. Complete and all original. Very pretty. Sold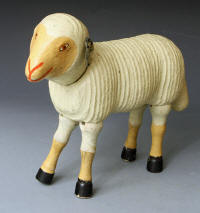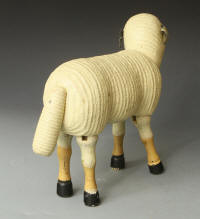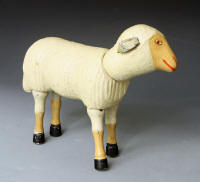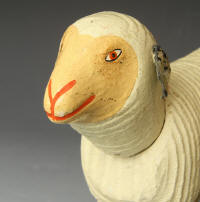 JSNM-43
Reduced Size Poodle - good-very good condition. All original except for tail. No repaint. Many collectors like this size dog for their displays better than the regular size poodle. Sold