17th May 2016 at 4:17pm
Generally speaking, toy collectors are a passionate and dedicated bunch.
More often than not, their hobby stems from a quest for nostalgia, and a desire to connect with their childhood selves. Of course, they also want to celebrate excellent craftsmanship and share their knowledge (and boy, do they have a lot of knowledge).
Toy collecting is a rich and diverse discipline. The magic of toys is that there are literally hundreds of different types, brands, characters, mechanisms, materials and more. Not only that, but all of these elements have changed, grown and developed over the centuries, meaning the ages and backgrounds of toy collectors varies just as much as their different areas of expertise.
True collectors are in it for the memories
Toys are certainly very different now to the way they were even ten years ago. A lot of playtime has become digital, with sophisticated video games at the forefront of kids' entertainment – but does anything really compare to a physical toy, with specially-designed packaging and the need for an active imagination?
In this edition of Collectors' Corner, we spoke to a few expert toy collectors to find out.
Collection vs play
Michael runs Retro Mash, a site that celebrates vintage toys, TV shows, movies, gadgets and more. He got into toy collecting through a sheer love for nostalgia. "I've always had a love for toys, collectibles and cool artwork/sculpture, ever since my childhood," he says. "When you couple that with a deep nostalgia of growing up in the '80s, it became something that continued on and off to this day."
Think of a toy collector's home and you may imagine pristine glass cases and immaculate wall displays of their finds. But something that was clear from all the collectors we spoke to is that they don't just collect toys to display, impress or sell. They collect them to really treasure, and even play with.
Michael explained how, despite his enthusiasm for certain lines of packaging, he still unboxes and plays with some of his collection with his kids: "One example of this is my series of Rough Riders, because I love the look of the packaging and they look great hanging on the wall.
"But as I have young children of my own, I also love having a version of the toy out of the packaging so we can play with it. So, I have no problem with toys in my collection having been played with. For me personally, it gives the toy some life and in some cases can make it look more like the condition I would have had it in myself in the past."
Memories over money
Childhood memories loom large in the world of the vintage toy collector. Tom Berges, contributor to Retroist, and owner of photo gallery site I Grew Up Star Wars, prefers to collect items in mint condition, but is still driven by nostalgia.
"My collection is not rare, just harder to find in the condition I demand, which is the most mint I can find," he explains. "To me, having these toys reminds me of my childhood – a childhood I remember with a lot of fondness. That's why my collection is so dear to me, it's not the monetary value. It's the high return of the nostalgia level!"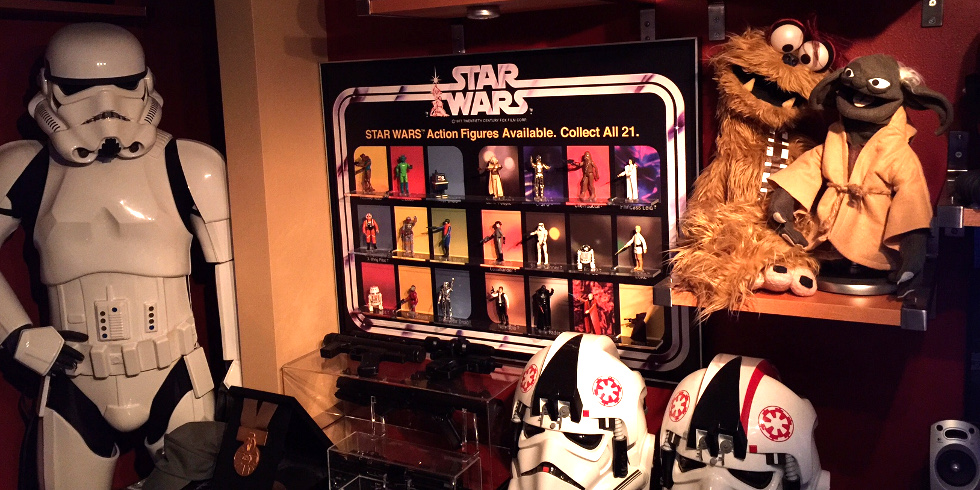 Copyright I Grew Up Star Wars
His website certainly offers that too. It's a collection of photos that spans the years from Star Wars' release up until the present day. Seventies kids excitedly clutch X-Wing models, smiling faces pose next to an array of Star Wars-branded boxes on Christmas morning, and costumed siblings re-enact famous scenes in their back garden. To the childhood shadows in these photographs, receiving a Star Wars toy was a privilege reserved for special occasions. They grew up with this passion, and it's something that people around the globe can relate to.
True collectors are in it for the memories, not the money, agrees Tom: "I can only tell you what I know, and what I know is that collecting old toys should be done more for nostalgic reasons, not financial ones."
Another shining example of this sort of collecting is Rob Wisdom, creator of Action Man HQ. "As an Action Man collector, my trail goes right back to endless sunny days in the garden playing with the first boy's… action figure (don't EVER call him a doll)," he says.
From gathering Top Trumps in the schoolyard to setting up a company with his friend to collect and produce classic car cigarette cards, Rob has always been a keen collector; he moved onto collecting Action Man figures after attending a local toy fair.
"I saw an Action Man Tank Commander staring at me," he explains. "As my mother had rinsed the loft of all my childhood toys, this little fellow had to be bought for £8. And so it restarted, slowly at first, but now I am at 70 figures and counting, and an ever-increasing amount of vehicles."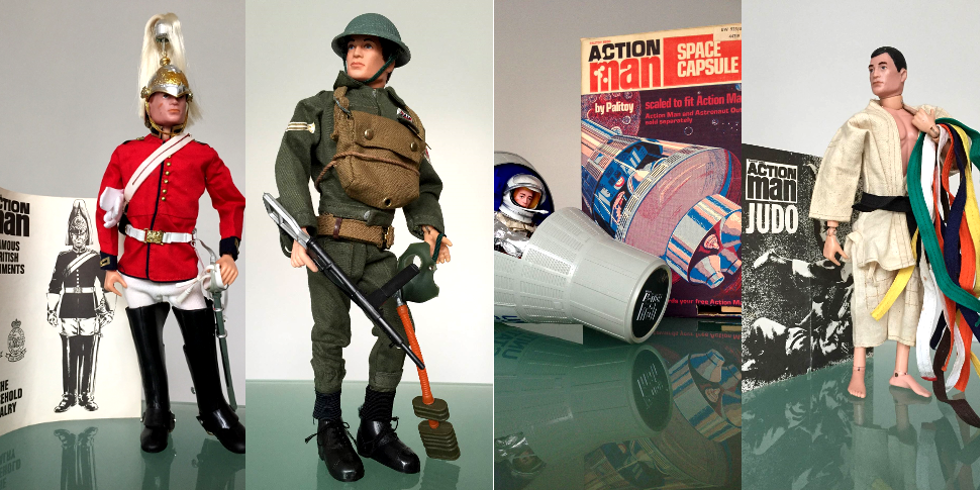 Copyright Wisdomdesign.co.uk
The quest for a real, hand-held childhood memory is something advocated by Rob, with sentimental value trumping monetary value. "I have the Judo outfit on an original painted head figure, which is probably, on a good day, worth £700. Not my favourite – not much to it – trousers and jacket and seven grading belts. For me, if I had my original, battle-scarred Action Man from my childhood, it would be my favourite – priceless, in fact, but alas!"
The history of toys
Having said this, not all toy enthusiasts are collecting for primarily sentimental reasons.
"I got interested in old toy collecting when my wife, some 30 years ago, began collecting pre-WWII Lionel trains because they were cute. I thought they were cute too and began reading about old toys and started buying some here and there."
These are the words of Jim Sneed, the US-based owner of All About Old Toys, where an 'old toy' is categorised as any push, pull, crib, or stand-up children's toy made from wood or metal before 1945.
Jim explains where he sees the value in his collection: "I think that old toys should not be collected as investments, but rather for their decorative and historical value. Toys are interesting from a social viewpoint because they reflect the times in which they were made and sold." He points out, for example, that there were a lot of circus toys made in the early 1900s, and an influx of space toys in the 1960s.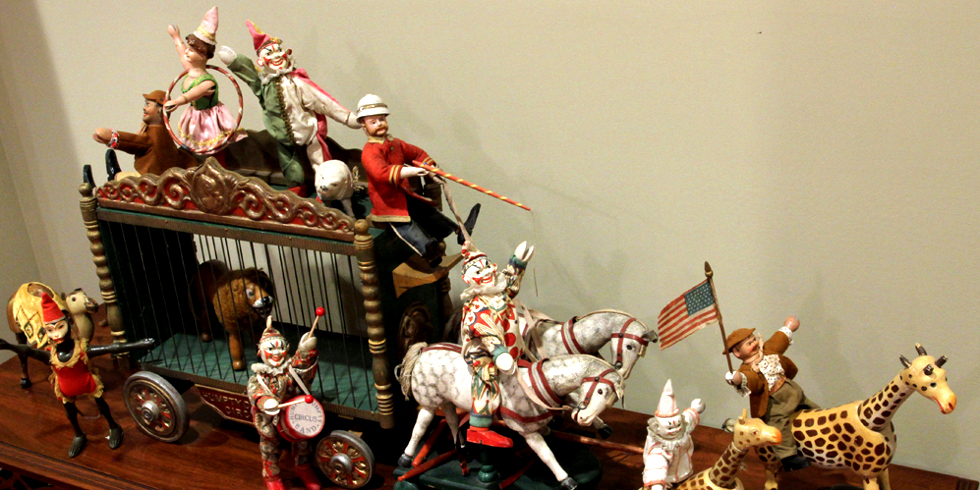 Copyright All About Old Toys
Despite Jim's focus on historical value, he sees the money that can be made as a bonus, rather than a driving factor. "A few years ago, I discovered that the Schoenhut company, in the pre-WWI period, sold a lot of their Humpty Dumpty circus in Europe," he explains.
"I later discovered that there were at least four European companies, whose names I have yet to find, [that] made similar, but often higher quality versions of Schoenhut's circus. I have managed to put together a collection of the Euro Humpty Dumpty circus, as we call it. Most of the pieces are so rare that only one example is known.
"Despite the rarity and quality, the Euro versions don't command much more value in the marketplace than the Schoenhut originals. This is good for those of us who are trying to collect more of them. Perhaps in the future, their value will increase significantly, but I am not collecting them with any idea that I will make any profit on them (although that would be nice when the time comes to sell)."
Tips for new toy collectors
First up, don't step into the world of vintage toy collecting if your heart's not in it. You need to know what you're looking at and take the time to get absorbed in research. See it as an investment of your time and interest, rather than money.
Some toys are rare because they were only produced in small quantities
Tom Berges agrees: "Most collectors are long-term collectors. They take pride in their newly-found items and tend to hold on to them, rarely for the sole purpose of flipping toys, even though that happens. For someone to come into the hobby and start purchasing items with no consideration for what they are buying will result in the exact opposite of investment."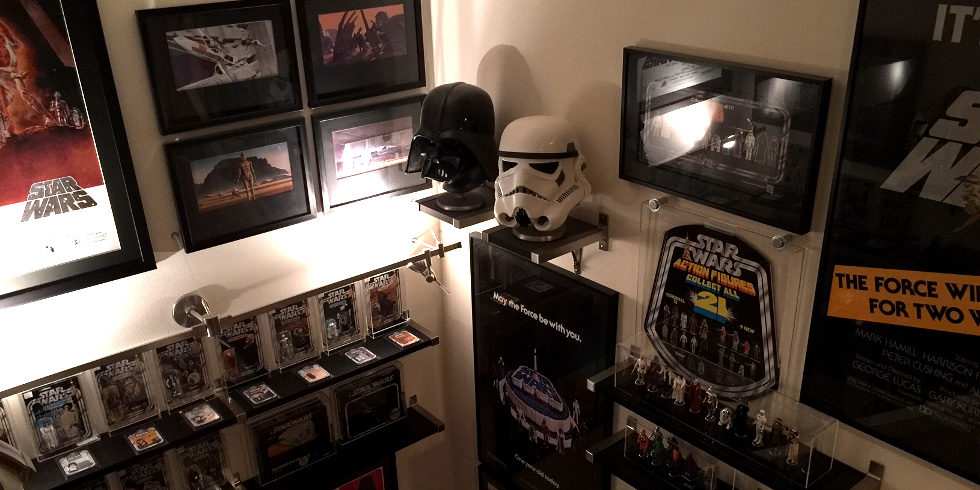 Copyright I Grew Up Star Wars
If you class yourself as someone genuinely passionate about vintage toy collecting and would like to get started, there are a few things to bear in mind, according to Rob. "Two things to remember when considering a purchase in terms of investment," he outlines."[First], the 3 Cs: condition, completeness, cost. [Second], buy mint: buy once. Buy good: buy twice."
Tom concurs that "unopened, mint condition, with instructions [and] boxed will be the most expensive to buy, and the biggest return if you sell.
"Serious collectors will normally want something MOC or MIB, which stands for 'mint on card' or 'mint in box'. They will want it as close to the factory quality as possible, including, ideally, not having the peg hole 'punched'. And some toys can become yellow due to time in the sun, particularly the plastic bubble around the toy, so ideally the bubble needs to be clear and undented.
"The next best thing is CIB or 'complete in box', which means the box has been opened but it still has the packaging artwork in good condition and also things like the paperwork inside. The ephemera such as leaflets or instruction manuals that came with the toys can [also] be highly sought after."
If you're going back to toys that didn't necessarily come with packaging, the key to success could be in the manufacturer, explains Jim. "The qualities that make a toy valuable compared to another toy are much like what makes one piece of art more valuable than another. The main factor, I think, is the company that made the toy. Some toy companies such as Lehmann, Marklin, Schoenhut, and Lionel, for example, are highly regarded; and their toys, by extension, are also highly regarded."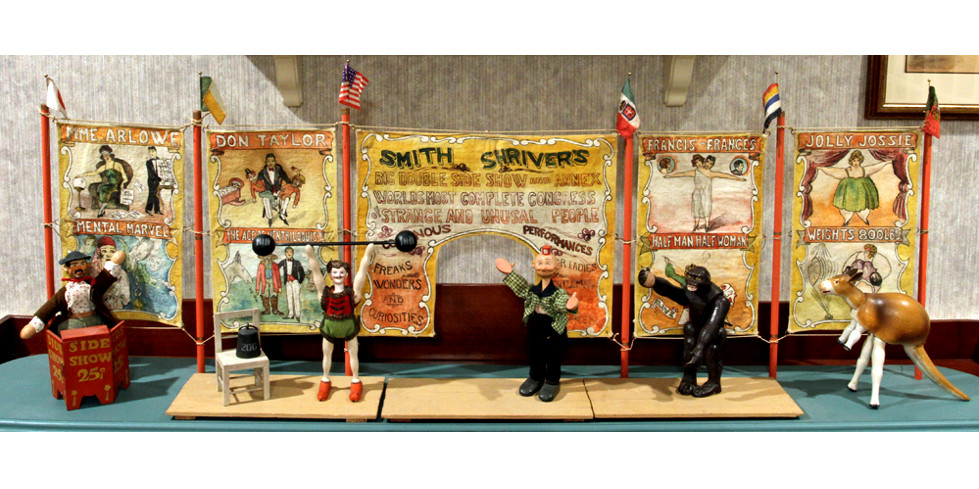 Copyright All About Old Toys
And how else does a toy collector define rarity? "Some toys are rare because they were only produced in small quantities, they were a prototype, or were perhaps sold with a defect and then withdrawn from the market. These more unique toys can be the ones that become extremely rare and valuable," says Michael.
A collecting community
Like other types of collection, such as vinyl and comic books, one of the reasons toy collecting is able to thrive is because of its strong community spirit. Rob's site plays host to a thriving forum: "Hours are happily spent sharing images, making films, swapping items, and posting tips and how-tos, together with idle chit-chat about upcoming events and forthcoming (Action Man 50th) releases." It's this kind of willingness to encourage and inspire other collectors that keeps the scene in such good health.
Tom agrees, "There are few resources available for folks entering the hobby, but what the community does have is a great group of people that are accessible by way of a handful of resource websites and select Facebook pages."
One final piece of advice from Jim for those interested in collecting? "I think that these objects should be collected by those who would just enjoy having them." Easy as 1, 2 3!
Join the conversation on our MoneyPlus Community or follow us on twitter Twitter and Facebook
The information in this blog or any response to comments should not be regarded as financial advice and is based on our understanding in May 2016.