Lincoln Logs (Playskool)
Few people would think of Lincoln Logs of Chicago IL as a wood train manufacturer … but indeed they were. Lincoln Logs building sets were first made in 1916 by a company founded by John L. Wright, son of legendary architect Frank Lloyd Wright. The company was purchased in 1943 by Playskool, and is now part of Hasbro Toys.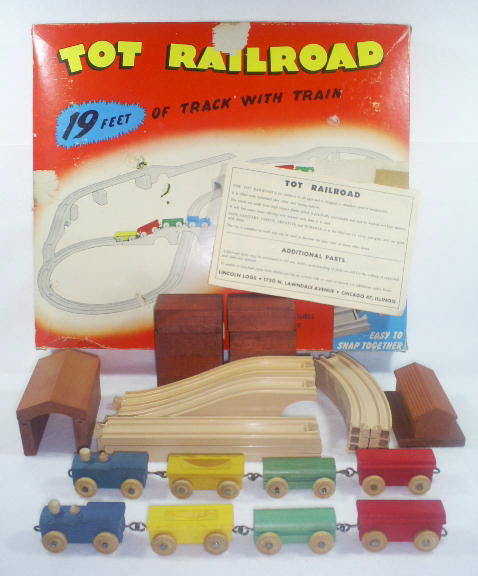 The trains and track of the Lincoln Logs Tot Railroad set pictured here (ca. 1958-59) look suspiciously similar to the mid-1950's Keystone Tot Railroad set pieces shown previously … except for the paint finish on the trains. Both sets use identical wheel, axle and coupler components … and the same tan polyethylene plastic track. The instruction booklets are also nearly identical, except for the company names. It would appear that LL (Playskool) had taken over the design rights and tooling for these trains by the time Keystone closed down its toy production in 1958.
If you've ever played with Lincoln Logs, the colors and matte paint finish on the LL trains and buildings will instantly seem very familiar. This matte finish is quite different from the smoother and glossier paint finish found on the earlier Keystone-made trains.
However by 1960-61, Playskool … LL's parent company … was marketing Marshal Larrabee's SH train sets under the Playskool brand. Lincoln Logs continued to produce its wonderful log-building sets, but the LL/Keystone style train sets soon disappeared from stores and catalogs, and vanished into toy train history.