This collection is from an estate. All pieces are in their original state except for restringing. These pieces are from ca 1900 through 1939.
Postage via insured Priority mail within the 48 contiguous states is included in price unless otherwise indicated. Will quote a final discounted price with shipping for purchase of more than one piece. I will quote shipping outside of the USA. We have customers in Australia, The Netherlands, Switzerland and other countries. Money back if not satisfied.
How to Buy
If you are interested in purchasing any item in this shop, contact Jim at: jlsneed2@bellsouth.net and tell me what you are interested in.
I can take payments through:

or checks.
I will quote shipping outside of the USA to almost any country.
This page updated Tuesday, November 23, 2021

All pieces carry a money-back guarantee of satisfaction.
Unless otherwise indicated, all pieces below are by the A. Schoenhut Company ca 1903-1935. All have been properly restrung and are ready to perform in your circus.
PE = Painted Eyes - made after WWI
GE = Glass Eyes - made from 1903 up to WWI
TPH=Two Part Head
OPH=One Part Head
All pieces are regular size unless otherwise indicated.
I'll be putting on a group of Teddy Roosevelt safari figures and animals after the convention is over (November 5th).
TR07
Native Chief - appears all original. Brown jacket has some holes. Shorts repaired at rear. Ammo belt is a repro. Hat somewhat tattered but all there. Nice example. $2,000

Sold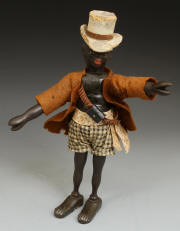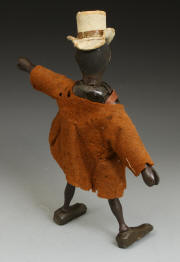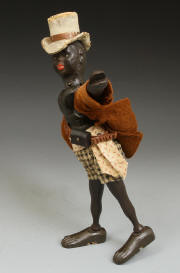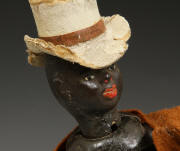 TR09
Teddy Roosevelt Hunter - in excellent condition except for head. Over paint around face and some on hair. Eyes, nose, mustache, and goatee original. See pictures at right. His suit is very sound. Original helmet. Sold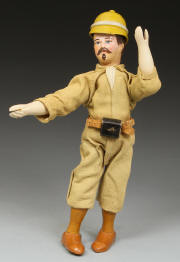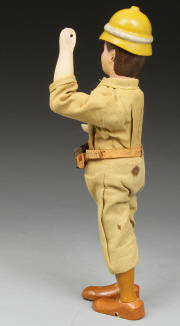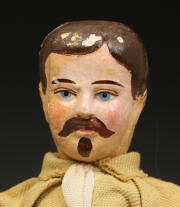 Over paint from top right of forehead around under chin to his left ear. Can be seen in this photo and in photos at right.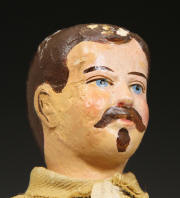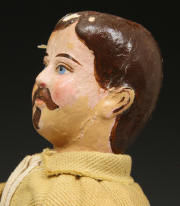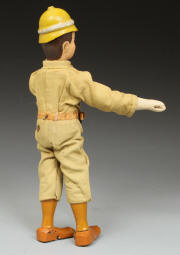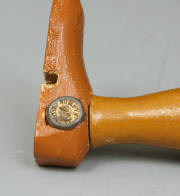 European metal "Humpty Dumpty" disk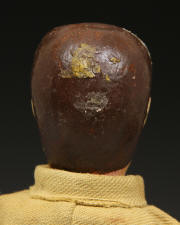 TR15
Teddy Roosevelt Safari Hunter - in excellent condition. All original except for pouch and parts of belt. This example sold in Europe as indicated by the "Humpty Dumpty" metal button on shoe. Sold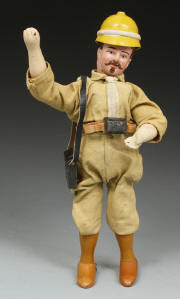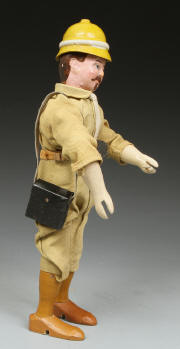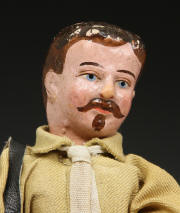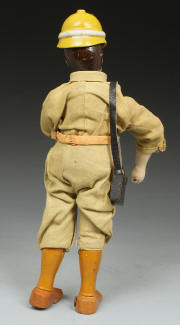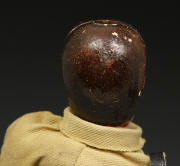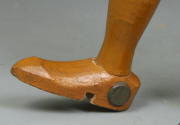 TR16
Safari Kermit - repainted head, repro camera, otherwise original. Sold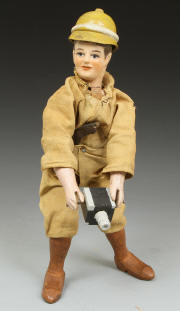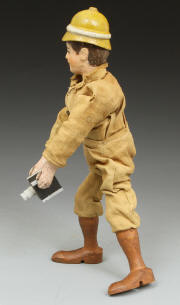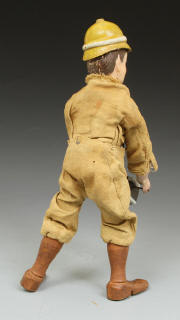 TR23
Teddy Roosevelt Native with Ruff - complete and all original. Sash slightly faded. Great looking native for your TR layout. $1,300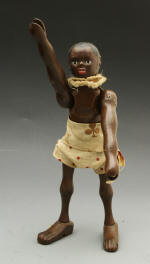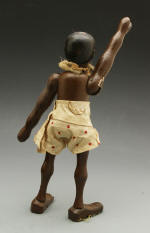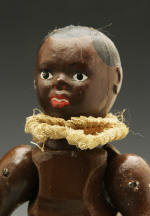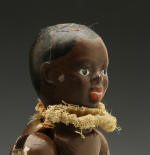 TR24
Teddy Roosevelt Native Drummer - complete and all original. Original drum and sticks (usually replacements). Dress oxidized and fragile. Beautiful drum. Foreign metal broach on sash. Can be removed. Sold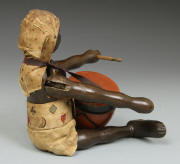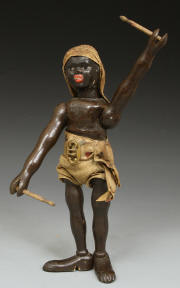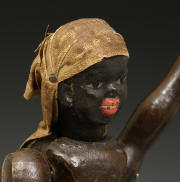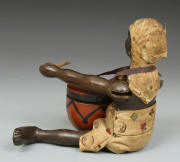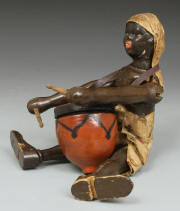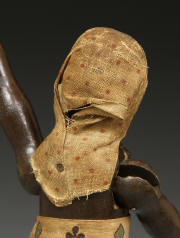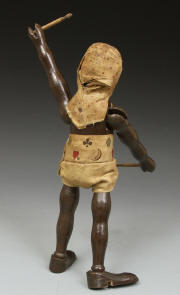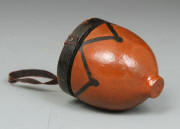 TR29
GE Leopard - complete and all original. Very good + paint. $420 Sold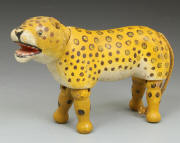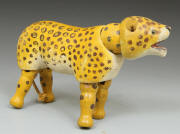 TR30
GE Zebu - in excellent, complete condition. Nice yellow under-color with brown over and black highlights. The zebu, an African domestic animal, was introduced with the Teddy Roosevelt characters. Sold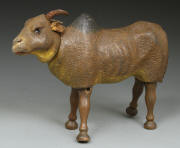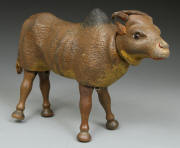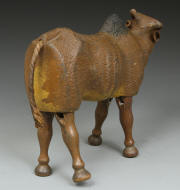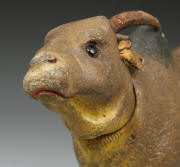 Box 2
TC13
Glass-eyed, open mouth camel - complete and all original. Tiny chip at upper lip. $310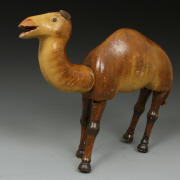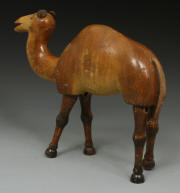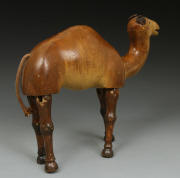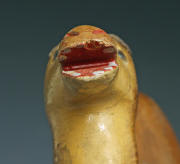 TC33
Glass-eyed alligator - complete, all original, and very good paint. Left eye cracked. $280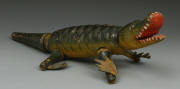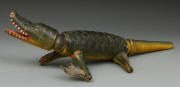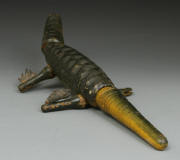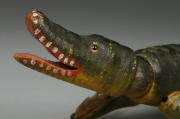 TC016
Two-Part-Head Gorilla - Keller Style 1 with leather ears. Complete and all original. Tips of ears appear to be worn down a bit. The gorilla was first sold as part of the Teddy Roosevelt Adventures. Teddy never saw a gorilla while in Africa. Great example for your Teddy Roosevelt or circus display. Within the last month, two of these have sold at auction for over $2,500 each. This one - $2,200 $1,900 Sold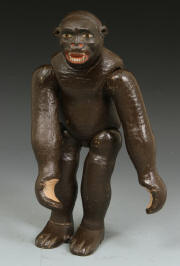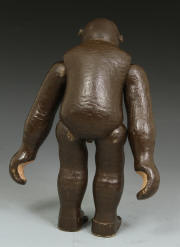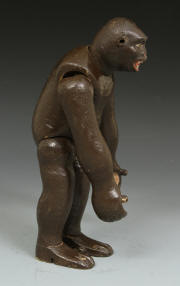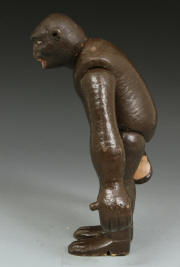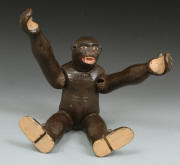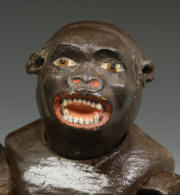 TR35
Teddy Roosevelt Box for set 20/80. Box only. Nice photograph of the set on the front label. Inside is a litho of an African landscape to be used as a background for display. About 24 X 18 X 3.25 inches. Some water staining as shown. $2,400 $1,600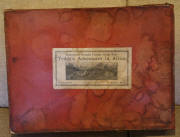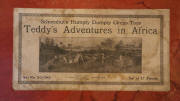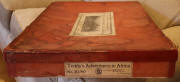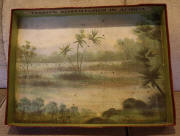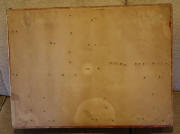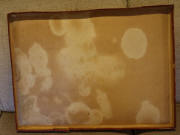 TC49
Glass eyes, open mouth Arabian camel - complete, original and excellent. Beautiful one. Sold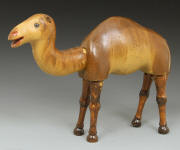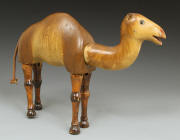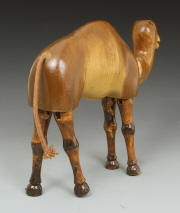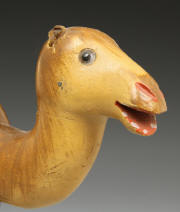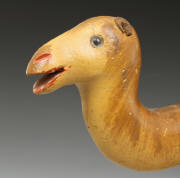 I buy Schoenhut Humpty Dumpty circus collections. I also buy European versions of this circus. jlsneed2@bellsouth.net
Consignments also welcomed. Email Jim for details.