This collection is from an estate. All pieces are in their original state except for restringing. These pieces are from ca 1900 through 1939.
Postage via insured Priority mail within the 48 contiguous states is included in price unless otherwise indicated. Will quote a final discounted price with shipping for purchase of more than one piece. I will quote shipping outside of the USA. We have customers in Australia, The Netherlands, Switzerland and other countries. Money back if not satisfied.
How to Buy
If you are interested in purchasing any item in this shop, contact Jim at: jlsneed2@bellsouth.net and tell me what you are interested in.
I can take payments through:

or checks.
I will quote shipping outside of the USA to almost any country.
This page updated Monday, November 02, 2020

All pieces carry a money-back guarantee of satisfaction.
Unless otherwise indicated, all pieces below are by the A. Schoenhut Company ca 1903-1935. All have been properly restrung and are ready to perform in your circus.
PE = Painted Eyes - made after WWI
GE = Glass Eyes - made from 1903 up to WWI
TPH=Two Part Head
OPH=One Part Head
All pieces are regular size unless otherwise indicated.
TD19-A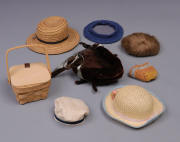 TD19-B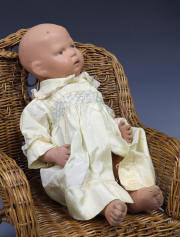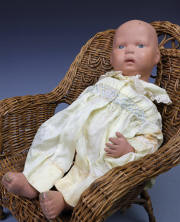 TD19-C
Sold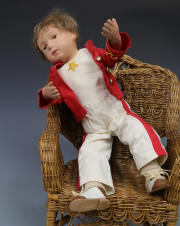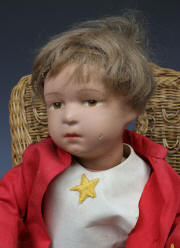 TD19-D
Appears to me to be a 300 series doll, possibly a 14/ 312. 15 inches tall. Original wig. All joints are sound. Face in fair condition with cracks. Eyebrows repainted. Dress, shoes and undergarments are modern. $240 Sold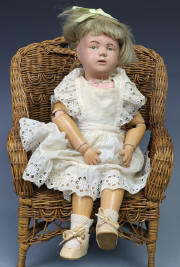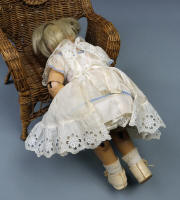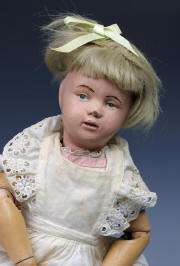 TD19-E
Boy doll - 17 inches, decal on back. Mechanically sound. New nice suit. Sleep eyes work. Possibly original wig. Repaint over checks, eyes, and nose.

$150 Sold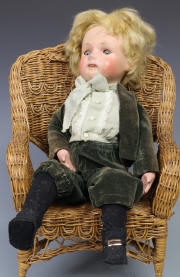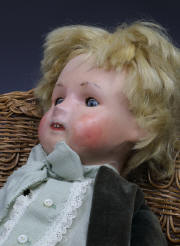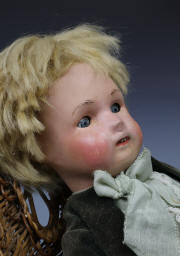 TD19-F
Sold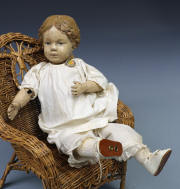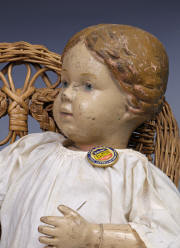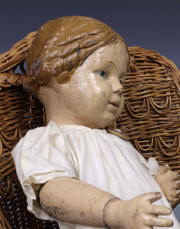 TD19-G
Sold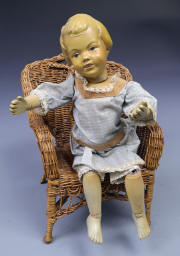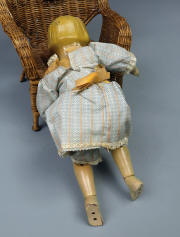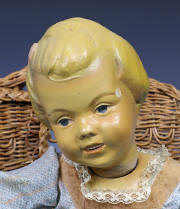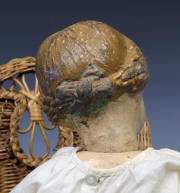 TD19-H
Sold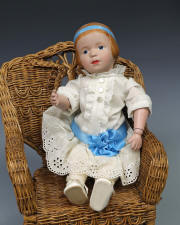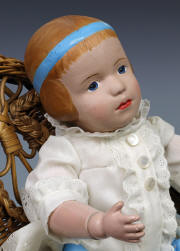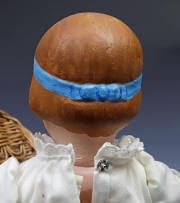 TD19-I
Miss Dolly - 21 inches. A lot of touchup all over. Sold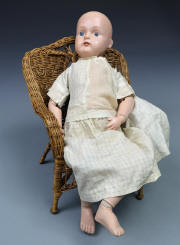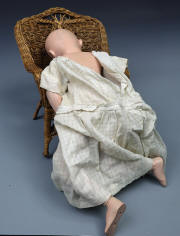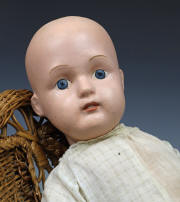 TD19-J
Sold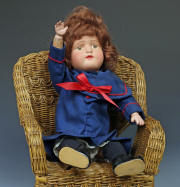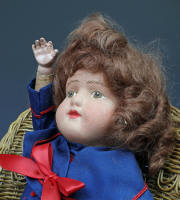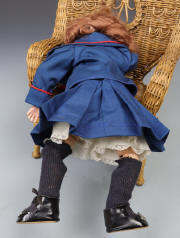 TD19-K
Sold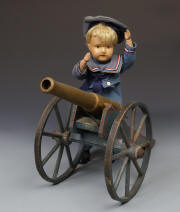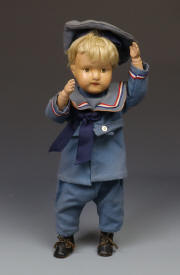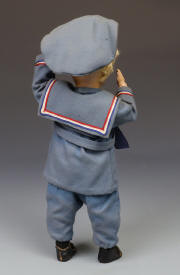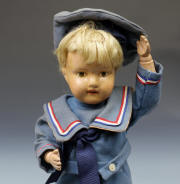 TD19-L
Sold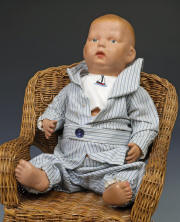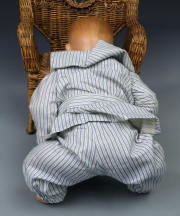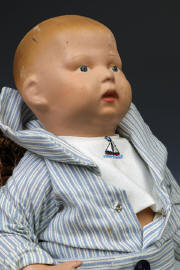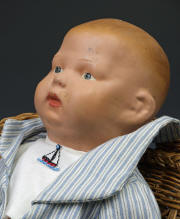 TD19-M
Face appears repainted. Wig and dress and shoes new. Right leg and left arm are not Schoenhut. Sold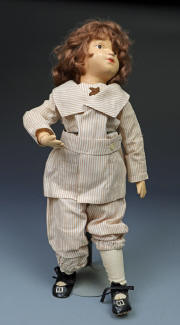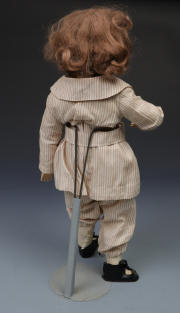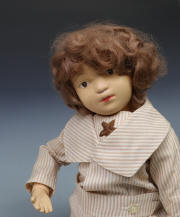 TD19-N
She is about 21.5 inches tall. Mechanically sound. Sleep eyes work. Point of focus of the eyes are at about 12 inches away, I would guess. New wig and clothes. Face paint very good - I don't see obvious repaint anywhere. $190 Sold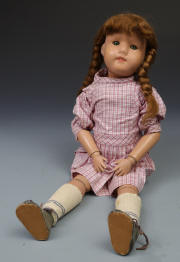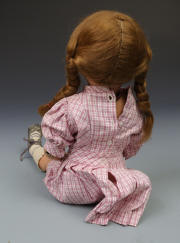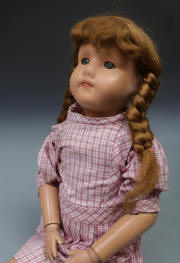 TD19-O
Miss Dolly - about 20 inches tall. Wig not original. New dress. Mechanically sound. Face paint appears all original with light crackling. $280 Sold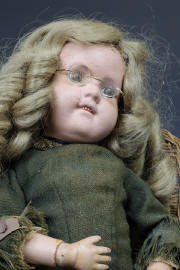 TD19-P
Sleepy eyes Miss Dolly - 22 inches tall. No repaint evident. Decal 1911 patent label at back. Sept 13, 1921 stamp on back of head. No repaint apparent. Tiny scuff on her right cheek. All jointed and the sleep eyes function well. Clothes appear old. Shoes look old on top but not Schoenhut.

$450 Sold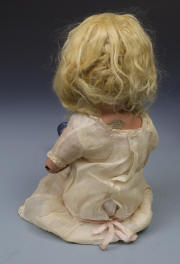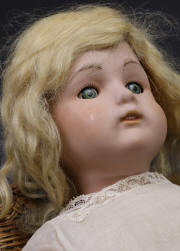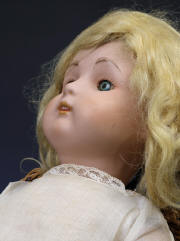 TD19-Q
Little boy doll - 11 1/2 inches tall. Looks like an old repaint over entire head. New, nice suit. Mechanically sound. $80 Sold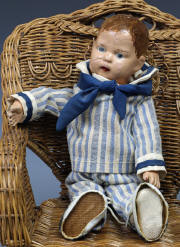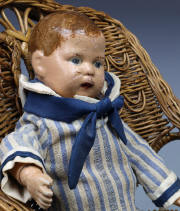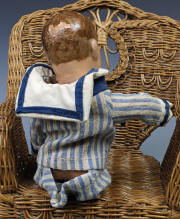 TD19-R
Sold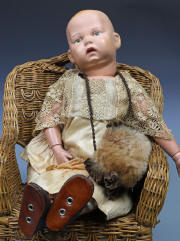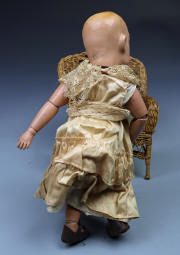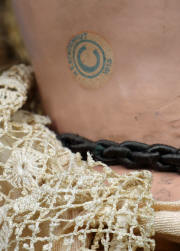 TD19-S
Girl doll - 15 inches tall. Mechanically sound. Appears to be original paint but in poor condition. Nice new dress. Decal on back. Missing wig. Sleep eyes work. $90 Sold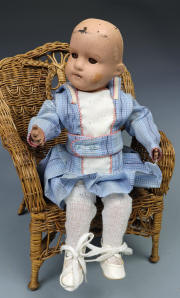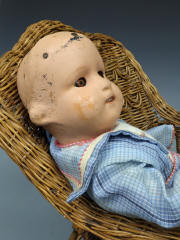 TD19-T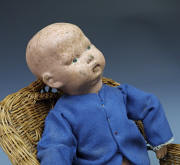 TD19-U
Girl doll - 17 inches. Sleep eyes work . Appears to be original paint but in poor condition. Replaced wig. New dress Might be original shoes but with replaced soles. Decal on back. $100 Sold
TD19-V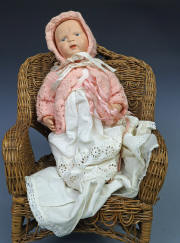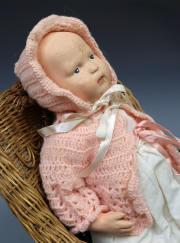 I buy Schoenhut Humpty Dumpty circus collections. I also buy European versions of this circus. jlsneed2@bellsouth.net
Consignments also welcomed. Email Jim for details.