List your old wooden toys for sale here. We sold over $20,000 worth of old wooden toys off this site during the past year. We do all of the work.
Contact Jim at jlsneed2@bellsouth.net for details.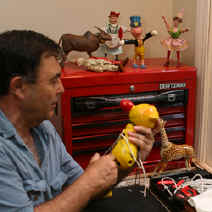 I can take raw collections - right from the attic. I will clean, repair, restring, and otherwise do what is necessary to bring your collection to market. I am currently restoring a large miniature circus from ca 1930, a North Carolina collection from ca 1910, and an Ohio collection from ca 1910 - 1930. I have many collectors watching our shops. I have sold pieces in as little as a day. I'll try to get the highest possible price for you.
Restringing runs $12-25 depending on the size and complexity of the toy.
lsneed2@bellsouth.net
We usually have over 100 old wooden toys and dolls for sale. Click on the navigation bars below to see what we have. New, old pieces, come in from time-to-time so check back often.
How to Buy
If you are interested in purchasing any item in this shop, contact Jim at: jlsneed2@bellsouth.net to discuss any piece for sale.

I can take payments through:
About Jim:
I have been collecting wooden toys including the Schoenhut circus for over 25 years and I am a member of the Schoenhut Collector's Club and the Club's Magazine Editor and Website Editor. I have been restoring toys and dolls for over 10 years. References are available.
Contact me with your questions about any old wooden toys you are seeking or are selling. Consignments accepted. I will try to help. Click on the navigation bars below to see my current inventory of wooden toys for sale. I frequently add Schoenhut circus toys so check often.